Center for Urban Horticulture
Green Features of Merrill Hall
Solar panels
Natural light
Recycled building materials
Sustainable wood
Bamboo floor
Low VOC finishes
Trees for Neighborhoods:
UW Botanic Gardens is pleased to be supporting Seattle reLeaf's Trees for Neighborhoods project this fall. Questions about Trees for Neighborhoods? Visit the Trees for Neighborhoods website , call 206-615-1668, or email treesforneighborhoods@seattle.gov.
Questions about other happenings at the UW Botanic Gardens' Center for Urban Horticulture? Call us at 206-543-8616 or email uwbg@uw.edu.
The Center for Urban Horticulture, opened in 1984, is now part of the University of Washington Botanic Gardens. It includes a 16-acre landscaped site with buildings and gardens, and the 74-acre Union Bay Natural Area, which provides publicly accessible wildlife habitat (more than 200 bird species have been sighted there) and an outdoor laboratory for UW research.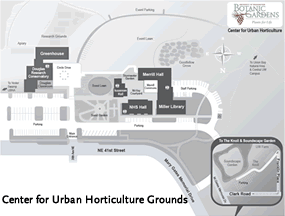 Over sixty horticultural and environmental groups meet in its buildings, which are also available for rental to the general public. The newly rebuilt Merrill Hall, the first certified "green building" on the UW Seattle campus, houses the UWBG headquarters, the Elisabeth C. Miller Library and the Otis Douglas Hyde Herbarium . Greenhouse space is also available for rental.
At the Center for Urban Horticulture you may stroll through the:
Directions and Maps
Audio Tour of the gardens
Update from the Horticulture Staff
Please join us for the launch of our new rain garden handbook!
Catch up with the latest in rain garden science and techniques with the region's leading researchers!
Find out what's new in thie edition of the handbook from lead author & expert, Curtis Hinman
Have your questions answered by a panel of rain garden experts, owners, & builders!
Enjoy complimentary Salmon Safe wine & beer along with locally sourced appetizersPlease join us for the launch of our new rain garden handbook!
Please RSVP to Kelly: KS@stewardshippartners.org
For more information, go to www.12000raingardens.org or contact Aaron Clark: ac@stewardshippartenrs.org, 206.292.9875
**************
Then, join us on October 23-24 for a Rain Garden Training for Professionals!
For full details and to register, visit: http://depts.washington.edu/uwbg/education/stormwater.shtml
Posted on 26 September 2013 | 4:06 pm
Last modified:
October 28 2013 16:16:41