Elisabeth C. Miller Library
Covid-19 Update
Masks are strongly recommended but optional.  The Botanic Gardens continues to follow all advice and directives set forth by the UW, which are detailed on the UW Novel Coronavirus Information Page.
We are currently accepting donations of gardening books and magazines in good condition.
Top Resources
Visit Us
Open to everyone. Open hours.
Address: 3501 NE 41st St., Seattle, WA, 98105
Location: Center for Urban Horticulture. CUH Map.


@ElisabethCMillerLibrary
Contact Us
Your Library Account  Email: hortlib@uw.edu
Plant Answer Line: 206-897-5268  General Questions: 206-543-0415
Fern Books in the Miller Library ~ January 4 – 28, 2023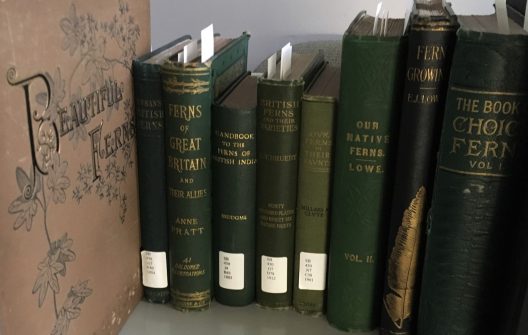 The Miller Library has an outstanding collection of books on ferns, both old and new.  A selection of favorites by the Curator of Horticultural Literature, Brian Thompson, will be on display from January 4 to 28. Many of these books were gifts from the Hardy Fern Foundation, a local organization founded in 1989 that has a large international membership of fern fanciers.
The exhibit is open during Library hours.
In conjunction with this exhibit, Brian will present a webinar for the Northwest Horticultural Society on the rarer fern books in the Miller Library collection, especially those published during the Victorian fern craze. This presentation will be on Wednesday, January 25 from 6:30-8:00pm. More details and registration are available at northwesthort.org
Monthly Email Newsletters

Leaflet has book reviews, events, and new books.
Sign up.
January 2023: Chris Thorogood's Chasing Plants reviewed by Priscilla Grundy.


Leaflet for Scholars is for students, faculty and professionals. Sign up.
January 2023: Brian Thompson highlights books on ferns.

The Miller Library Thanks our Financial Supporters: