Jim Thomson
Assistant Professor
Environmental Fluid Mechanics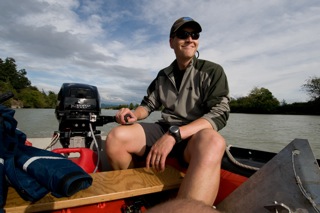 1013 NE 40th St, Box 355640
Applied Physics Lab
University of Washington
Seattle, WA 98105
Phone: (206) 616-0858 • Fax: (206) 543-6785
Email: jthomson@apl.washington.edu
Jim was raised on the coast of Maine and worked in the sailing industry prior to beginning a career in environmental fluid mechanics. After completing a PhD in MIT's joint program with the Woods Hole Oceanographic Institution, he joined the University of Washington's Applied Physics Lab in 2006. In 2009, he began a joint appointment in the Department of Civil and Environmental Engineering. He studies ocean surface waves and coastal processes by combining field observations and remote sensing techniques.
A detailed CV is available here.
A list of current projects is available here.
Education
Teaching
Research Interests (see APL projects)
Journal Publications
Conference Proceedings
Selected/Recent Presentations
Recognition
ONR Young Investigator Program (2007).
Outstanding Paper, Ocean Sciences Meeting (2006).
Gould Research Prize, Middlebury College (2000).
Phi Beta Kappa (2000).
Service
National Academy of Sciences workshop: Oceanography in 2025
Invited/Guest lectures: Pacific Science Center "Science Cafe" with KCTS public televsion (2009), Society of Naval Architects and Marine Engineers (2009), Marine Technology Society (2008), Cape Cod Community College (2005).
Volunteering: Ocean Inquiry Project
Certification
US Coast Guard Captain's Licence, 100 ton coastal (1996-present).
American Academy of Underwater Sciences SCUBA diver (2001-present).