---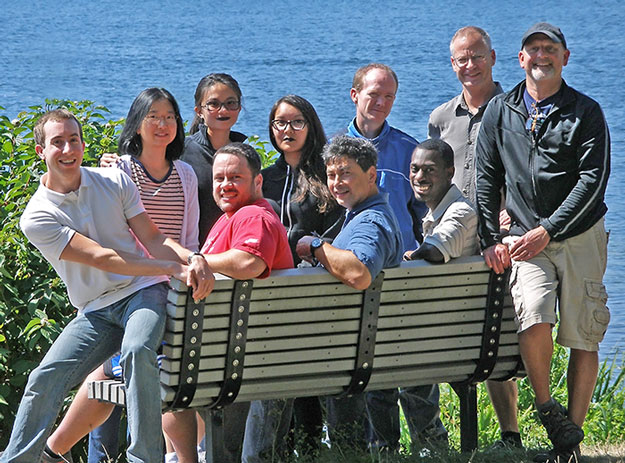 FRONT ROW (seated): Dennis Goulet, Nick Treuheit, John Sumida, Wynton McClary, Mike Dabrowski.
BACK ROW (standing): Hyewon Kwon, Mavis Li, Michelle Redhair, Michele Scian, Bill Atkins.


POSTDOC POSITIONS AVAILABLE
In early 2017, the Atkins lab will have positions available for scientists that recently earned a PhD with expertise in biophysical methods and protein structure/function. Expertise in purification and characterization of P-glycoprotein or in H/DX mass spectrometry is required. Please contact Professor Atkins via email for more information.

NEWS FROM FORMER ATKINS LAB MEMBERS

This is never a complete update, but here is some news from former lab members who have recently checked in. Please write in with news any time!
Wynton McClary, Ph.D. (2016) is a postdoc at the University of Colorado, Denver, in the School of Pharmacy.

Kip Conner, Ph.D. (2013) is a Scientist at Amgen, San Francisco area.

Matt Honaker, Ph.D. (2012) is currently a Data Scientist at BSQUARE.
Tasha Ritchie, Ph.D. (2011) is now the Head of Operations at Solvo Biotechnology.

Joe Zolnerciks, Ph.D. is now Head of Production at Solvo Biotechnology.

Laura Shireman, Ph.D. (2010) is currently a Research Associate in the Department of Pharmaceutics here at the University of Washington.

Liming Hou, Ph.D. is now a Senior Regulatory Documentation Scientist at Genetech.

Larissa Balogh, Ph.D. (2009) is currently a medical writer at Vertex Pharmaceuticals where she works on clinical regulatory documents. Larissa is enjoying her new role, learning a lot and says her MedChem background has proved particularly helpful for ADME and DDI studies.

Abhi Nath, Ph.D. (2008) has taken a position as an Assistant Professor here at UW Med Chem, after postdoctoral training with Liz Rhoades and Andrew Miranker at Yale University. He is very excited to be back in Seattle, and to continue his research on the broad importance of protein dynamics to function and dysfunction.

Jed Lampe, Ph.D. (2007) says 'Hello from Kansas!' 2013 has been a busy year in the Lampe Lab at the University of Kansas Medical Center. Jed now has two graduate students and they have just submitted the lab's first original research manuscript entitled, "Common drugs inhibit human OCT1-mediated neurotransmitter uptake". Jed has also gone back to cytochrome P450 science and is examining the brain-specific cholesterol hydroxylase CYP46A1 and its relationship to traumatic brain injury. When Jed's not working in the lab, he can be found playing in the park with his 3 year old daughter Raphaella (who loves bugs) or spending time with his beautiful French wife Sylvie and getting fat on her delicious home-cooked meals!

Sumit Mahajan, Ph.D. (2006) is now Director, Drug Development and Diagnostics at Globavir Biosciences, San Francisco.

Josh Pearson, Ph.D. (2006) is Director Preclinical at Amgen, San Francisco area, in the Department of Pharmacokinetcs and Drug Metabolism. Within the Biochemistry and Biophysics subgroup, Josh focuses on elucidating the effects biology and disease have on drug dispositon and clinical efficacy.

Catherine Ibarra Drendall, Ph.D. (2002) is a Senior Scientist at Covance, Immunochemistry.

Bob Lyon, Ph.D. (2002) is Director of Chemistry at Seattle Genetics.

Brenda Nieslanik Kelly, Ph.D. (2000) is an Associate Professor and Chair of Biology and Chemistry at Gustavus Adolphus College in St. Peter, MN.

Art Roberts, Ph.D. is an Assistant Professor at the University of Georgia Department of Pharmaceutical and Biomedical Sciences.

Lisa Storch Goldberg, Ph.D. (1998) resides in Seattle with her husband and two daughters. She divides her time between raising her children, developing an introduction to science program for preschoolers, and tutoring chemistry.


RESEARCH INTERESTS
TECHNIQUES AND INSTRUMENTS
We use a wide variety of spectroscopic and analytical techniques in the course of our research. We own a Fluorolog Tau-3 frequency-domain instrument for time-resolved fluorimetry, as well as two SLM/Aminco steady-state fluorimeters (an AB-2 and an 8100) and an Applied Photophysics SX.18MV-R for stopped-flow fluorescence and absorbance measurements.

We share a number of instruments with the rest of the Medicinal Chemistry Department, including a Varian 500 MHz Unity Inova NMR, absorbance spectrophotometers (an Olis Modernized Aminco DW-2 and a Cary 3E), and facilities for protein expression in bacterial and insect-cell systems.

We have access to several mass spectrometry instruments via the Department's Mass Spectrometry Center, as well as several additional NMR instruments (a 750 MHz, a 500 MHz, and two 300 MHz) via the Dept. of Chemistry NMR facility. We provide access to and training on AUC, DSC, ITC and SPR instrumentation for biophysical characterization studies. These instruments are part of the Analytical Biopharmacy Core located in the Molecular Engineering and Sciences Institute . We also have access to nanoscale characterization and fabrication tools (atomic force microscopy, electron microscopy and confocal fluorescence microscopy) at the Nanotech User Facility and the Dept. of Pathology Electron Microscopy Center.
USEFUL LINKS
DATABASE & LIBRARY SEARCHES (UW restricted)