Global WACh
August 2, 2021
Dr. Erica Lokken receives 'First Prize Oral Presentation – Young Investigator' Award at HIV & STI 2021 World Congress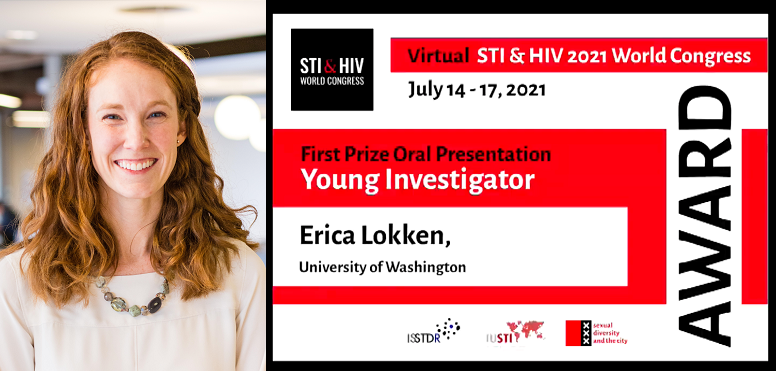 Dr. Erica Lokken
, Postdoctoral Research Fellow in the Department of Global Health, received the
'First Prize Oral Presentation – Young Investigator' Award
at the
STI & HIV 2021 World Congress
for her talk titled,
"Vaginal washing behavior and fecundability in Kenyan women planning pregnancies."
Vaginal washing is associated with acquisition of HIV, sexually transmitted infections, and bacterial vaginosis. Dr. Lokken and a collaborative team of researchers examined the association between vaginal washing and fecundability (the probability of pregnancy within a menstrual cycle) among Kenyan women trying to conceive. The cohort was followed prospectively for incident pregnancy for up to six months. At monthly visits, participants reported the first day of last menstrual period, sexual behavior, vaginal washing behavior, underwent pregnancy testing.
The team found vaginal washing was associated with a lower fecundability and concluded that cessation of vaginal washing may improve women's likelihood of conceiving. The full results of their work will be soon available in a published manuscript.
Collaborators include Drs. Brenda Oyaro, Walter Jaoko, and Anne Pulei (University of Nairobi), John Kinuthia and Maureen Nyaigero (Kenyatta National Hospital), Kishor Mandaliya (Pathcare), and Scott McClelland (University of Washington).