Global WACh
Our Mission
We make scientific discoveries, cultivate leaders, and bridge disciplines to advance the tightly connected health and well-being of women, adolescents, and children.
Global WACh was created in 2012 to break down the traditional silos between departments and capitalize on the benefits created when multiple disciplines approach a topic with the same end goal in mind.  Maternal health expertise from the Department of Obstetrics and Gynecology, neonatal and child health expertise from the Department of Pediatrics, and vast experience working in infectious disease, health evaluation, education, clinical research, and service delivery within the Department of Global Health all combine to create a perspective that views women, children, and adolescents not as three independent populations but as interconnected through the lifecycle.
Our approach focuses on critical windows — during birth and infancy, during the transition from childhood to adolescence, and from adolescence into adulthood — where healthcare interventions can have long-term benefits across the lifecycle.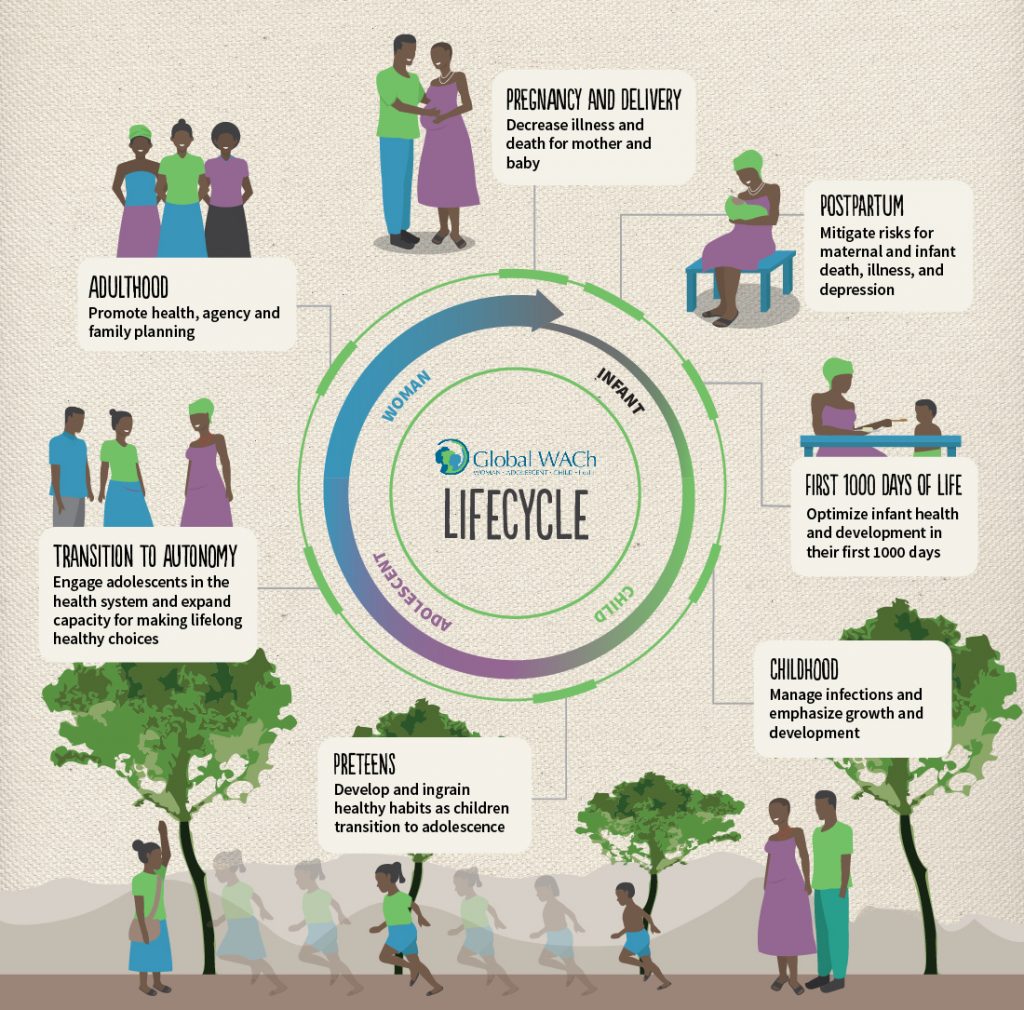 Our Vision
We envision a world in which communities recognize the value of women, children, and youth by assuring them access to quality health services and the educational, social, and economic opportunities necessary to achieve health and well-being. Global WACh is a cooperative effort, providing the expertise from the University of Washington Departments of Global Health, Pediatrics, and Obstetrics and Gynecology required to approach maternal child health from a lifecycle perspective. Our definition of women is inclusive of anyone who identifies as a woman and/or experiences aspects of health that have traditionally been woman-centric (eg. reproductive health, pregnancy, birthing).
Our Commitment to Social Justice
Social justice is the equal access to wealth, opportunities, and privileges in society. We consider health and healthcare to be part of the opportunities and privileges that are equally accessible in a socially just world. We hold that health inequities, defined as preventable differences in health states among a population of people, are social injustices.  Our priorities and operations are informed by a commitment to social justice. Our emphasis on global health is driven by the recognition that structural and contextual differences are critical determinants of the health of women, adolescents, and children. Similarly, our emphasis on women, adolescents, and children is driven in part by the recognition that these groups have been historically neglected in research and health services, leading to health inequities.
Disparities between the world's most and least privileged persist despite tremendous advances in healthcare and public health interventions and overall improvements in many measures of population health over the last few decades.  We acknowledge that white supremacy, racism, colonialism, classism, homophobia, and patriarchy are the root causes of these social injustices.  These inequities take us further from the ideals of global health. Traditional approaches to innovation in global health have brought us where we are now, but without addressing social and structural injustices we will never truly impact the root causes of today's most pressing threats to global health, nor make deeper and longer-lasting improvements in woman, adolescent, and child health.
Global WACh recognizes that the field of global health has its roots in colonial medicine, which was driven by imperialist, racist agendas. The same agendas that birthed global health also damage formerly colonized societies and create some of the most marked global health inequities. This colonial history of global health lives on in the structure of our work and informs current practice – our funding mechanisms, power structures, and research priorities – regardless of the priorities and goals of individual global health practitioners and the people they serve. As long as we rely on the same colonial structures, we will continue to perpetuate dynamics that ultimately take us further from global health equity. Centering social justice, anti-colonialism, and anti-racism in our organization will move us toward work with a deeper, greater, and more sustainable impact.
Grounding Global WACh's work in a social justice mission means prioritizing social justice in all we do, and viewing Global WACh as an agent for advancing social justice. Specifically, we commit to the following guiding principles to advance social justice in our research, service, and training:
Prioritizing sub-populations of women, adolescents, and children who experience health inequities in our strategic research goals
Recognizing and centering social determinants of health and anti-racism in our strategic research goals
Closely engaging communities that experience health inequities in the conduct of our research and working in equitable partnership with them
Fostering growth and mentorship of people from communities that experience health inequities in our organizational leadership and training programs
Growing our advocacy for upstream approaches (policies, laws, systems change) that enable advancement of the health of women, adolescents, and children
Building an organizational culture that critiques power structures and opens internal access to resources and privileges to those whose identities have not historically had access