Global WACh
August 3, 2021
Global WACh Certificate student Michelle Bulterys leverages global estimates for international forums focused on the health and wellbeing of HIV-exposed-uninfected children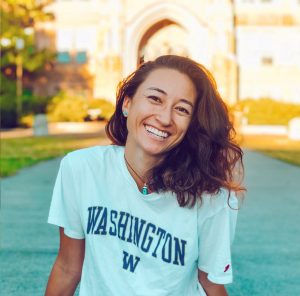 Before Michelle Bulterys enrolled in the Epidemiology PhD program and the Global WACh Graduate Certificate, she interned with the Strategic Information and Evaluation Department of the Joint United Nations AIDS Programme (UNAIDS) in Geneva, Switzerland, where she learned about the complexities of gathering and validating country-level HIV estimates and synthesizing data into global reports to be used by clinicians, policy makers, and researchers around the world.  She gained strong mentorship from Dr. Mary Mahy, who leads the Epidemiology Team at UNAIDS.  Michelle and Dr. Mahy have continued to collaborate on various projects, including Michelle's Certificate capstone—a 90-hour project designed for students to gain hands-on experience in the field of global health.

Michelle's capstone is nested in her doctoral dissertation focused on the health and neurodevelopment of HIV-exposed uninfected children (HEU).  During spring and summer quarters, Michelle assessed UNAIDS' global estimates to summarize characteristics of this unique and rapidly growing population. Despite not contracting HIV themselves, preliminary evidence suggests that HEU children exhibit higher rates of mortality, infections and hospitalizations, and developmental delays compared to HIV-unexposed-uninfected children. It is important to know where HEU populations are located in the world, trends over the last two decades, and to disaggregate data by age and antiretroviral therapy exposure to optimize treatment strategies.
Using the HEU global estimates in R software, Michelle and Global WACh Research Coordinator Jessica Dyer created reproducible codes and data visualizations for a slide deck of figures presented at an International AIDS Society (IAS) Conference's Workshop on Children and Adolescents HIV-Exposed Uninfected on July 21, 2021.  By the end of summer, Michelle plans to prepare a list of recommendations that could inform future HEU outputs of the UNAIDS' Spectrum Model, based on an extensive literature review, interviews with experts in the field, and latest cutting-edge research presented at the 2021 IAS Conference.
Through her capstone, Michelle is learning the importance of optimizing data quality and assumptions that inform a model, as each country's inputs and the model's parameters have great influence on the outputs that are interpreted and relied on globally.  She draws inspiration from her faculty mentors, Drs. Grace John-Stewart and Anjuli Wagner (Global Health), who are dedicated to improving data quality, model informativeness, policies and clinical care for children affected by HIV.  Professionally, Michelle is reminded of how building and leveraging international research network and strong professional connections in various agencies can lead to new opportunities to approach important public health questions and find effective solutions.
We look forward to learning more about Michelle's capstone activities and outcomes at Global WACh's Certificate Capstone Poster event in Spring 2022.