Global WACh
November 10, 2021
Researchers present latest findings to support adolescents living with HIV at Adherence 2021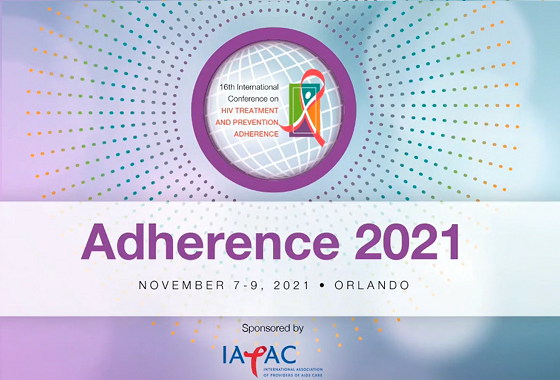 Adherence 2021, hosted by the International Association of Providers of AIDS Care and held from November 7-9, 2021, focused on state-of-the-science evidence, best practices, and the real-world implementation of behavioral, clinical, structural, and other interventions to maximize the therapeutic and preventative effects of antiretroviral agents. The annual conference provides a forum for discussion and presentation of implementation science focused on closing evidence-to-practice gaps across the HIV prevention and care continua, as well as community engagement in planning, implementing, and monitoring HIV responses in affected communities.
Below are three abstracts by Global WACh researchers and collaborators that showcase the latest discoveries in interventions to improve outcomes in adolescents living with HIV in Kenya.
---
An Adolescent Transition Package (ATP) improves youth readiness to transition to independent HIV care: A cluster randomized trial
Presented by Dr. Irene Njuguna, Research Scientist at Kenyatta National Hospital, Nairobi, Kenya; Affiliate Assistant Professor of UW Global Health
Authors: Irene Njuguna1,2*, Kristin Beima-Sofie3*, Caren W. Mburu8, Cyrus Mugo1,3, Janet Itindi9, Alvin Onyango8, Barbra Richardson3,4, Laura Oyiengo10, Dalton Wamalwa8, Grace John-Stewart2,3,6,7
1Kenyatta National Hospital, Research and Programs, P.O. Box 20723-00202, Nairobi, Kenya
Departments of Epidemiology2, Global Health3, Biostatistics4, Health Services5, Medicine6 and Pediatrics7 University of Washington, Box 359931, Seattle, WA 98104, USA
8Department of Pediatrics and Child Health, University of Nairobi P.O. Box 19676-00202, Nairobi, Kenya
9Kenya Medical Research Institute, P.O. Box 1578-40400, Nairobi, Kenya
10Neonatal and Child Health Services, Ministry of Health, Kenya P. O. Box 19361-00202, Nairobi, Kenya
Introduction
Transitioning adolescents from pediatric/adolescent to adult care is a critical step in the HIV care continuum. Tools to support transition in sub-Saharan Africa are lacking.
Methods
In a user-centered design, we developed an adolescent transition package (ATP) to provide youth living with HIV (YLH; ages 15-24) with knowledge/skills to transition to independent care. This included serial assessments and chapter-books to systematically guide discussion at clinic visits.
Effectiveness of ATP to improve transition readiness was assessed in a cluster randomized controlled trial (NCT03574129). Twenty clinics in 4 counties in Kenya were randomized to ATP or control. Transition readiness was measured using a readiness score comprised of 4 domains (HIV literacy, self-management, communication, support). Readiness scores overall and by domain were compared between arms using mixed-effects linear regression models.
Results
Of 1083 YLH, 587 (54%) were in intervention and 496 (46%) in control sites. Baseline readiness scores differed in ATP and control sites (mean score 12 [SD:3.4] and 11 [SD:3.7], respectively). At year 1, adjusting for baseline scores, participants in the ATP arm had significantly higher overall readiness scores (mean score 16 [SD:1.8] versus 14 [SD:3.3] p=0.01), higher scores in HIV literacy (mean score 4.0 [SD:0.9] versus 3.0 [SD:1.5] p <0.01), self-management (mean score 4.7 [SD:0.4] versus 4.4 [SD:0.6] p=0.015) and communication domains (mean score 4.6 [SD:0.6] versus 4.3 [SD:0.8] p=0.014), respectively.
Conclusion
The ATP significantly improved transition readiness among YLH, increasing literacy, self-management and communication skills. Integrating ATP approaches could enhance long-term HIV care in YLH as they age into adulthood.
---
Phone calls to support adolescent HIV care in Kenya during the COVID-19 pandemic: ATTACH study experience 
Presented by Dorothy Mangale, PhD student in Global Health Implementation Science
Authors: Dorothy Mangale1, Irene Njuguna1,5, Alvin Onyango5, Hellen Moraa5, Cyrus Mugo2,5, Nyawira Gitahi6, Janet Itindi5,6, Caren Mburu6, Dalton Wamalwa6, Grace John-Stewart1-4, Kristin Beima-Sofie1
Department of Global Health1, Epidemiology2, Medicine3, and Pediatrics4, University of Washington, Box 359931, Seattle, WA 98104, USA, 5Kenyatta National Hospital, P.O. Box 20723-00202, Nairobi, Kenya, 6Department of Pediatrics and Child Health, University of Nairobi P.O. Box 19676 – 00202, Nairobi, Kenya
Introduction
The COVID-19 pandemic disrupted adolescent and young adult (AYA) clinic visits and in-person adherence sessions. Telemedicine, while not widely utilized in HIV clinics, could provide support for AYA already enrolled in care.
Methods
In a cluster randomized controlled trial testing an intervention to support transition to independent care at 20 Kenyan facilities (N=10 intervention, N=10 control sites), we utilized phone calls to deliver intervention material and support medication adherence. Healthcare workers (HCW) made phone calls to AYA to discuss challenges, medication adherence, and for intervention sites, transition support. Success was defined by HCW reaching and talking to AYA. Call log data was used to summarize HCW call experience and identify correlates of reaching AYA. In-depth interviews were conducted to determine HCW experience.
Results
Of 3067 calls to 1054 AYA, 2491 (81%) reached AYA. Of these, 2415 (97%) calls were successful (intervention, N=1314 (52%); control, N=1195 (48%), with median duration of 15 minutes (IQR:10, 19). Most calls were made on weekdays (1304 [95%]) and in the afternoon (930 (67%]). AYA were twice as likely to be reached on calls made on the weekends or during public holidays (OR: 2.2 [95% CI 1.1, 4.6] p=0.035), and on calls made in the afternoon/evenings compared to mornings (OR: 1.9 [95% CI 1.4, 2.6] p<0.001), after adjusting for individual and facility clustering.
HCW agreed phone calls had a relative advantage over in-person services as they were able to reach more AYA, resulted in better rapport-building with AYA who were more open on phone, and kept HCWs informed on AYA needing emergency or extra support, like home delivery of medication.
Conclusion
Phone calls are a feasible way to reach AYA, and support care in emergency settings and may offer better support for some AYA. Off hours and weekend calls provide the best reach.
---
"Your status cannot hinder you": The importance of resilience among adolescents living with HIV in Kenya
Presented by Casey Adams, MPH student (now alumni) in Global Health
Authors: Casey Adams,1 Millicent Kiruki,2 Robinson Karuga,2 Lilian Otiso,2 Susan M. Graham,1 Kristin M. Beima-Sofie1
University of Washington, Seattle, WA, USA
LVCT Health, Nairobi, Kenya
Background
Approximately 40% of the 110,000 adolescents living with HIV (ALHIV) in Kenya have not achieved viral suppression. Despite the increasing availability of adolescent-friendly services, adolescents face barriers that impact ART adherence. This study aimed to identify key stigma-related barriers to ART adherence and strategies used by adolescents in overcoming these barriers.
Method
Data were collected by LVCT Health, a Kenyan organization with a programmatic focus on HIV testing, prevention, and care, and gender-based violence. 122 participants were recruited from 3 clinical sites affiliated with LVCT Health in Nairobi, Kisumu, and Mombasa. In-depth interviews (IDIs) were conducted with ALHIV (n = 12). Focus group discussions (FGDs) were conducted with ALHIV (n = 5), peer leaders (n = 3), and adolescents in the community (AIC) irrespective of HIV status (n = 3). IDIs and FGDs were audio recorded, translated, and transcribed. Data were analyzed thematically, with a focus on stigma and resilience.
Results
While AIC and peer leaders focused heavily on adherence barriers and stigma, ALHIV also identified resilience factors that enabled them to overcome stigma. Four major themes emerged: 1) knowledge and future-oriented goals can drive motivation for ALHIV to remain healthy; 2) disclosure to others strengthens support systems for ALHIV; 3) medication-taking strategies and strategic disclosure can overcome adherence challenges in school; and 4) a supportive clinic environment promotes continuous adolescent engagement in HIV care. These concepts were used to develop a conceptual stigma/resilience model depicting how resilience moderates negative effects of stigma among ALHIV.
Conclusion
This study demonstrates the positive effects of ALHIV resilience on ART adherence and illuminates how stigma impacts ALHIV differently depending on their resilience. Strengths-based interventions, focused on increasing resilience among ALHIV in Kenya, and more formal involvement of adolescent peers to bolster adolescent support, have the potential to improve ART adherence among ALHIV.