Global WACh
November 17, 2021
Collaborative research consortium aims to measure incidence of Shigella diarrhea and consequences to support future vaccine trial
In low- and middle-income countries, nearly one third of children experience at least one episode of Shigella-attributable diarrhea during their first 2 years of life. In addition to Shigella being a leading cause of diarrhea, this enteric bacterium is also associated with linear growth faltering, a precursor to stunting. Stunting is a marker of vulnerability to childhood infection, decreased vaccine efficacy and lifelong morbidity.  Currently, several promising Shigella vaccines are in development. Eventual Phase 2b/3 Shigella vaccine trials will require a consortium of potential vaccine trial sites in settings with a high incidence of Shigella-attributed medically-attended diarrhea, high participant retention, and the laboratory capacity to confirm Shigella infection.
With this goal in mind, a research consortium funded by the Bill & Melinda Gates Foundation is supporting a new surveillance study titled, "Enterics for Global Health," also known as "EFGH." Over a two-year period, the EFGH study will enroll 9,800 children (1,400 per country site) between 6-35 months to establish the incidence and consequences of moderate-to-severe diarrhea caused by Shigella within seven country sites in Africa (The Gambia, Kenya, Malawi, Mali), Asia (Bangladesh, Pakistan), and Latin America (Peru). The EFGH-Consortium is being co-led by EFGH Country Site Principal Investigators (PIs) and Dr. Patricia Pavlinac, Global WACh's Gut Health & Child Survival Co-Director. and The EFGH Country Site PIs and their research teams bring years of experience leading and collaborating on epidemiological studies and clinical trials focused on disease control and elimination, vaccination, and maternal and child health.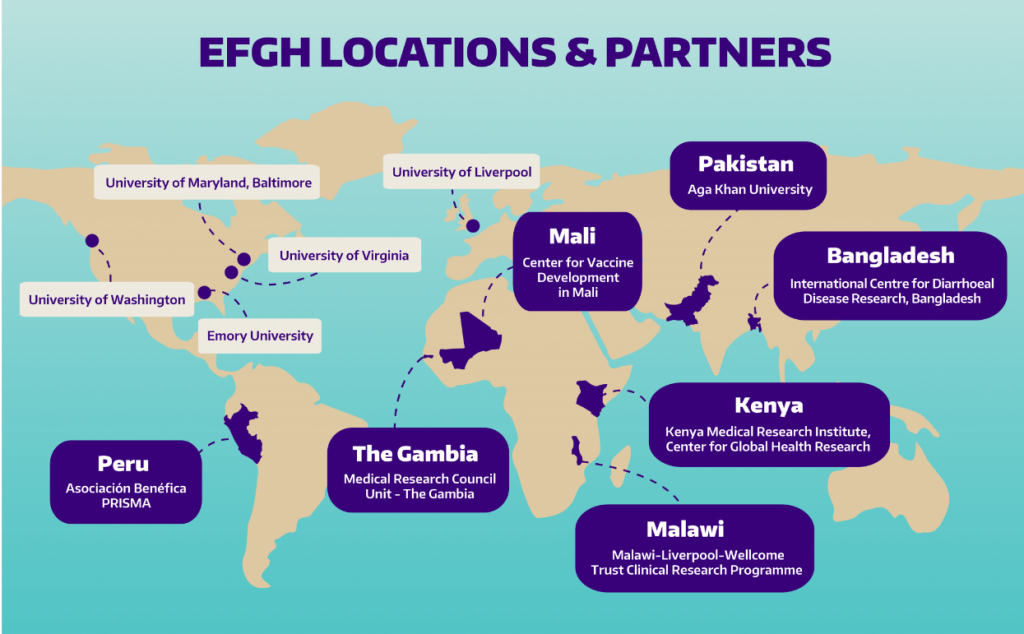 Visit the newly launched website to learn more about the EFGH project and see a full list of EFGH team members here. Continue reading for highlights of the breadth of experience, expertise, and attributes gained from each site.
Pakistan
The Aga Khan University, Pakistan has well-developed infrastructure for conducting observational studies and clinical trials related to enteric disease. Dr. Farah Naz Qamar and her team successfully led an outbreak investigation of extensively drug resistance typhoid fever in 2017 and published their work in highly cited medical journals, including the Lancet and New England Journal of Medicine.  As a result, Pakistan introduced the Typbar-TCV vaccine, of which Dr. Qamar and her team are currently assessing the impact and effectiveness. The study team have recently successfully conducted complex polio vaccine and diarrhea treatment trials. The EFGH Pakistan site is led by Dr. Farah Naz Qamar, supported by co-investigators and a team including: Dr. Tahir Yousafzai, Dr. Rozina Thobani, Dr. Shazia Sultana, Dr. Sonia Qureshi, Dr. Momin Kazi, Dr. Sadia Shakoor, Aneeta Hotwani, Furqan Kabir and Neyama Alladin who bring clinical, epidemiologic, and laboratory expertise to the consortium.
Bangladesh
The EFGH Bangladesh site is led by Dr. Firdausi Qadri at The International Centre for Diarrhoeal Disease Research, Bangladesh (icddr,b), and Dr. John Clemens at the International Vaccine Institute. The work of Icddr,b spans the full spectrum of research, from studies aiming to better understand  pathogenic organisms and the body's responses to them, through the development and testing of new therapeutics and preventive interventions, and evaluation of the implementation of such interventions. Dr. Qadri brings expertise in basic and applied immunology of infectious diseases in addition to clinical trials of enteric vaccines which are in Phase I to Phase IV of development. Dr. Clemens' research has focused on generating the evidence required for policy decisions about vaccine introduction in high-burden settings with extensive expertise in innovative approaches to evaluating vaccine effectiveness. Drs Qadri and Clemens are joined by co-investigators: Dr. K Zaman, Dr. Farhana Khanam, Dr. Md Taufiqul Islam, Dr. Md Taufiqur Rahman Bhuiyan, Dr. Doli Rani Goswami, Dr. Allen G. Ross.
Mali
The Center for Vaccine Development-Mali (CVD-Mali) and the University of Maryland Baltimore bring 20 years of experience working together in developing and distributing vaccines through epidemiologic surveillance, laboratory capability, field surveys, and clinical trials.  The EFGH Mali site is led by Dr. Samba Sow and Dr. Karen Kotloff  supported by a co-investigator team including: Dr. Milagritos Tapia, Dr. Fadima Cheick Haidara, Dr. Adama Mamby Keita, Uma Onwuchekwa, Henry Badji, Dr. Emily Deichsel, Dr. Dilruba Nasrin, and Allison Shaffer. Dr. Samba Sow is a recipient of numerous honors for his work as a medical doctor and epidemiologist, and served as the Minister of Health and Public Hygiene for Mali between April 2017 and May 2019, and currently holds the position of Director General of the National Institute for Public Health in Mali. Dr. Kotloff Heads the Division of Pediatric Infectious Disease at the University of Maryland School of Medicine. Her research focuses on the epidemiology of infectious diseases and their prevention with the use of vaccines in both the U.S. and abroad. Dr. Kotloff has led largescale epidemiolocal studies of enteric diseases in Asia and Africa and numerous clinical trials to evaluate vaccines against a wide range of infections, including group A streptococcus, Shigella, influenza, COVID-19, and the use of azithromycin to prevent stillbirth and infant mortality in Africa.
The Gambia
Medical Research Council Unit – The Gambia (MRCG) at the London School of Hygiene and Tropical Medicine brings extensive experience in hospital and community-based surveillance and demonstrated leadership of investigating outbreaks and emerging infections. Achievements include a large trial showing the efficacy of Haemophilus influenzae type B vaccine in The Gambia and the subsequent near elimination of the disease, pioneering studies of the impact of insecticide treated bed nets as a preventive measure against malaria leading up to their worldwide use, and studies demonstrating the impact of conjugate pneumococcal vaccines on pneumonia and child mortality. The EFGH Gambia site is being led by Dr. Jahangir Hossain (MRCG) and Dr. Karen Kotloff (University of Maryland, Baltimore) with support from Dr. Ousman Secka, Dr. Martin Antonio, Dr. Anna Roca, Dr. Milagritos Tapia, Dr. Emily Deichsel, Dr. Dilruba Nasrin, and Allison Shaffer.
Kenya
The Kenya Medical Research Institute (KEMRI) is the Medical Research arm of the Kenyan Government and provides advice to the Ministry on various aspects of healthcare and delivery. KEMRI leads national diseases surveillance and rapid response capacity for major disease outbreaks. The Kenya EFGH site, led by Dr. Richard Omore of KEMRI and Drs. Kotloff and Tapia (University of Maryland, Baltimore) have worked together for nearly two decades designing, implementing, monitoring and evaluation of clinical research programs focused on vaccine preventable enteric diseases. Co-investigators for the EFGH Kenya site include: Dr. John Benjamin Ochieng, Dr. Stephen Munga, Alex Awuor Ondeng, Dr. Milagritos Tapia, Dr. Emily Deichsel, Dr. Dilruba Nasrin, and Allison Shaffer.
Malawi
The Malawi-Liverpool-Wellcome Trust Clinical Research Programme (MLW) has extensive experience in observational and interventional studies of infections in children, dating back to 1997. These studies have principally addressed rotavirus, Salmonella, pneumococcus, influenza and malaria. They have included surveillance, case-control and cohort studies; Phase II, III and IV vaccine trials; and a clinical trial of antibiotics for pediatric diarrhea. MLW also brings experience informing national and global vaccine policy. The MLW has a fundamental strategic aim of capacity building, through the provision of world class training to clinical and non-clinical scientists to equip them with the necessary knowledge and skills to address national and regional health problems.  The EFGH Malawi site is led by Drs. Khuzwayo Jere, Nigel Cunliffe, Jen Cornick, and with support from Dr. Desiree Witte, Dr, Kate Baker,  Maureen Ndalama, Dr. Melita Gordon, Dr. Naor Bar-Zeev, Dr. Queen Dube, Dr. Donnie Mategula and Dr. Jobiba Chinkumba.
Peru

Dr. Maribel Paredes Olortegui, Co-PI (Asociación Benéfica PRISMA, Peru) and Margaret Kosek, Site PI (University of Virginia) have worked together for 20 years in the planning and implementation of longitudinal cohort studies and clinical trials addressing enteric diseases in and around the city of Iquitos in Peru. They have generated evidence demonstrating the relative impact on growth of distinct enteropathogens, including Shigella, and have done extensive work in the area of environmental enteropathy. During their research together they have documented some of the highest rates of shigellosis in the literature in an endemic setting. Additional investigators involved in the EFGH Peru site include: Pablo Penataro Yori, Dr. Josh Colston, Dr. Francesca Schiaffino, Wagner Valentino Shapiama Lopez, Paul Bardales Garcia, Silvia Rengifo Pinedo, Tackeshy Pinedo, Katia Manzanares, Marvin Yalta Navarro, Lidia Curimozon Tina, and Margarita Jean Arevalo.
Coordination and Technical Support Units
Coordination and technical support for the EFGH consortium will be provided by investigators, research coordinators, and project managers at Global WACh at the University of Washington, University of Virginia, University of Maryland, and Emory University. The UW Global WACh team is comprised of epidemiologists, implementation scientists, and research and operations staff and students including: Dr. Patricia Pavlinac, Dr. Christine McGrath, Dr. Kirk Tickell, Dr. Arianna Means, Hannah Atlas, Ruchi Tiwari, Anwar Parvez Sayed, Sean Galagan, Alyssa Acebedo, Chloe Morozoff, Ann Van Haney and Alyson Shumays.
Investigators from the University of Virginia (Dr. James Platts-Mills) and Emory University (Dr. Elizabeth Rogawski McQuade), are providing technical related to population enumeration strategies, including leading mapping for catchment area defining, determining sampling and mapping strategies in collaboration with site teams with support from Ryan Dodd and Sarah Elwood.
Dr. Eric Houpt (PI) and Dr. Jie Liu at the University of Virginia will be facilitating the molecular characterization of pathogens and resistance genes from fecal samples across the EFGH consortium with support from Queen Saidi.
Dr. Sharon Tennant, with support from Jashnehta Permala Booth and Bri'Anna Horne will oversee preparation and standardization of laboratory activities for the consortium, as well as lead quality control and assurance efforts. Dr. Tennant currently oversees the laboratory component for the Vaccine Impact on Diarrhea in Africa (VIDA) study and supports the microbiology and molecular biology work conducted at CVD-Mali.
The EFGH Consortium believes that preventing Shigella morbidity and mortality in young children will allow them the opportunity to thrive through adolescence and into adulthood. Through this multi-country surveillance network and associated clinical and laboratory harmonization, selected EFGH sites can be ready to quickly implement rigorous and efficient vaccine trials and provide critical data to policy makers about the relative importance of this vaccine-preventable disease, accelerating the time to vaccine availability and uptake among children in LMICs.