Global WACh
August 4, 2022
Laurén Gómez awarded young investigator prizes at the 2022 International AIDS Society Conference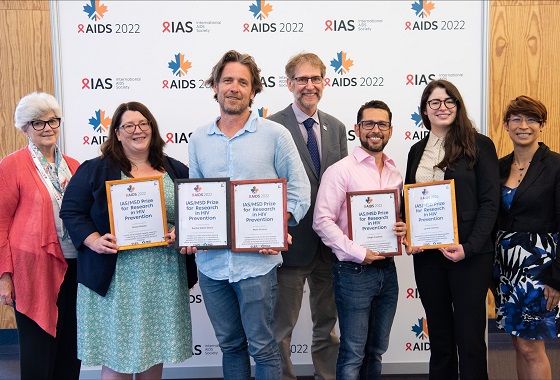 Laurén Gómez (second to right) stands with other winners selected for the IAS/MSD Prize for Research in HIV Prevention
At the 2022 International AIDS Society Conference, Laurén Gómez, a Research Coordinator with Global WACh, was selected as a winner of the Lange/van Tongeren Prize for Young Investigators (co-partnered with ANRS – France Recherche Nord & Sud Sida-HIV Hépatites) and the Prize for Research in HIV Prevention (co-partnered with MSD – Merck Sharpe & Dohme).
The young investigator awards support early career researchers who demonstrate innovation, originality, rationale and quality in the field of HIV research. The prizes are granted to the top-scoring abstract in each of the five tracks: Track A – Basic and translational research; Track B – Clinical research; Track C – Epidemiology and prevention research; Track D – Social and political research, law, policy and human rights; and Track E – Implementation research, economics, systems and synergies with other health and development sectors. The Prize for Research in HIV Prevention is given to the top-scoring abstracts with a focus on prevention research that addresses critical knowledge gaps and links new evidence to program priorities in the response to the HIV pandemic. Laurén received both awards for the Track C abstract titled, "Association of prenatal PrEP exposure with neurodevelopmental and growth outcomes beyond 24 months among Kenyan children."
Laurén's analysis aimed to address safety gaps in the impacts of prenatal pre-exposure prophylaxis (PrEP) on growth and development in early childhood. Data from prior studies have demonstrated that PrEP is safe for use during pregnancy, which led the World Health Organization (WHO), in 2017, to recommend that HIV-negative pregnant women at risk for HIV should be included among the groups offered PrEP for HIV prevention. The WHO strongly advocates for continued surveillance and the need for additional data on longer-term infant outcomes following maternal PrEP use. Studies to date on infant outcomes have less than one year of follow-up and have not assessed neurodevelopmental outcomes following maternal PrEP use.
The project utilized data from the PrEP Implementation for Mothers in Antenatal Care (PrIMA) parent and extension studies that evaluate perinatal PrEP use in Western Kenya. The parent study was a cluster randomized clinical trial investigating approaches to PrEP delivery in antenatal care. The ongoing observational extension study follows a subset of mother-child pairs from the parent study through 60 months. Laurén's analysis utilized data from 24-36 months. Trained nurses at the study sites conducted growth measurements and assessed neurodevelopment using the Ages and Stages social-emotional (ASQ:SE) questionnaire, an early developmental screener that identifies children who may be at risk for social-emotional difficulties and helps determine if a referral for intervention services is necessary.
Among Kenyan mother-child pairs followed from pregnancy through early childhood, the team did not find differences in growth or neurodevelopmental outcomes between children with and without prenatal PrEP exposure. These data strengthen the body of evidence demonstrating PrEP's safety for use during pregnancy and contributes to the few data available on early childhood outcomes following antiretroviral exposure without the confounder of HIV exposure.
Next, the team will continue with study follow-up until enrolled children reach 5 years old, assess bone mineral density, and quantify PrEP exposure with drug levels measured in hair and dried blood spots. They are currently administering the Malawi Developmental Assessment Tool in the cohort to measure neurodevelopment in motor and language domains to complement the ASQ:SE results. Congratulations to Laurén on receiving these esteemed awards and to the research team for their achievements!