Global WACh
Caren Mburu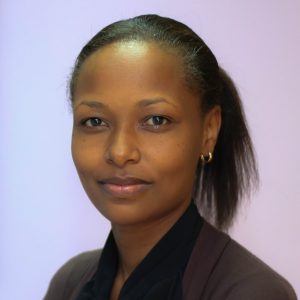 Caren Mburu, MBChB, MMed is a pediatrician and researcher at a University of Nairobi/University of Washington collaborative organization. She completed a Master of Medicine (MMed) degree in Pediatrics and Child health in 2012 at the University of Nairobi. Caren has over six years of experience in Pediatric HIV and been involved in several pediatric and adolescent HIV studies including the Adolescent Transition to Adult HIV care for Adolescents Living with HIV in Kenya (ATTACH) and the Simulated Patient Encounters to promote Early Detection and Engagement in Care (SPEED) studies.
Through collaborations with the national HIV program and other organizations including the Kenya Pediatrics Research Consortium (KEPRECON), Caren has had the opportunity to implement various pediatric and adolescent HIV studies.
Caren's primary mentors are Prof Grace John- Stewart, Prof Dalton Wamalwa, and Dr. Kristin Beima-Sofie. She began her MPH coursework at the University of Washington in September 2020. Caren would love to mentor upcoming researchers using the knowledge and skills she gains from the MPH program at the University of Washington. Her research interests include implementation science research for pediatric and adolescent HIV programs, cytomegalovirus (CMV), vaccinology in the context of HIV and emerging infectious diseases.