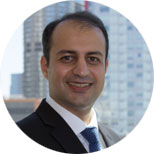 Ashkan Afshin, MD, MPH, MSc, ScD, is an Assistant Professor of Health Metrics Sciences at the Institute for Health Metrics and Evaluation (IHME) at the University of Washington. In this role, he works on the Global Burden of Disease (GBD) project, leading the effort to estimate the disease burden attributable to dietary risk factors.
Prior to joining IHME, Dr. Afshin completed a postdoctoral fellowship in epidemiology at Tufts University's Friedman School of Nutrition Science and Policy. He was also a postdoctoral fellow at the Harvard T.H. Chan School of Public Health, where he focused on nutrition, chronic disease, and dietary policy. He is a physician and epidemiologist with formal training and experience in health policy, population health, decision sciences, public health informatics, and health economics.
Dr. Afshin earned an MD from Tehran University of Medical Sciences, an MPH from Johns Hopkins University, and an MSc in Health Policy and a dual ScD in Epidemiology and Global Health and Population from Harvard University.
IHME was established at the University of Washington in Seattle in 2007. Its mission is to improve health through better health evidence.