Volume 8, Issue 4 | April 2021

Pacific Northwest Botanical Artists are back!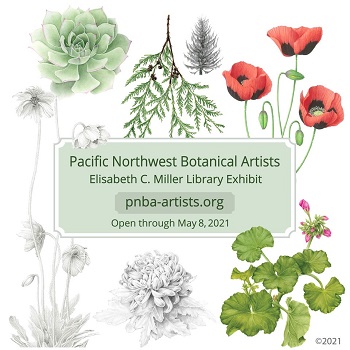 The Pacific Northwest Botanical Artists (PNBA) are pleased to present their 14th Annual Elisabeth C. Miller Library exhibit virtually. Members of the Oregon Botanical Artists, PNBA's sister organization, are also participating in this year's exhibit.


PNBA is a chapter of the American Society of Botanical Artists, a nonprofit organization dedicated to promoting public awareness of contemporary botanical art, honoring its traditions and furthering its development.


Please view their
display
of paintings and drawings from April 9 through May 8, 2021. Artwork will be for sale throughout the month, with a portion of sales benefiting the Library. You can make a purchase inquiry in the online gallery to connect with the artists and arrange to buy art from home.
The Pollinator Victory Garden by Kim Eierman

Recommended by Tracy Mehlin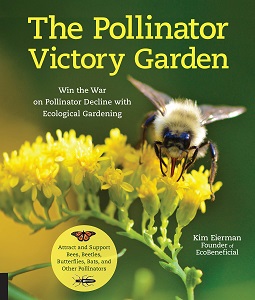 The pollinators need our help. Not only does humanity's food supply rely on pollinators, but invertebrates are the backbone of a healthy ecosystem. Concerned gardeners will find guidance and an action plan in "
The Pollinator Victory Garden: win the war on pollinator decline with ecological gardening: how to attract and support bees, beetles, butterflies, bats, and other pollinators
" by Kim Eierman (2020).
Eierman's Tips for a Pollinator Victory Garden
1. Don't use pesticides of any kind, including organic; and avoid buying nursery plants treated with
"neonics."
A quality nursery should be able to tell you whether their plants have been treated with this systemic pesticide.
2. Create overwintering habitat by leaving some fallen leaf litter on the ground. Soil organisms will also appreciate the leaf litter.
3. Create growing season habitat for solitary, ground-nesting native bees by leaving a sunny, sandy patch of soil free of mulch. Then watch out for little mounds with a hole in the center, kind of like a tiny volcano, for evidence of a bee making a nest for her larvae.
4. Native pollinators prefer native plants, and some rely exclusively on native plants. Eierman compiled a
list of plants for the Pacific Northwest
on her website,
Ecobeneficial.com.
For a video featuring this author, see the Garden Tool in our Gardening Answers Knowledgebase.
Virtual story time season continues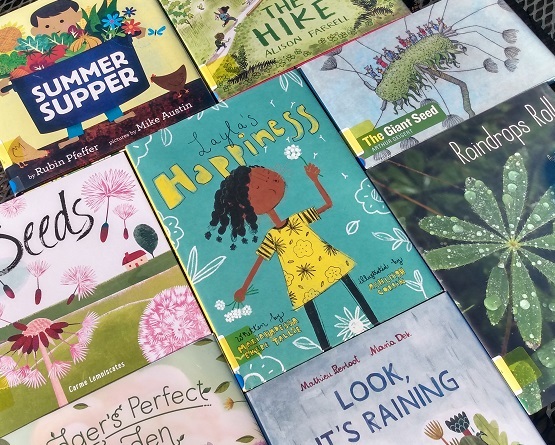 Spring is in full swing with our latest series of virtual story time videos. A new story debuts on the website just about every week. April's theme is Rainy Day Rainbows, with three stories that remind us of the beauty of rainy weather:
Raindrops Roll
,
Look, It's Raining
and
Monsoon Afternoon
. In May, we'll be celebrating Seeds for the Future with Carme Lemniscate's
Seeds
, Arthur Geisert's wordless
The Giant Seed
and
Badger's Perfect Garden
from Marsha Diane Arnold. And I can't wait for June's program, Summer Joys, featuring
Layla's Happiness
,
The Hike
and
Summer Supper
.
Also, watch for a hands-on activity demonstration this season. Laura's working on some ideas that will be easy for families to try out from home or in their neighborhood park.
© 2021 University of Washington Botanic Gardens