Volume 8, Issue 9 | September 2021

Welcome back! The Miller Library reopens September 20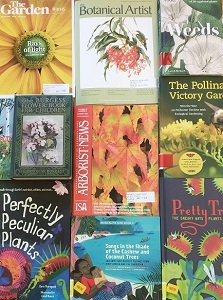 We're excited to announce that the Miller Library will reopen on Monday, September 20. Our staff have been working on the collections throughout the closure. Please visit us during the week of September 20-24 to learn what's new.
The University of Washington requires masks in all indoor spaces for all individuals, regardless of vaccination status. The UW Botanic Gardens continues to follow all advice and directives set forth by the UW, which are detailed at length on the
UW Novel Coronavirus Information Page
.
Library hours will be Monday from noon until 8 p.m., and Tuesday through Friday from 9 a.m. until 5 p.m. Saturday hours will resume October 2 from 9 a.m. until 3 p.m.
A Year of Musing and Contemplation
New work by Renée Simard in a virtual exhibit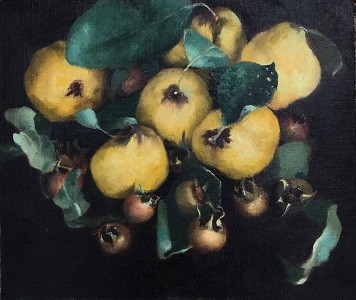 The Miller Library staff are pleased to welcome Renée Simard back for a virtual exhibit of her
new paintings
. From the artist's statement:
Just like many artists over centuries, I am fascinated and inspired by the natural world. An unglamorous little trampled leaf can be as striking as a grandiose landscape. I want to be a visual poet of what is often overlooked - the effects of time, seasons, decay and renewal.

This exhibit continues throughout the month of September.

Ask the Plant Answer Line: What are these shiny orbs?
Researched by Rebecca Alexander


Q: A plant that was given to me as a cutting has clear beads at irregular intervals along the stem. They are firm rather than sticky, but can be mashed between thumbnails. Is this insect- or disease-related, or something else? (The plant may be Abutilon but it has not flowered yet, so I am not sure.)


A: It is possible that these are "
pearl bodies
," also called "pearl glands" or — if seen on grapes — "grape balls." According to
this scientific article
, they are a type of food body (a nutrient-dense plant structure that offers food rewards to creatures such as ants). Other types of food bodies are extrafloral nectaries that secrete nectar, and domatia (chambers a plant produces to house ants or mites). Pearl bodies are part of a system of
mutualism
between plant and arthropod: ants gather the pearl bodies and take them to their nests, prompting the plant to form new ones in their place; in return, the ants may defend the plants against insect pests. Pearl bodies may be found on many different plants, particularly on a plant's most robust branches.
Outdoor Learning for Families
Resources selected by Laura Blumhagen


We've just added Outdoor Learning for Families to our
shelf browse
page. These are our very best resources on the value of outdoor learning, giving parents and guardians tools to provide children with a solid foundation of physical fitness, independence, problem-solving, observational skills, hands-on science and care for the planet we call home. Especially selected for local families, the resources include recommended hikes, garden guides, activity manuals and more.
See something you like? Click a title to open the catalog record, then log in and place a hold. If you need to register as a new borrower or update your record, contact us at
hortlib@uw.edu
.
REGISTER FOR THE MILLER LECTURE
The Pendleton & Elisabeth C. Miller Charitable Foundation's 2021
Elisabeth C. Miller Memorial Lecture
is Saturday, September 18 at 10 a.m.
Dan Pearson
speaks on how horticulture & design can re-engage us with the natural world in a Zoom webinar.
Register
online to catch this free event live via Zoom and also get a link to the recording, available for viewing for two weeks afterwards.
© 2021 University of Washington Botanic Gardens