VOLUME 8, ISSUE 4 | April 2021

Pacific Northwest Botanical Artists return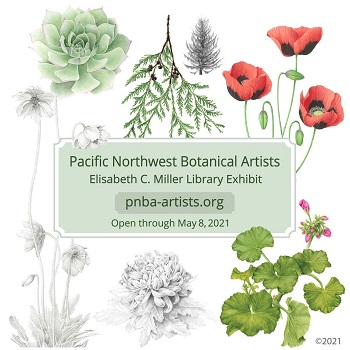 The Pacific Northwest Botanical Artists (PNBA) are pleased to present their 14th Annual Elisabeth C. Miller Library exhibit virtually. Members of the Oregon Botanical Artists, PNBA's sister organization, are also participating in this year's exhibit.


PNBA is a chapter of the American Society of Botanical Artists, a nonprofit organization dedicated to promoting public awareness of contemporary botanical art, honoring its traditions and furthering its development.


Please view their
display
of paintings and drawings from April 9 through May 8, 2021. Artwork will be for sale throughout the month, with a portion of sales benefiting the Library. You can make a purchase inquiry in the online gallery to connect with the artists and arrange to buy art from home.
Resources for coping with climate change

In response to a researcher's recent question, we've gathered our best resources on climate change. Whether you're a student of environmental horticulture, a farmer, a home gardener, a science teacher, or some combination of these, you'll find something new here. Find this resource list (and several others) through our online
catalog
or by using the
academic shelf browse
tool on our website.
Lotus, water chestnut and more

Researched by Rebecca Alexander
STUDENTS: SHARE YOUR PLANT-related WORK!
Design a poster or create a video presentation and share it with
hortlib@uw.edu
by Friday,
April 30, 2021. Be sure to include your name, date (month/year), and your department, school or college in your presentation. We'll add it to our
online display
in May!
© 2021 University of Washington Botanic Gardens