VOLUME 5, ISSUE 12 | December 2018

Two recent ecological histories
(and one local botanical history)
reviewed by Brian Thompson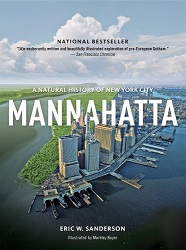 What did the island of Manhattan look like on that day, just over 400 years ago (1609) when it was "discovered" by Henry Hudson? Very different from today. It was a rich place with forests, streams, wetlands, and even some hills. Wildlife was abundant, with nearly 400 species of vertebrates likely and another 200 possible. Vascular plant species may have numbered nearly 1,200.
It was also the home to the Lenape people who gave the island its name: Mannahatta. Eric Sanderson headed a decade-long project to try to describe the likely nature of the island before the arrival of Europeans. That project is described in
Mannahatta: A Natural History of New York City
(2009). He claims that if found today, the island would likely be designated as a national park, but instead, "extraordinary cultural diversity has replaced extraordinary biodiversity."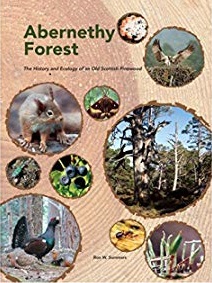 Ron Summers writes about a very different ecological history in
Abernethy Forest: The History and Ecology of an Old Scottish Pinewood
(2018). This is an effort to understand and protect a barely surviving old ecosystem, mostly destroyed by centuries of human activities. This small subject, about 38 square kilometers, or just a bit bigger than Mercer Island, includes the fast-flowing River Spey and Loch Garten, which at 47 hectares is about half the size of Green Lake.
While small, Abernethy includes "the largest of the remaining fragments of the pine forest that once extended across Highland Scotland" and is "incredibly rare in Britain and therefore precious for nature conservation and science." It is also beautiful, as I have discovered over several visits in the last 20 years, and supports some fascinating animals, including the Capercaillie (the largest member of the grouse family), three species of crossbills that are well-suited for extracting the seeds of pinecones, and the Scottish wildcat, described as resembling a robust domestic tabby.


To put these two books in perspective, check out (two lending copies in the Miller Library)
The Flora of Seattle in 1850
, a master's thesis by Raymond Larson (2005). Like Mannahatta, this study is set just before settlement by Europeans. The focus is on the existing plant species, and Larson explains that these can only be understood in the context of the significant variety of ecological neighborhoods. "The landscapes of Seattle in 1850 were not static. While most of the city consisted of coniferous forest in various stages of succession, the sheer range of conditions was surprising."
Ask the Plant Answer Line: What is that unusual shrub?
researched by Rebecca Alexander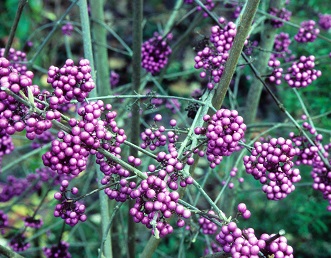 Q:
Can you tell me the name of all those shrubs with tiny purple marble-like fruit that grow along the walkway by the Intramural Activities building at the University of Washington? Are they related to pepper? They look like purple peppercorns! Are they edible?
A: This shrub, which goes mostly unnoticed until its dramatic fruit stands out in fall, is Callicarpa (beautyberry), most likely Callicarpa bodinieri var. giraldii 'Profusion.' Based on the size and shape of the fruit, I can see why you might think this plant could be related to pepper (the seasoning). Taxonomists have moved beautyberry around, but for now Callicarpa is in the mint family, Lamiaceae, while pepper (Piper) is in Piperaceae, and requires a warmer climate (subtropics or hotter) than ours.


Callicarpa
is not listed in any of the usual sources on seriously toxic plants, but that does not mean its fruit is safe or tasty for human consumption. According to Julia Morton, a botanist and author of Wild Plants for Survival in South Florida, "the rank odor of the plant makes nibbling of beautyberry bunches on the stem unpleasant." This
article
from the Cape Coral Daily Breeze (February 6, 2015) mentions that birds, deer, and squirrels enjoy the fruit. In my own garden, it is not the first choice of birds, but I have seen them trying it from time to time. Humans find the fruit mealy and insipid, according to the article, but that doesn't stop avid foragers from attempting to make jelly from it.
If you grow
Callicarpa
, you may learn to appreciate its subtle flowers in spring, and the gently turning colors of its leaves in fall.
Callicarpa americana
also has terpenoids in its leaves that repel insects (mosquitoes, ticks, ants, and more).
Holiday Arts and Crafts Sale
in the Miller Library December 7-23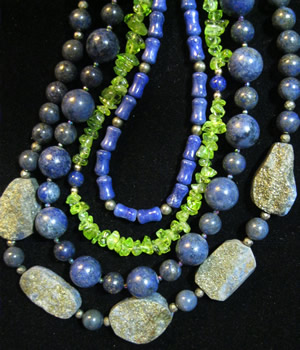 Find unique hand-made gifts while supporting the Miller Library! We'll have a selection of locally made arts and crafts available for purchase at the Miller Library.
Katie Hopper's hand-crafted herbal salves
Al Dodson's beautiful nature photography
Syd C' de Baca's tea towels, mugs & aprons
Jenny Craig's witty letterpress paper goods
Dorothy Crandell's dramatic stone-bead necklaces (pictured here)

Molly Hashimoto's prints, cards and watercolors
Join us for a reception on Friday, December 7, from 5 to 7 pm. The exhibit and sale start that evening and continue through December 22,
during Library open hours
.
Cash or check only, please. Some artists may accept credit cards during the reception. 25% of proceeds benefit the Library.
Thanks to support from the community, the Miller Library offers the best in horticultural reference assistance along with the latest publications on plants and gardens.
We appreciate your generosity!
© 2018 University of Washington Botanic Gardens