VOLUME 6, ISSUE 12 | December 2019

Arts & Crafts Exhibit & Sale in the Miller Library
December 6 reception features local artisans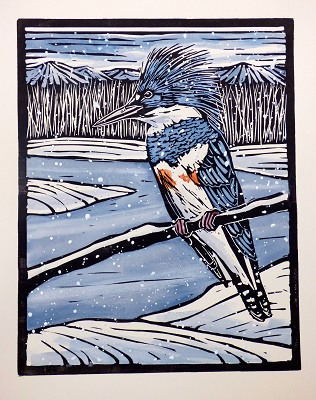 Find unique handmade gifts while supporting the Miller Library! You'll find a selection of locally made arts and crafts available for purchase at the Miller Library, including:
Kathleen Atkins' knitwear and artist books

Jenny Craig's clever letterpress paper goods
Dorothy Crandell's natural stone bead necklaces
Molly Hashimoto's prints, cards and watercolors (Kingfisher in the Snow is pictured here)

Join us for a reception on Friday, December 6, from 5 to 7pm. Exhibit and sale runs that evening through December 27,
during Library open hours
.
Cash or check only, please. Some artists are able to accept credit cards during the reception. 25% of proceeds benefit the Library.
Two new field guides to help you learn mosses and grasses
Reviewed by Brian Thompson
The verdant flora of the Pacific Northwest is rich in both mosses and grasses. Fortunately, two new field guides will help you sort out these often difficult-to-distinguish plants.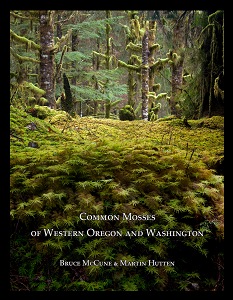 Common Mosses of Western Oregon and Washington
provides the beginning bryologist a key to 200 species of mosses found west of the Cascades, including a few of the most common species found on both sides of the mountains. Keys for any plant group can be challenging, but the introductory section gently teaches the steps necessary for accurate identification, including the use of a microscope as an essential tool. The many close-up photographs are also a boon.
Authors Bruce McCune and Martin Hutten recognize this is just a sampling of the more common mosses of our region, expressing much respect for the 1971 comprehensive moss flora by Elva Lawton that included 598 species. "We hope that one of you using this key will eventually produce a new moss flora for the Pacific Northwest. This is one of the mossiest places in the world, and beautiful because of it."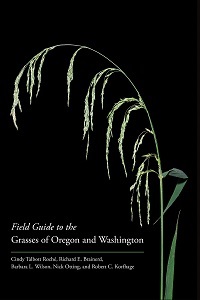 Field Guide to the Grasses of Oregon and Washington
is the work of five authors over a period of 15 years, but it will likely remain a standard for a much longer period. Covering the whole of both states, this guide presents 343 of our species (out of some 10,000 worldwide), including invasive species, naturalized ornamentals, and even some agricultural crops that show up as "waifs" along roadsides. All are in the plant family Poaceae. Excluded are sedges, rushes, or any of the numerous plants that have "grass" in their common name – such as beargrass or eelgrass – found in other families. Also omitted are bamboos; while some have established locally, none are known to sexually reproduce in our climate.
The keys are a daunting 75 pages long, but the authors provide helpful descriptions by genus throughout, along with some diagrams of closely-allied species. The encyclopedic bulk of the book includes detailed descriptions, range maps, and – the best feature – especially intricate photographs showing many close-ups parts for each species.
While written for an expert, the introduction addresses the needs of the beginner, too, with helpful hints on getting started and not being discouraged. Clearly, the authors love their subjects. "We hope you come to enjoy grasses as much as we do. Besides their ecological and economic importance, grasses themselves are fascinating."
Thanks to community
support
, the Miller Library offers the best in horticultural reference assistance and the latest publications on plants and gardens in a welcoming library full of light and art. We appreciate your generosity!
© 2019 University of Washington Botanic Gardens