VOLUME 6, ISSUE 1 | January 2019

Botanizing Hope by Lou Cabeen
in the Miller Library through January 30
The Miller Library welcomes Seattle fiber artist and painter Lou Cabeen as our January exhibitor. A word from the artist: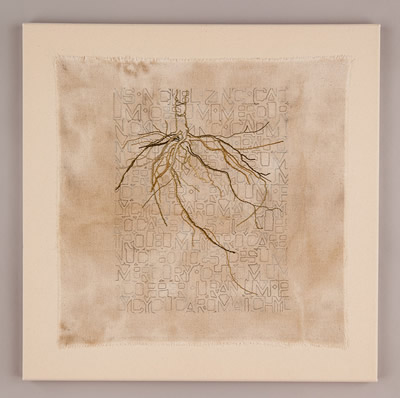 The works in this show include the first fruits of my research into phytoremediation, which I see as a potential site of problematic hope in the face of lives lived in the midst of toxicity. I work with a range of media including stitching, textiles, letterpress printing and botanical specimens. My works take the form of samplers, herbarium sheets and artist books, all of which are formats that invite or reference touch, use, and intimate interaction. Almost all of my works use both imagery and text. It is a joy to present art you can read in a library setting. This particular exhibition includes one-of-a-kind artist books in a variety of shapes and sizes, idiosyncratic herbarium pages, letterpress printed flash cards and a series of Samplers for the Anthropocene.

Lou invites Leaflet for Scholars readers for an opening reception here in the Library on January 4 from 5 to 7 pm.

Flora of the Pacific Northwest
by C. Leo Hitchcock and Arthur Cronquist
reviewed by Brian Thompson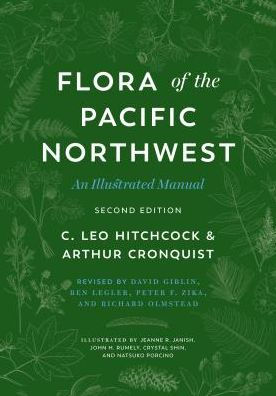 For Pacific Northwest botanists of all levels, the one-volume book informally known as "Hitchcock" has been standard equipment since its publication in 1973. This work,
Flora of the Pacific Northwest: An Illustrated Manual
by C. Leo Hitchcock and Arthur Cronquist, was intended as a field version of the five-volume flora
Vascular Plants of the Pacific Northwest
, written by the same authors with two additional botanists and two illustrators from 1955-1969.
"No scholarly endeavors are immune to the advancing frontiers of knowledge." This quote is from the introduction of the new, second edition of the one-volume Flora, expanded by a team of four editors with two new illustrators. Changes in taxonomy, especially from molecular studies, plus newly described taxa and the establishment of non-native species (which this flora includes) have created a long overdue need for an update.


Like the first edition, this book attempts to be comprehensive in its presentation of species, subspecies, and varieties throughout Washington, most of Oregon and Idaho, the western part of Montana, and southern British Columbia. The first edition introduced the new (at the time) idea of embedding the species descriptions and illustrations within the taxonomic keys. This proved to be a good decision. It has remained a best-seller for University of Washington Press for the last four decades.


At 882 pages (the first edition had 730), it is perhaps a bit hefty for field work, but this is a must for your work desk. The Miller Library has a lending copy of the new edition, and keeps non-circulating copies of both editions and the earlier volumes of
Vascular Plants
. Be sure to take a look at this new standard for our regional botany!
Display of night-related resources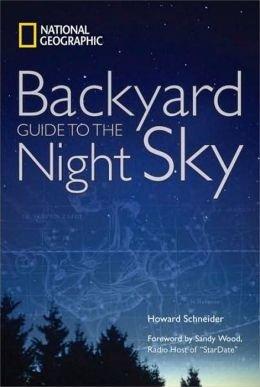 Need a break from burning the midnight oil? Want to cozy up with a good book and hibernate? Perhaps you've been grading student work, developing a research plan for SEFS 509 (Analysis of Research Problems), poring over data for ESRM 451 (Analytical Methods in Wildlife Science), studying the psychological benefits of time in nature with your ESRM 431 (Ecopsychology) class, or reviewing lecture notes from BSE 211 (Creativity and Society).
This time of year, you don't have to stay up late to be out in the dark. The Miller Library is greeting the gradual return of the light with a resource display featuring
night-related books
, including
selections
for children and teachers. Whether you're interested in constellations, bat houses, stories to tell by firelight, or plans for a night-blooming garden, you're sure to find something here you've never seen before. Check it out! Remember, we're
open
until 8 most Monday nights.
Plant Answer Line provides quick answers to gardening questions. You can reach the reference staff at 206-UWPLANT (206-897-5268),
hortlib@uw.edu
, or
online
.
© 2019 University of Washington Botanic Gardens