VOLUME 9, ISSUE 1 | January 2022

The Northwest Gardens of Lord & Schryver
by Valencia Libby

Reviewed by Brian Thompson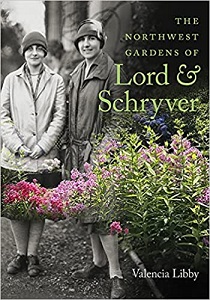 I have been interested in the history of horticulture in the Pacific Northwest from an early age. However, I only recently learned of the work of landscape architects Elizabeth Lord and Edith Schryver and their practice based in Salem, Oregon from 1929 to 1969. Their story is told in compelling detail in
The Northwest Gardens of Lord & Schryver
, a new book by Valencia Libby.
Elizabeth Lord (1887-1974) was a member of a prominent Salem family; her father was a governor of Oregon. After his death, she became the frequent companion of her mother, from whom she learned about gardening and an appreciation of native plants.

Lord was already in her late 30s by the time her mother died, leaving her with an inheritance, but also the need to establish a career. She decided to study at the Lowthorpe School of Landscape Architecture for Women in Groton, Massachusetts, one of the very few institutions for women interested in this field. Libby writes that it was "a program worthy of any modern department of landscape architecture and included an emphasis on horticulture that is rarely found today."
Edith Schryver (1901-1984) was from the Hudson Valley of New York and also attended Lowthorpe, but at an earlier time than Lord. Her superior skills as a student quickly led to a position with Ellen Shipman in Manhattan, a landscape architecture firm consisting of only women. In June 1927, both Lord and Schryver boarded a ship as part of a trip co-sponsored by Lowthorpe to visit outstanding European gardens.
Meeting shipboard, they quickly became close friends, and spent four months traveling in Europe together, only part of the time with the Lowthorpe group. Upon returning, Lord still had a year of studies to complete, but by early 1929 they moved together to Salem where they shared a home and garden for 45 years. The firm of Lord and Schryver completed designs in Oregon and Washington for about 200 clients, many of them residential gardens, but also public parks, institutional grounds and a variety of other facilities.
Their impact was greater than just the work on specific projects. Early clients included Richard D. and Eula Merrill of Capitol Hill in Seattle. Libby's research suggests the work of Lord and Schryver influenced the Merrill daughters, Virginia Bloedel and Eulalie Wagner, in their later creations of the Bloedel Reserve and Lakewold Gardens respectively.
Lord and Schryver were noted for their interest in finding new plants and introducing them to gardeners and the local nursery industry. They were familiar with what was being offered on the east coast and they traveled widely. Unlike many in their profession, this "expertise identified them as consummate plantswomen." They also embraced the innovations in educational outreach, including the new media of radio, speaking on programs intended for home gardeners and especially for women.
We are fortunate that their legacy is preserved today by the
Lord & Schryver Conservancy
, which maintains the women's home and garden, known as Gaiety Hollow. Also open to the public in Salem is the historic gardens at
Deepwood Museum and Gardens
, the former home of Alice Bretherton Brown, a Lord & Schryver client from 1929 until 1962. This is an important book in the history of both landscape design and the development of ornamental horticulture in the region, and it is also a real pleasure to read.
Forest Ecology resources in the spotlight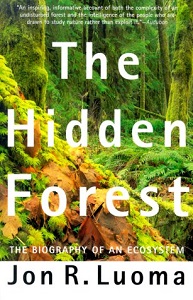 As winter quarter begins, the Miller Library is celebrating forest ecosystems with a display alongside our journal display area. Students in UW's School of Environmental and Forest Sciences, Environmental Science and Resource Management, and Bioresource Science and Engineering programs are learning everything from ESRM 101 (Forests and Society) to SEFS 526 (Advanced Silviculture).
Our collection has a lot to offer, including Jon Luoma's
The Hidden Forest
(pictured here). Luoma reveals the marvelous interdependence of trees, mosses, fungi, and animals in the coastal forests of Oregon. Also check out
Forest Under Story: Creative Inquiry in an Old-Growth Forest
from UW Press,
reviewed
by Library Manager Brian Thompson.
Most items can be borrowed directly from the display. If you're not already a registered borrower, just bring them to the desk along with your photo identification. We also welcome everyone to browse the covers of a selection of books on restoration ecology using the online
catalog
or the academic shelf browse
tool
on our website. Registered borrowers can place holds on items found there.
New Landscapes exhibit by Juliet Shen

In the Miller Library January 4-29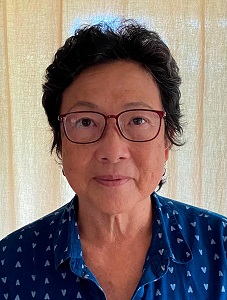 We welcome Juliet Shen to the library's public exhibit space this month with her
New Landscapes
. She grew up in New York City and has lived in Seattle since 1983.
After a 35-year career in graphic design, Juliet resumed drawing and painting, her original passion. She owes her reconnection with fine art to the acceptance and encouragement of supportive artists of the
Duwamish River Artist Residency
. Starting in the summer of 2012, she began making drawings in Seattle's industrial Duwamish waterway with them, and continued by herself in the
Union Bay Natural Area
. When inclement weather finally forced a retreat indoors to the studio, she used her observations of the shifting Northwest landscape to create drawings combined with relief printing.
Juliet has experimented with compositions that pay homage to the Chinese landscape tradition, but with a contemporary approach. She has made paintings reflecting environmental issues in the Pacific Northwest, such as the restoration of the Elwha River following dam removals and the daylighting of urban streams in Seattle. She paints wetlands, wild rivers, and tidal currents in a semi-abstract style that relies on fine brushwork.


Of this series, she says, "I am inspired by the beauty and contradiction coexisting in our local ecozones. I see landscapes as mirrors of human conduct."
gardening answers

Search for garden wisdom with us. You'll find researched
answers
,
gardening tips, book reviews, and recommended websites.
© 2022 University of Washington Botanic Gardens