VOLUME 6, ISSUE 3 | March 2019

Jennifer Vonholstein: Flora / Unincorporated Roy, WA 98580
continues through March 29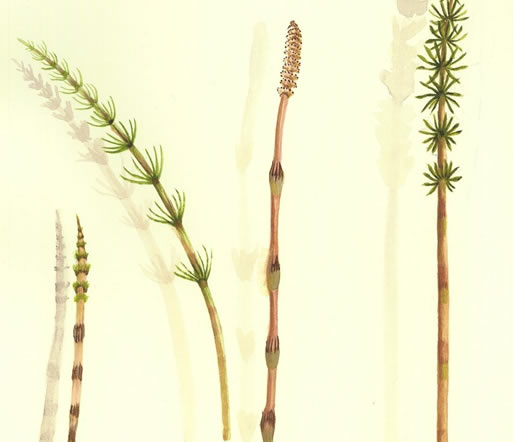 Watercolor artist
Jennifer Vonholstein
sees her art as a lifelong project, documenting what catches her eye:
I've made all these paintings in Roy, Washington where I live. I just go outside and walk around and look. I'm interested in the engineering of plants. I'm interested in the library of colors that I'm cataloguing from those plants. I'm interested in the emergence of life in the forest. I'm trying to make a peaceful impact by drawing and painting these weeds and leaves. I know I can never create anything as beautiful as what nature creates. I'm just an onlooker.

The artist is hosting an opening reception here in the library March 7 from 5 to 7 pm.

Announcing our Garden Lovers' Book Sale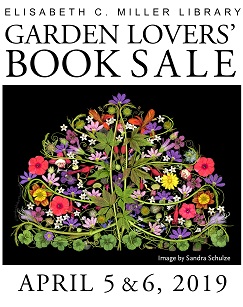 We are very pleased to announce our 2019 Garden Lovers' Book Sale. By selling extra copies of great gardening books we already have, the library is able to fund new book purchases and programs.
This year's poster features scanography by Sandra Schulze, who will be exhibiting with us in August.
The sale will open with a party on Friday, April 5, from 5 to 8 pm. Ticketholders will have the chance to meet members of our local chapter of the American Society of Botanical Artists, enjoy wine, and sample delicious food while shopping for horticultural books and bidding in the silent auction. Tickets are limited and cost $30. To purchase tickets call 206-543-0415 or visit the Miller Library.
A limited number of free tickets are available for book sale volunteers who are willing to help set up and take down the sale.
From April 5 through May 8, the
Pacific Northwest Botanical Artists
will have their work on display and for sale, with twenty-five percent of the proceeds benefiting the library.
The free, public sale is scheduled for Saturday, April 6, from 9 am to 3 pm. Browse thousands of gently used books for sale on gardening, plants, ecology and related topics. Don't miss this annual event!
Call for posters: Student Research exhibit opens soon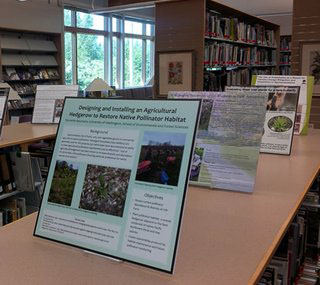 May 10-31, 2019, the Miller Library will host our ninth annual Student Research Poster exhibit. This is your chance to share your graduate or undergraduate research or a special project with a general audience outside of the UW – good practice for future outreach and a helpful addition to your CV, too!
To participate, submit a 14x14" poster in .pdf format to
hortlib@uw.edu
by May 3, 2019. Be sure to include your name, date, and your academic program on the poster. The library will take care of printing and mounting.
These posters will be kept in .pdf format on the library's website for future reference. Take a look at
samples from past exhibits
. Questions? Please contact library manager Brian Thompson at 206-543-1434 or
bthomp@uw.edu
.
This exhibit is open to both undergraduate and graduate students in the School of Environmental and Forest Sciences, including Ecological Science and Resource Management and Master of Environmental Horticulture, plus students in Society for Ecological Restoration-UW or UW-Restoration Ecology Network. All students and their friends and families are invited to our opening party on Friday, May 10, 2019 from 5 to 7pm.
© 2019 University of Washington Botanic Gardens