VOLUME 8, ISSUE 5 | May 2021

Ask the Plant Answer Line: Are carob beans a standard weight?

Researched by Rebecca Alexander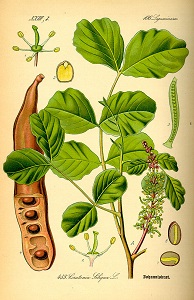 Question: As an avid plant person who is also a metalsmith and jeweler, I was surprised to learn that we get the weight measure for stones (carat) from the ancients who used carob beans as a standard weight. Because "carob beans are unusually consistent in size. This means that carob beans usually all weigh the same, no matter when or where harvested!"


My mind is reeling! How can that be? Nature doesn't do that! Every plant is unique, I thought. Weather, soil, location should change the harvest. Am I mistaken?
Answer: On that last point, you are not mistaken: there is variability in the weight of carob seeds, but it is relatively small. Ceratonia siliqua is in the bean/legume family [Fabaceae]. It is not the elongated carob pod that was used as a standard, it's the seeds contained in that pod ( a typical pod contains about 10 seeds). Seeds from female trees are relatively consistent (0.197 grams or 1/150th of an ounce). This weight was standardized to 200 milligrams in 1907, and continues to be in use.


The scientific paper
Seed size variability: from carob to carats
(Turnbull et al., 2006, Biology Letters: The Royal Society, published online 2006 May 2) attempts to explain the "myth of constant seed weight." As far back as ancient Greece, there was a weight called a
kerat
(which is echoed in carob's Latin genus name,
Ceratonia
).
Keration
was the Greek word for carob (possibly a Semitic loan word from Aramaic/Syriac
karta
meaning pod or husk), and its literal meaning was 'little horn,' which describes the shape of the pods (not the seeds).
Siliqua
, carob's species name, was the Latin word for carob, and used to refer to the smallest subdivision of the Roman pound. Carob seeds were no more consistent in mass than the other 63 species the article's authors measured. They theorize that seeds used for weighing were a product of human selection.
Carob thrives in its native Mediterranean and Middle Eastern regions, and would simply have been readily available as a counterweight for precious substances, like gemstones and spices. Humans can perceive mere 5% differences in carob seed mass. In the ancient world, measurement of weight based on carob seeds would have been fairly dependable, based on the accuracy of the human eye—unless an unscrupulous vendor also kept sets of seeds that were heavier or lighter than the standard, either to shortchange or overcharge!

Trends in borrowing: what Miller Library borrowers read now
What are our borrowers reading now? Each spring we look at recent borrowing, gaining insight into how our collections are used. As always, several of your favorite books are locally produced and about topics of special interest here in the Pacific Northwest. We see books on mushrooms, botanical art, local parks and gardens, landscape (and shed!) design, soil science, pollinators, famous gardeners, and the reasons we garden. Here are Miller Library borrowers' top choices since last fall:
Using our no-contact
lending
system, we hope you'll take a tip from your fellow borrowers and check these out.
Virtual exhibit of student work opens May 11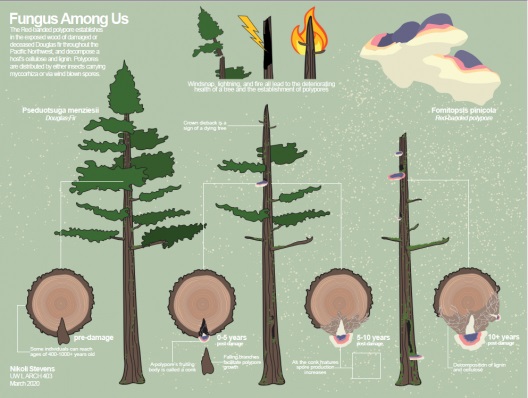 The Miller Library will host an annual exhibit of student presentations on our website beginning May 11, highlighting the projects of students across the University who are working with plants.
One of last year's projects, an audiovisual presentation by Nikoli Stevens entitled Fungus Among Us, is shown
here
.
The digital display will debut on the library
website
Tuesday, May 11. Tell your friends and family!
The Miller Library's Plant Answer Line provides quick answers to gardening questions.
© 2021 University of Washington Botanic Gardens