VOLUME 8, ISSUE 11 | November 2021

Molly Hashimoto: Paintings and Prints

Opens November 4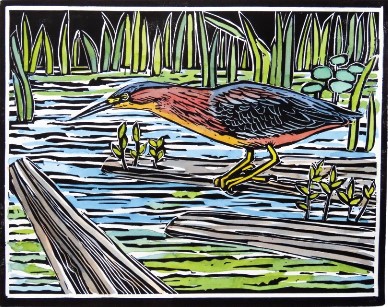 Meet the artist on Thursday, November 4th from 5 to 7 p.m.
Proof of vaccination is required for the opening event
: COVID-19 vaccination is required for in-person event attendance at UW, including this event. If you are a student or employee of the UW, please bring your Husky Card. All other guests over the age of 12 will need to provide proof of vaccination or proof of a negative COVID-19 PCR test taken within 72 hours of the event. Masking is required for all attendees. Acceptable proof options are detailed in the
University's vaccination verification policy
.
Ponderosa: People, Fire, and the West's Most Iconic Tree
by Carl E. Fiedler and Stephen F. Arno
Reviewed by Brian R. Thompson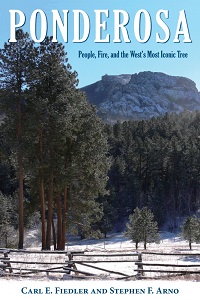 For many years, I would travel to eastern Washington for Thanksgiving. On these trips, I was always struck by the seemingly sudden appearance of ponderosa pine trees (Pinus ponderosa), when crossing the Spokane County line, after many miles of agricultural fields or grasslands. These stately trees created a park-like setting as they were well-spaced, with little undergrowth. It seemed idyllic.
Ponderosa: People, Fire, and the West's Most Iconic Tree
by Carl E. Fiedler and Stephen F. Arno helped me to understand this ecosystem better. These ponderosa-dominated forests are found in places of "climatic moderation," typically sharing "boundaries with drier grasslands below and moister, mixed conifer forests above."
Several of these forests can be found throughout the western United States. In addition to Spokane, other cities in Oregon, Nevada, northern Arizona, and even as far east as South Dakota have similar settings. Prior to Euro-American settlements, these were desirable places for indigenous peoples and for the animal life that often sustained them.
The recent story of the ponderosa pine is closely linked to the timber industry, starting about the time of the California gold rush in the mid-1800s, and ongoing to the present. The authors chronicle in great detail the evolving practices and debates about managing forest lands, especially fires. Should all fires be extinguished at all costs? Should fire be used as a tool? What are the best practices to prevent catastrophic damage to human settlements? These questions have been long debated, and this book's history is useful in understanding the elements of this debate.
The end of the book includes descriptions of several prominent ponderosa forests listed by state. In Washington, this includes the White Pass Scenic Byway and, surprisingly, the area around Fort Lewis near Tacoma. Ponderosas generally don't compete well with other conifers in the more humid, western side of the Cascades, but this may be a remnant from a warmer and drier time.
This book was published in 2015. The same authors teamed up for a book in 2020 about another iconic tree:
Douglas Fir: The Story of the West's Most Remarkable Tree
. I recommend both for a better understanding of the history and ecology of the forest lands in the western North America.
Ask the Plant Answer Line: What's this red-fruited weed?
Researched by Rebecca Alexander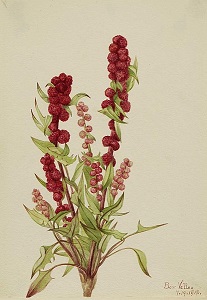 Q: While taking a walk in the neighborhood, a weedy-looking plant caught my eye. It had nubbly, deep red fruit all along the stems and was quite dramatic by contrast with the tattered-looking leaves. The gardener said it was leafy goosefoot. What can you tell me about it?


A: Leafy goosefoot refers to
Chenopodium foliosum
(or its synonym
Blitum virgatum
, as well as a related species,
Blitum capitatum
). Another common name is
'strawberry blite,'
not to be confused with blight of any kind, but derived from the genus name
Blitum
. The leaves do resemble the footprint of a goose. Those nubbly strawberry-like fruits that are produced from summer to early autumn are edible, with a mildly sweet flavor or — according to a 1794 issue of
Curtis's Botanical Magazine
— "in their taste they have nothing to recommend them, though not pleasant they are harmless." The leaves are also edible and similar in both appearance and flavor to spinach, which is why another name for the plant is 'strawberry spinach.' It has value as a beneficial plant for wildlife, and it has a history of being used to make
dye and ink
.
Strawberry blite is a wild and weedy plant that can tolerate harsh conditions, as demonstrated by its ability to grow in
landscapes ravaged by wildfire
.
The Miller Library's Plant Answer Line provides quick answers to gardening questions.
You can reach the reference staff at 206-UWPLANT (206-897-5268),
hortlib@uw.edu, or from our website,
www.millerlibrary.org
.
© 2021 University of Washington Botanic Gardens