VOLUME 10, ISSUE 9 | September 2023

The Plant Thieves by Prudence Gibson
Reviewed by Priscilla Grundy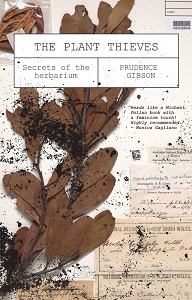 The National Herbarium of New South Wales, Australia, acts as setting and springboard for Prudence Gibson's narratives about and descriptions of preserved plants. Gibson holds in admirable tension the wonders of the herbarium and the troubling colonialism that assumed authority over Australia's plants, collecting them without permission, naming and organizing them by European standards. The question of who owns plants hovers in the background.
Gibson spent three years seeking "to find out what plant-human relations really are and what they mean. And what that meaning tells us about the herbarium" (p. xvi).


The chapter on Joseph Banks, for instance, dwells on the irony of banksia, a widespread tree in Australia, being named for the famous English plant collector. Yes, he was an amazing collector, but the plant was there long before he arrived. Gibson describes some current efforts to add plant names used by Indigenous people to the herbarium descriptions. The task is challenging in part because the many Aboriginal groups have different names for the same plants.


The National Herbarium moved to a new site during the years Gibson was working on this project. Plant Thieves includes some lively conversations between Gibson and local women artists creating art for the new building. Throughout Gibson expresses awe at the care given the plant samples in the herbarium.


One chapter recounts a collaboration between botanists and Indigenous Elders to solve a mystery about black beans. These large seeds (also called bogum or Moreton Bay chestnuts, also known as
Castanospermum australe)
are toxic, but Indigenous people
process
them for use in a bread called damper. (I used Google frequently to translate Australian terms.) Somehow the plant had spread hundreds of miles, puzzling scientists, because this plant does not spread easily. European settlers believed Indigenous people were not organized enough to establish long trade routes, a logical way the plant could have traveled. The Elders told a Songline story of an ancestral spirit carrying a bag of beans many miles. When scientists examined plants along the route described in the story, they found bean plants everywhere. This evidence supports the presence of a highly developed Indigenous social organization.
The Plant Thieves
reads very easily. Gibson brings to life the many people she meets and provides much intriguing information about plants and their ties to the herbarium.
Growing wasabi in the Pacific Northwest
Researched by Rebecca Alexander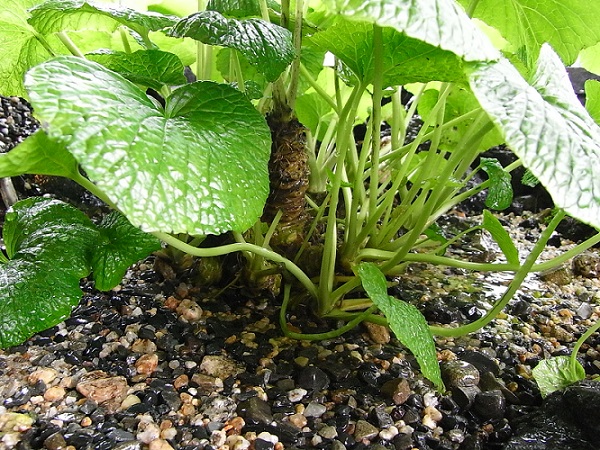 Reference request: I would like information about growing wasabi in the Northwest, such as how to propagate it and ideal growing conditions.


We don't have any books in the Miller Library on wasabi propagation, and most general propagation books do not include wasabi (the plant's botanical name is Eutrema, though there is some taxonomic disagreement over the species name, and the genus is sometimes listed as Wasabia). Cultivation of wasabi in this country is a relatively new endeavor, so the more current the source, the better. I did a journal search in Web of Science, and could not find anything on wasabi propagation or cultivation. There may simply be little information out there.


A colleague here in the Miller Library says that wasabi is a notoriously difficult-to-grow plant, and the fact that it requires cold running water throughout the year seems to preclude growing it in a climate which has freezing conditions in winter, unless you are able to protect the plants from frost damage.


Washington State University's publication,
"Growing Wasabi in the Pacific Northwest,"
by Carol Miles and Catherine Chadwick, may be especially helpful to you. There is an
earlier article
by Miles from WSU's Vegetable Research facility. It was published in PNW Sustainable Agriculture Newsletter in October of 1996.
Purdue University's New Crops site offers the following information on
wasabi
cultivation. It contains a link to an article on growing wasabi in New Zealand, which has some climate similarities to our region.
This
general article
on wasabi includes a list of growers. You will notice that several are in the Pacific Northwest.
Fruiting Bodies by Heather Talbot on display September 5-29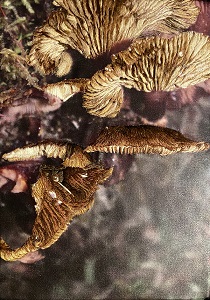 We are thrilled to welcome Heather Talbot for
Fruiting Bodies
, an exhibit of her pen and ink drawings, thread drawings, and needle felted works. From the artist's statement:
I am drawn to the concepts of impermanence, inter-connectedness and interdependence & use my art as a way of exploring these concepts. I'm interested in systems and how sometimes small and apparently insignificant elements of a system can be so essential to its healthy functioning.


As my work has developed I have moved from black and white drawings, to thread drawings (embroidery on heat transfers) to needle felted wall sculptures. In each case, like their subjects, they are simple but paradoxically complex. The photorealism is a tool to draw the viewer in, calling for further observation and contemplation. It would be fair to say that they are a kind of visual meditation intended to engender awe for their subjects. For me, the time spent making the work, attempting to depict the original form, in this case, fungi, with such painstaking accuracy, is a kind of devotion; a sacrament to the beauty and wonder of life in all its fleeting forms.


I consider each piece of work I undertake to be an exploration into a more deep and full understanding of one aspect of the living web of life of which I am also a part. Fungi are so fascinating to me, not just because they are so varied and beautiful in form, but because they are the fruiting bodies of these vast, invisible webs that are so essential to the healthy functioning of a forest and so exemplify these notions of impermanence, inter-connectedness and interdependence so beautifully.
The exhibit is open during library
hours
September 5-29.
The Miller Library Program Room – a gift from the Miller Charitable Foundation – is used for library programs and displays and as preparation space for library events. At other times the program room is freely available for use by current students, staff and faculty of the UW Botanic Gardens, and for community groups engaged in horticulture, gardening, or the study of plants. Make a
reservation
on our website.
© 2023 University of Washington Botanic Gardens