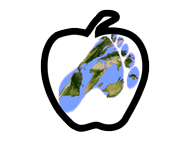 Food & Hunger
What did you learn about dietary choices from using the footprint calculator? Now imagine that you could translate what you learned into an effective societal policy on food- what would it be? And how would this policy effect the need to alleviate world hunger?

925 million people on earth do not have enough to eat according to the FAO [Food and Agricultural Organization]. That's almost 1 in 7 inhabitants of our planet!

sahoBOD
2021-05-11 12:59:33
According to "Eat Right" (Academy of Nutrition and Diabetics), sustainable eating is about choosing foods that are healthful to our environment and our bodies. Many foods we eat are not sustainable, even if we don't notice. In agriculture, the concept of sustainability is applied toward the production of plant and animal products using farming techniques and practices that help to conserve natural resources with minimal impact on the environment. Many scientists believe that a global shift toward more plant-based foods would help feed the world's growing population a nutritious and sustainable diet. Many problems come with this idea, however. First of all, many huge corporations benefit and profit greatly from these foods. Some examples are sugar, chocolate, palm oil, and industrial meat. These foods are part of very profitable industries which provide jobs for millions of people around the world. Although sustainable diets could save the world, the process to incorporate this around the world would be near impossible due to the rate that these foods are being produced.