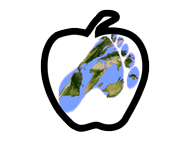 Food & Hunger
What did you learn about dietary choices from using the footprint calculator? Now imagine that you could translate what you learned into an effective societal policy on food- what would it be? And how would this policy effect the need to alleviate world hunger?

925 million people on earth do not have enough to eat according to the FAO [Food and Agricultural Organization]. That's almost 1 in 7 inhabitants of our planet!

Countries should ban import of food that is already locally produced like meat, vegetables, fruits, etc.

Scarletisafungi
2021-09-28 21:00:16
I agree with this statement. Although there are a few things that do not grow in my countries environment, or even state. However, if we use possibly 80% locally grown food, we could cut down on truck transportation and cargo loads. This would extremely decrease our CO2 emissions around the globe.

IsaacT
2021-10-02 18:07:07
The problem with not importing foods is that we can't produce enough food to feed everyone, as well as not being able to get "exotic" foods. We can definitely produce a portion of our food demands locally, but until we can develop a way to grow food in a compact setting, year-round, and sustainably, we need to continue to import to feed people. This also doesn't take into account the specific diets of different cultures, in which some foods just can't be grown in certain places, due to temperature, solid type, etc. forcing importation.