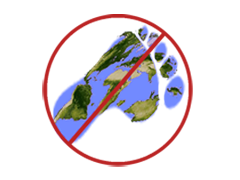 Off the Table?
Are there aspects of your daily life that you know contribute to your carbon footprint but you are unwilling to compromise to change them? In other words, what about your life is "off the table" when it comes to carbon emissions? It's OK to admit it- we all have these cherished behaviors!
Off the Table-Meat Consumption

eldrick c
2021-02-18 18:04:11
For my current carbon footprint, I noticed the calculator calculated that my meat consumption is very high. Just recently, I recorded the meals I consume each day for the entire week and what I saw on my record sheet is that I always had meat at least one meal each day. This has made me think about my eating habits for future and now I have made a goal for the entire year to reduce my meat consumption by 50%. Which means I will be consuming meat half the time and mostly eating vegetable or plant-based food. I hope to complete this goal and later transform it to my normal meal plan. What is your plan to for the Off the Table topic.

Leo s (Canada)
2021-02-18 19:28:14
Hi Eldrick, I have also noticed that my meat consumption on my carbon footprint calculator is very high as well. This has also made me want to change my eating habits. Although I currently don't have a plan because I don't have much control over what I eat, I will urge my parents to buy less meat. I will also try to avoid eating as much meat when I go out to eat. My goal is to reduce my meat consumption by 25% for this year.

Cameron06!
2021-02-18 21:54:54
Hey Eldrick c thank you for pointing this out, i agree 100% about cutting down on meats by 50%. As Leo pointed out he will be eating less meat too. Because of you guys i also will trying my best not to eat meat products as much as i do. It will take time and discipline but i think together we will do it!

SRahil
2021-02-19 17:33:32
What's up Eldrick. It's great to see you trying to change up your meat consumption by trying to reduce the amount of meat you eat a week by eating more vegetables and plant-based foods which is amazing especially with the project we are working on and is a great way to help the animal agriculture use and livestock.

jwong
2021-02-19 17:44:57
That is a great idea Eldrick. I've been tracking what I eat every day since the beginning of the month and I also notice that I usually eat meat at least once a day. I think this is why my food category in the carbon footprint calculator was higher than I expected. Since I usually make my own meals, cutting down the amount of meat I consume will be easier than if my parents cook for me. I don't think I can go fully vegetarian or vegan but I will also be cutting down my meat consumption.

Thomas K (Canada)
2021-02-19 18:09:49
Hello Eldrick C, I agree with what you are saying and I also found that when I tracked the amount of meat I was consuming it was quite a lot. My parents have most of the control over what I eat but, I will look for better options that I can have instead of meat. I don't think I can completely cut meat out of my diet but, I am going to try to cut down on eating meat. This looks like a great way to help reduce carbon emissions coming from the livestock industry.

arliec
2021-02-19 18:09:54
Nice idea Eldrick, I think that cutting down on meat consumption is something I need to start on as when I used the calculator I too noticed that it was quite high. Since my family consuming quite a lot of meat each week, I'm going to start asking them to buy less meat. I also dont think I could go vegan or vegetarian but I can definitely cut down my meat consumption.