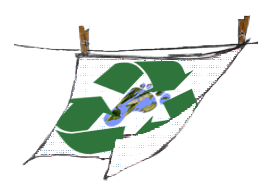 Reuse & Repurpose
It's very tempting to throw things away or even drop them in a recycling bin when we are done with them. Is there a better way?

Share your ideas for extending the "lives" of the items that we buy and use, and their packaging as well!

cofeBOD
2021-04-30 11:47:02
For things such as clothing, shoes, and other everyday necessities you can Repurpose. For me, this has been using old clothes from those who have gone to my school before me. For others, this could entail thrifting your clothes or trying to repurpose old clothes into new styles. Everyone is different in the way that they dress, so thrifting may grant you access to this wide variety of options. There are many others ways to Reuse and Repurpose, like composting old food. This can be done through the way of building a compost bin. Seeing as the US averages only a 34.7 percent composting rate, this is an easy fix to get rid of all your compostable materials. What other ways can we Reuse and Repurpose in this day and age?