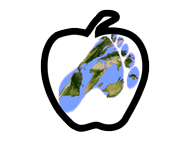 Food & Hunger
What did you learn about dietary choices from using the footprint calculator? Now imagine that you could translate what you learned into an effective societal policy on food- what would it be? And how would this policy effect the need to alleviate world hunger?

925 million people on earth do not have enough to eat according to the FAO [Food and Agricultural Organization]. That's almost 1 in 7 inhabitants of our planet!

jacoBOD
2021-04-30 11:49:28
Something that I have noticed a lot recently is how much waste, especially plastic, is thrown away after a single use due to food packaging. According to the US Environmental Protection Agency (EPA), food and food packaging materials make up almost half of all municipal solid waste. The EPA also says that the US generates around 292.4 million tons of solid municipal waste every year. This is an insane statistic, and one that could be easily reduced with environmentally conscious decisions about packaging and food waste. Fortunately, there are many ways to reduce the amount of single use packaging you use. You could do things such as bringing your own reusable bags to the store instead of using the plastic bags they give you, and refusing plastic straws at restaurants. You could also use a reusable water bottle instead of buying plastic water bottles, which will most likely end up in the ocean where they will be eaten by fish. According Federal Environment Minister Catherine McKenna, if we do not reduce our plastic intake, there will be more plastic than fish in the ocean by 2050. Finally, you can buy reusable Tupperware rather than using plastic bags. It is very important to reduce your waste and to contribute to the care of the Earth, and if we do not change our habits soon, we will ruin our home.

jacoBOD
2021-04-30 12:35:09