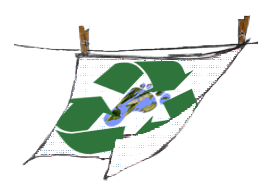 Reuse & Repurpose
It's very tempting to throw things away or even drop them in a recycling bin when we are done with them. Is there a better way?

Share your ideas for extending the "lives" of the items that we buy and use, and their packaging as well!

soseBOD
2021-05-01 13:53:10
Two ways of reducing your carbon footprint could be reusing and repurposing. For example, instead of throwing away old clothes, you could donate or give them to others so they could reuse it and avoid less waste; Or, you could repurpose those clothes to your liking. Another way is to use reusable containers or water bottles so you don't have to keep throwing away plastic items. In 2018, plastics generation was 35.7 million tons in the United States, but if we continue to reuse and repurpose, there would be fewer waste and a better environment. Lastly, you should be creative with reusing and repurposing- take something old or trashy and make it into something useful.