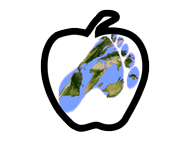 Food & Hunger
What did you learn about dietary choices from using the footprint calculator? Now imagine that you could translate what you learned into an effective societal policy on food- what would it be? And how would this policy effect the need to alleviate world hunger?

925 million people on earth do not have enough to eat according to the FAO [Food and Agricultural Organization]. That's almost 1 in 7 inhabitants of our planet!
Food Waste and How to combat it

humoBOD
2021-05-04 07:08:42
After finishing my carbon footprint quiz, I noticed that one of my biggest causes of CO2 emissions was food. After researching the topic I learned the reasons my food footprint was so high. According to BBC, a 2018 study found that fresh vegetables and salad make up 25% of edible household food waste in the UK but only account for 12% of greenhouse gas emissions from wasted food. Meat and fish on the other hand account for just 8% of wasted food but 19% of emissions. What this means is that meat produces more CO2 than other household foods, like vegetables. Fortunately, there are things you can do to reduce your food carbon footprint. Some ideas include throwing less food away, eating plant-based meat, buying fewer items with plastic wrapping or bagging, growing vegetables of your own, and purchasing locally grown foods.