As a cytotoxic T-cell detects a cell in our body potentially compromised by a virus, it faces important decisions:  Does it activate to kill the target cell? Does it commit to divide and proliferate, to generate an army of clonal descendants?  When does it turn into a memory cell, to guard against future attacks?
Our lab studies how immune cells make fate decisions, both to develop from stem cells, and to mount effective responses to antigens.  Cells employ circuits of interacting genes and molecules to integrate signals and make fate transitions.  To understand how these circuits work, we follow their dynamic behavior in single cells using quantitative live imaging.  We then define their molecular components genetic, biochemical and high throughput approaches, and elucidate principles underlying their operation using physics-based modeling. Here are examples of recent projects:

A multi-layered genetic switch for T-lineage commitment
Mammalian cell fate choices typically involve the combinatorial action of multiple regulatory genes.  How do multiple regulators work together with each other, and why are particular modes of collaboration beneficial?
We studied how four transcription factors work together to turn on the key T-cell fate commitment regulator, a gene called Bcl11b (Kueh et al., 2016). We found that three factors trigger the initial off-to-on switch in Bcl11b expression, whereas the remaining one sets the amplitude of its expression after it is turned on.  The factors controlling the initial switch are not needed for maintaining expression, and we believe this division of labor gives cells the flexibility to re-use these early-acting again later.
Current projects aim to understand how this genetic switch is implemented on the Bcl11b locus itself in the chromosome, and how this switch confers stability and kinetic control to the T-cell process.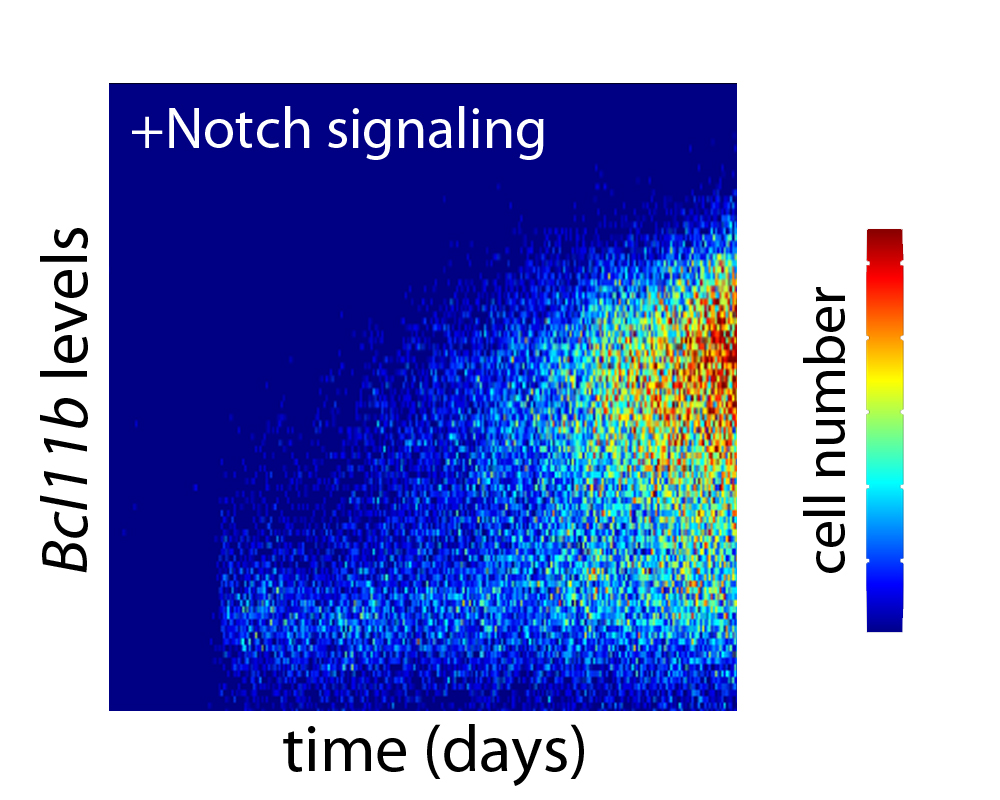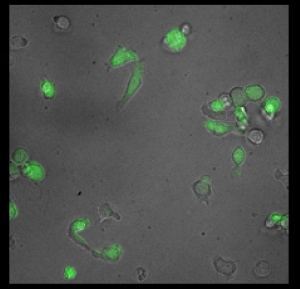 A cell-cycled coupled feedback loop controls macrophage differentiation
Differentiated cells can stably maintain their identities for their remaining lifetimes, which can range from weeks to years.  A widely utilized strategy for stabilizing fate identity is positive feedback, whereby a regulatory gene promotes its own synthesis to maintain its expression.
We tested for this mechanism in the context of macrophage differentiation, driven by a transcription factor called PU.1. Our results revealed a new feedback mechanism, where PU.1 increases its own levels, not stimulating its own synthesis, but by stopping the cell cycle to allow this stable protein to accumulate (Kueh et al., 2013).  This cell cycle feedback loop stably maintains a slow-dividing differentiated state, and works robustly even amid the destabilizing influence of gene expression noise.  Thus, we think it may represent a general control strategy used in other differentiation systems as well.
Current projects aim to understand the master circuits underlying cell cycle control, both in macrophages and other immune cells.