Definition: A metallic bond is formed when the valence electrons are not associated with a particular atom or ion, but exist as a "cloud" of electrons around the ion centers.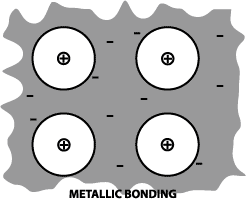 Metallic materials have good electrical and thermal conductivity when compared to materials with covalent or ionic bonding. A metal such as iron has metallic bonding.
Example: In the real and imperfect world, most materials do not have pure metallic, pure covalent, or pure ionic bonding; they may have other types of bonding as well. For example, iron has predominantly metallic bonding, but some covalent bonding also occurs.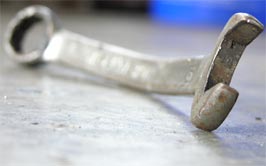 This wrench, found in a car shop in Malaysia, has been subjected to much abuse and is clearly showing signs of age. In its current condition, signs of rust shows that, at a molecular level, its metallic bonding is not perfect and the bending indicates that the original crystalline structure is altered.