Jeff Ballinger from Press for Change has provided a chronology of the Nike Anti-Sweatshop campaign. His account focuses on Indonesia in particular but it is still useful for those studying the campaign in other areas of the world.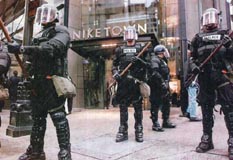 1988
Newspaper of Indonesian trade union publishes investigative report on South Korea-based shoe company producing for Nike.

1989
Articles appear in Indonesian newspapers about wage protests at Nike contractors Tae Hwa and Pratama Abadi. Most shoe factories illegally paid workers "training wage," which was less than the standard eighty-six cents a day.

U.S.A.I.D.-funded study on minimum wage compliance finds major shoe companies persistent violators.

Labor rights complaint against Indonesia submitted to office of US Trade Representative by International Labor Rights Research and Education Fund and Human Rights Watch. Calls for review of country's benefits under Generalized System of Preferences.

1990
Strike at Tae Hwa and protests at Sung Hwa. Latter action in response to workers killed in crash of overcrowded company bus.

Rise of Setia Kawan (Solidarity) independent trade union -- subsequently crushed by Indonesian authorities after less than a year.

1991 (top)
Strike at Hardaya Aneka (HASI) factory after fire kills two workers.

Strike at Pratama Abadi.

Indonesian daily Media Indonesia runs three-day report on abuses at shoe factories. Headline second day: World Shoe Giants Rape Worker Rights.

Korean businessmen repeatedly warned in newspapers about abusive labor practices.

Thames TV (UK) broadcasts investigative report on Nike contractor in Indonesia.

The Economist reports on unrest at shoe factories producing for Nike.

Departmental strikes at Tae Hwa and Pratama Abadi.

Knight Ridder (US) wire report on Nike-producing shoe factories. Correspondent spoke with Indonesian workers.

Institute of Technology (Bandung, W. Java) and Dutch Institute for Social Studies publish report on shoe industry in Indonesia. Leads to attack by Indonesia's Minister of Investment Coordination and subsequent restriction on press reports about low wages and abusive conditions at shoe factories.

1992 (top)
Oregonian (US) newspaper prints lengthy article on Nike's Indonesia operations -- Phil Knight (Nike CEO) writes angry denunciation (which includes substantial factual inaccuracies).

US State Department report to Congress on Human Rights highlights shoe factories' refusal to pay Indonesia's minimum wage.

Strike at Sung Hwa.

Nike formulates "Code of Conduct and Memorandum of Understanding" for contractors.

Cover story of Far Eastern Economic Review looks at Nike's Asian operations -- cites "rough side" to Nike's "…Just Do It dream: the ruthlessness with which Nike pares its costs. The company is forever on the lookout for cheap production sites ".

Harper's magazine publishes "Nike: The New Free-Trade Heel" by Jeff Ballinger.

Los Angeles Times -- "New Shots Fired in Indonesia Wage War" (Nike and GSP)

1993 (top)
Sung Hwa protest leaders sacked after ten-week investigation by local security forces -- included intimidation and interrogations. Twenty-four workers subsequently won case against contractor at Supreme Court of Indonesia (1997).

Critical reports published in New York Times, The International Herald Tribune, The Economist and Jakarta Post.

Sung Hwa protest leader (Sadisah) attends meeting in Paris hosted by advocacy group Agir Ici and travels to UK, Germany and Holland.

Sneaker campaigns undertaken in Holland (IRENE & Komitee Indonesie) and Italy (Centro Nuovo Modello di Sviluppo).

Nike Boycott launched in Germany by Evangelische Kirchengemeinde Duisburg-Neumuhl.

Strike at Pou Chen (locally known as Nikomas).

CBS-TV (US) broadcasts highly critical report on Nike contractors' labor practices in Indonesia.

Press for Change organized to report on Nike shoe factories in Indonesia.

Sports Illustrated cover story dubs Nike "The most powerful force in sports" owing to the marketing/promotion budget of several hundreds of million dollars.

Indonesia's highest labor court rules in favor of Sung Hwa protest leaders. Nike contractor appeals order to re-hire workers and pay restitution.

1994 (top)
Amsterdam-based SOMO (Center for Research on Transnational Corporations) completes study, "The Nike Method".

New campaigns launched in UK (Christian Aid) and France (Agir Ici).

Research grant from Press for Change to Jakarta-based Urban Community Mission provides information for first Nike in Indonesia newsletter.

Criticism of Nike contractors in New York Times Op-Ed (Cavanagh & Barnett), ABC-TV (US) Prime Time Live and The Economist.

Extensive Indonesia sweatshop report in The Rolling Stone (US).

First meeting of ad hoc Sport Shoe Campaign Group at IRENE-sponsored conference in Brussels.

Nike hires accounting firm, Ernst and Young to do "social audits" at Indonesia-based contract factories.

Random House publishes Donald Katz' Just Do It. Katz characterizes Indonesian operations as "management by terror and browbeating." CEO Knight appears with Katz for Portland book-signing.

IRENE newsletter reports on international campaign to pressure Nike's contractors.

Press for Change study in Indonesia documents continued wage-cheating.

Strikes at Nagasakiti Paramshoes (NASA) and Tae Hwa.

Major investigative reports in Boston Globe and Los Angeles Times.

Corrupt Indonesian Minister of Manpower overrules top labor court on Sung Hwa case, in favor of Nike contractor.

Strikes at Pou Chen and Pratama Abadi.

Press for Change runs ads in alternative weeklies in three major cities. Nike lawyers respond with libel action threats against two publications.

Chicago Tribune report, "Wages of Shame", details struggle of workers making Nike shoes in Indonesia and quotes Nike's Indonesia manager, Tony Nava, who says company "can't know" if labor practices reports by contractors are actually true. Nava criticizes newly-formed independent trade union only weeks after Indonesian authorities jailed the group's leader.

1995 (top)
Manager at Pratama Abadi lines up and slaps fifteen women from quality control section. (Press for Change interviewed witness who was herself slapped in a separate incident.) Nike offices in Jakarta and Oregon informed -- no response received.

Ms. Magazine (US) publishes "The Globe-Trotting Sneaker" by Cynthia Enloe.

US A.I.D.-sponsored research wraps up three-year research study -- 155,000 Indonesian workers interviewed at several hundred factories. Over 500 workers at Nike-producing factory in Majalaya, W. Java report problems such as forced overtime and illegal wage deductions.

Canadian group, Developpment et Paix, begins two-year campaign to monitor and report on overseas production of Nike footwear and Levi's jeans. Director travels to Indonesia and interviews dozens of workers.

Article in Marie Claire: "Worked to Death" mentions Nike's Indonesia production and "Code of Conduct."

Administrative Court in Jakarta overturns Manpower Ministry's arbitrary and capricious ruling on Sung Hwa protest organizers. Ministry appeals to Indonesia's Supreme Court.

Oxfam brochure "Made in Dignity" describes abuses in Nike-producing factories in Indonesia.

Coalition for Development Action (Brussels) publishes report of IRENE's Peter Pennartz: "Competition Policies -- The Case of Nike" in ICDA Journal.

Sisbikum, and Indonesian NGO, helps shoe workers to form new advocacy group (Perbupas) with elected leaders from rank-and-file.

Developpment et Paix supports new research by Press for Change in Indonesia. Information sent out in two new Nike in Indonesia newsletters.

The International NGO Forum on Indonesian Development (INFID -- Jakarta and The Hague) begins series of discussions on worker rights with New York-based Council on Foreign Relations. Nike rated "worst" U.S.-based multinational in worker rights area.

Amnesty International publishes in-depth look at problems of women in Indonesia and E. Timor with lengthy examination of female labor activists' plight.

Deborah Spar, Asst. Prof. at Harvard Business School (HBS) does study of impact of foreign investment on labor rights in Indonesia.

Strike leads to dismissal of 13 activists at Pou Chen.

Nike increases bloated advertising by 22% while The Economist quotes Korean contractor for Nike in Indonesia, "Wages go up, but the buyers still try to force costs down." (Referring to 30% increase in Indonesia's minimum wage -- now $155 a day.)

Ballinger presents paper on Corporate Responsibility to conference on international development (jointly sponsored by HBS, Kennedy School of Government and Tufts).

Conference in Pisa, Italy -- presentation by Press for Change on Nike in Indonesia and address by newly-released Indonesian independent union leader, Muchtar Pakpahan. Second meeting of Sport Shoe Campaign Group.

Dutch "Fair Play" campaign is launched. In Switzerland, Declaration de Berne and Pain pour le prochain launch a study on sweatshops; researchers travel to Thailand and Indonesia.

London-based Christian Aid commissions study of shoe factories in four Asian countries. Published report has tremendous media impact in UK.

Australian researcher, Peter Hancock, does in-depth report on Nike-producing factory in Majalaya, W. Java.

PhD candidate, Bama Athreya (University of Michigan), finishing field research for dissertation on Indonesian women workers, interviews dozens of workers from HASI and Pou Chen factories.

Sydney-based Community Aid Abroad (CAA) contacts Press for Change and compiles useful bibliography on struggle of Indonesian workers making Nike shoes.

Washington-based Multinational Monitor names Nike to annual "Ten Worst" list and publishes article by Jeff Ballinger.

Students at U. Wisconsin battle proposed endorsement contract with competing shoe companies. Reebok ultimately wins deal, but an embarrassing "non-disparagement" clause is deleted because of student activism.

Press for Change contacted by Interfaith Center for Corporate Responsibility (ICCR).

1996 First 6 Months (top)
Portland organization, Justice, Do It Nike, begins regular protests at Nike store.

Press for Change organizes first protest at Reebok's annual Human Rights Award ceremony.

New research by Press for Change in Indonesia uncovers widespread violations of Nike's own "Code of Conduct". Reports in several Indonesian newspapers lead with "forced overtime" issue, due to death of worker at Reebok-producing factory (Dong Joe).

Five NGOs in Indonesia form Independent Sportshoes Monitoring Group (ISMN) and pledge to increase pressure on shoe companies.

Continuing discussions with Press for Change, ICCR and General Board of Pensions, United Methodist Church leads to submission of "anti-sweat" resolution to Nike shareholders meeting. Meeting covered by CBS-TV.

Joint report on Indonesia's suppression of labor rights by Human Rights Watch and RFK Memorial Center describes shoe factory protest led by courageous young labor activist, Dita Sari. (She was jailed for unrelated protests organized six months later.)

An AFL-CIO "Impact Project" in Indonesia surveys workers in factories producing for Nike and finds that 36% of them had been involved in strike actions.

mid-1996 (top)
National Labor Committee (NYC) brings unprecedented attention to sweatshop issue with Kathie Lee Gifford controversy. Almost overnight, Nike's labor record is examined in dozens of publications. This is due in part to the incredible media activism of Global Exchange, the protests coordinated by Campaign for Labor Rights and the tremendous archives documenting the struggle of Indonesian workers. Contributing to the archives were several European groups, a couple each in Australia and in N. America and, first and foremost, the brave workers and activists in Indonesia.

Press reports from mid-1996 forward are far too numerous to mention; following is a brief description of NGO and worker activism:

White House forms "Apparel Industry Partnership" to deal with the acutely embarrassing issue of U.S. corporations involved in labor rights violations in the world's most corrupt and repressive countries. Sacked worker from Nike-producing factory in Indonesia is denied chance to speak at AIP's founding conference in Washington.

Rev. Jesse Jackson is refused visit to Nike-producing factory while in Indonesia.

Community Aid Abroad publishes "Sweating for Nike" report, based on research in Indonesia.

Press for Change confers with European groups and two Indonesians from ISMN group at IRENE-sponsored conference in Duisburg, Germany.

Agir Ici distributes 150,000 post-cards in sport shoe campaign in France.

Swiss groups, led by Declaration de Berne, undertake Indonesia sport shoe educational activities.

Developpment et Paix undertake second year of research and educational activities; over 80,000 postcards are sent to Nike and, across Canada, newspaper ads are bought to draw attention to campaign.

Fired Nike workers' lawyer, Apong Herlina, visits New York for CEDAW meeting -- reports that case of 24 workers now sits before Supreme Court in Indonesia.

Brutal political crackdown in Indonesia leads to re-arrest of Muchtar Pakpahan and the suspension of most worker rights educational activities.

Fired Nike worker tours U.S.

Thuyen Nguyen, after consulting with Press for Change, organizes Vietnam Labor Watch, based in New York.

Nike sends five-page letter to universities across N. America to "explain" child labor controversy.

Chicago Tribune article: "Indonesia's Big Crime: Oppressing Workers -- U.S. Plays Role by Not Imposing Trade Sanctions."


1997 (top)
Phil Knight, Nike CEO becomes sixth richest person in U.S. with $5.3 billion (all from shoes/apparel).

Several Nike shoe contractors in Indonesia apply for exemptions from paying new minimum wage in Indonesia. Increase is from $2.25 to $2.46 a day.

Massive protest march by HASI workers to regional parliament building.

Australian CAA launches post-card campaign and inaugurates Nike campaign email list-serv.

Strikes by thousands of Nike-producing workers in Vietnam.

Canadian Auto Workers sponsor second N. American tour of Cicih Sukaesih, fired Nike worker.

Nguyen of VLW meets workers in Viet Nam. Global Exchange organizes press conference for Nguyen -- also attended by Press for Change and AFL-CIO Vice-President, Clayola Brown.

Portland's Jobs With Justice helps to organize big May Day protest at Nike store.

Tiger Woods shrugs off sweatshop question at British Open.

Nike hires former UN Ambassador, Andrew Young, to tour Asian factories. Young uses Nike translators and his report is viewed as shallow and unhelpful.

Protests conducted at new Nike store openings in Seattle, San Francisco and Boston.

50,000 more postcards delivered to Nike from Canadians -- organized by Developpment et Paix.

Massive protest and three-day strike at Garuda Indawa -- severance pay issue.

Asian economic crisis brings Nike contractors' per-day labor cost down from $2.50 a day to $.70. Subsequent strengthening of Indonesian rupiah to dollar brings wage back to about $1.10 by year-end. Indonesian owner of HASI factory complains that Nike demanded all savings attributable to crash of rupiah.

Campaign for Labor Rights organizes world-wide day of protest concerning Nike's labor practices. Actions in fifty cities.

Centro Nuovo Modello di Sviluppo debate with Nike official before crowd of 300 in Rome.

Joint report on Nike contractors in China by Hong Kong Christian Industrial Committee. and Asia Monitor resource Center.

White House panel on sweatshops announces "standards" for apparel and shoe companies. Severely criticized by most anti-sweat groups.

Study by NCOS (Belgium) about Nike production in Indonesia leads to 85,000 protest signatures gathered by union and community groups.

Nike objects to second shareholder resolution by General Board of Pensions, United Methodist Church. U.S. Securities and Exchange Commission backs Nike objection, rules that resolution will not appear on the proxy statement.

Berkeley-based Transnational Resource Action Center releases report documenting severe health problems at Nike shoe factory in Viet Nam.

Student protests against Nike links with universities erupt at Univ. Illinois, Penn State, Univ. N. Carolina, Colorado, Florida State, Michigan and others.

Nike official complains about modest rise in minimum wage in Indonesia (20 cents per day); veiled threat to move production.

Nike announces 10-year $200 million deal with Brazil's national football team.

International Confederation of Free Trade Unions issues report documenting Nike "Code" violations in Malaysia -- paying Bangladeshi "migrant" workers less than Malaysian co-workers.

1998 (top)
Nike official tells Newsweek reporter that the company would like to raise wages in Indonesia, but the government had banned all pay hikes as "inflationary."

Inflation reaches 80% in Indonesia so that shoe workers' real wages fall 40% behind 1997 (pre-Crash). This is taking into account Nike's emergency 30% pay increase for shoe workers. (The first time contractors there were ever forced by Nike to pay above the statutory minimum.)

Nike CEO, Phil Knight, gives talk on Nike's Asian labor practices at National Press Club in Washington, D.C. Announces new initiatives such as education for workers and micro-enterprise loan programs. Vows to eliminate hazardous chemicals from shoe production.

Pharis Harvey, head of International Labor Rights Fund, is denied tour of Indonesian factory by Nike officials. (ILRF has been Nike "partner" on White House panel for over a year, at this point.)

CAA Sydney begins intensive effort to establish ties between campaign groups and worker advocacy organizations in Indonesia.

Unions and Interfaith Center on Corporate Responsibility leave White House panel on sweatshops due to irreconcilable differences on monitoring and reporting compliance.

Indonesia's Supreme Court rules in favor of 24 "Sung Hwa" protest organizers.

Doson workers stage protest after Nike contractor reneges on meal allowance pledge.

Universities under increasing pressure from students; "sweatshop" concern spreads to apparel made for college bookstores bearing university-licensed logos.

Filmmaker Michael Moore, interviews Phil Knight for movie, "The Big One."

Fired Nike worker Cicih Sukaesih honored by US-based "100 Heroines" group.

Workers from NASA ("Nagasakti" Nike contractor in Tangerang) join "Greater Jakarta Labor Organization" to increase chances of effective collective bargaining.

Nike announces second pay increase (25%) for Indonesian shoe workers. Wage now 250,000 rupiah ($23) per month. "Real wages" still 30% behind mid-1997 figure. First year, post-Crash wage savings for Nike exceeds $10 million -- even given the two "increases" above the Indonesian minimum wage.

Michael Jordan, Nike's premier endorser, makes the first of several promises to visit Asian production facilities.

Manager at Pou Chen factory in Viet Nam pours paint on the head of a worker for making a mistake. She is paid $15 compensation.

Organizers at Nike apparel maker, PT Tainan are sacked. Both begin labor court cases.

Julia, a worker at Nike-producing "Formosa" factory in El Salvador, is beaten and fired for taking a day off to care for her sick child.

Hero of E. Timor independence struggle, Jose Ramos Horta, likens Nike contractors' operations in Indonesia to Japanese occupation of the archipelago.


1999 (top)
Joseph Ha, a top advisor to Phil Knight, sends letter to highest-ranking labor official in Viet Nam portraying "anti-sweat" activists as enemies of the state with a "political" agenda.

Par Garment (Thailand): the Pathum Thani provincial office of the Thai Ministry of Labor rules against the Nike contractor, and orders them to pay the 50% of back wages for 45 days to 161 employees. Par Garment contests the judgment. (There are also two other cases outstanding, one regarding fired workers and another regarding a dispute over the collective bargaining agreement.)

Nike goes on trial in Australia for refusing to comply with "home-work" rules. It is the only apparel-maker to contest issue.

Ms. Nurhayati, union activist at PT Doson is sacked (a strike had taken place six months earlier).

Nike offers consumer advocate Ralph Nader $25,000 to endorse a running shoe. He declines.

Launch of "The Global Alliance for Workers and Communities" -- Nike, Mattel, World Bank and the MacArthur Foundation. Do-gooder activities to be carried out by U.S.-based International Youth Foundation.

Retired generals in Indonesia offer to sell intelligence information to foreign businesses.

Viet Nam survey shows that worst manufacturing pay rates are in footwear sector.

Nike refuses to allow local worker advocacy NGOs to accompany ILRF representatives on Indonesia factory tours. (Nike and ILRF are both members of "Fair Labor Association.")

US students and activists meet Indonesian workers with Press for Change director, Jeff Ballinger. Group meets with surveyors about to undertake six-week study of workers in shoe and apparel factories.

Nike increases advertising spending by 53% for coming year.

Strike and protest over holiday bonus at Pou Chen factory and violent demonstration over same issue at PT ADIS.

"Free Speech" lawsuit filed in federal district court in Manhattan against Nike and St. John's University. Former asst. coach of soccer team, Jim Keady, claims that head coach insisted he wear jacket with Nike "Swoosh" in order to continue coaching.

Haryanto, fired former Nike worker, tours U.S. -- organized by Campaign for Labor Rights. He tells audiences about his attempts to inform fellow workers about their rights, which led to his dismissal. Efforts by CLR and CAA force Nike to insist that contractor re-hire him (a "first").

Nike signs new sponsorship agreement with the University of Texas for a reported $20 million.

Nike factory in Viet Nam was scene of country's largest food-poisoning incident of the year.

Urban Community Mission completes survey of 4,000 workers in Nike-producing factories near Jakarta.

Protests in Seattle support efforts of workers in all countries to insist on the right to form independent unions and to demand that employers sit down in dignity for collective bargaining.

New book, "No Logo; Taking on the Brand Bullies" by Naomi Klein (Picador, 1999) gives good review of rise of anti-sweatshop struggle.

2000 (top)
Shoe-industry group in Indonesia makes publicity campaign against strikes in shoe factories.

Wall Street Journal profile of Yue Yuen -- Nike's biggest contractor in the world --describes very profitable company.

Indonesian official links bribe-taking by police and military to low wages paid to factory workers.