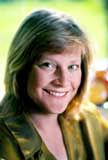 B. J. Bullert, Ph.D. is a communication scholar, a documentary filmmaker and an oral historian. She is currently a senior research fellow at the Center for Communication and Civic Engagement at the University of Washington and an Adjunct Professor in the University of Washington's Masters in Digital Media program.
She received her doctorate in communication from the University of Washington in 1995 and completed her M. Litt. degree in politics at St. Antony's College, Oxford University, in 1981.
Since 1995, she has taught communication and video and film production as an Assistant Professor at American University in Washington, D.C., and at Muhlenberg College in Allentown, Penn. In Fall 1999, she was a Fellow at the Joan Shorenstein Center on the Press, Politics and Public Policy at the Kennedy School of Government, Harvard University. Her fellowship research focused on the integral role of public relations professionals in the shaping of the sweatshop awareness movement in the United States.
She is the author of Public Television: Politics and the Battle Over Documentary Film (Rutgers University Press 1997), and the producer/director of five public television documentaries including Chief Seattle (2000), Alki: Birthplace of Seattle (1997) and Earl Robinson: Ballad of an American (1994). In addition, she has produced several short-format works and cyber videos, including Space Needle at 40 (2002), Yip Harburg: Lyricist (1999), A Place to be Duwamish (1999), Duwamish Life with Prof. Kenneth Tollefson (2000), The Duwamish: Still Here (2000), Naomi Klein: Sweatshops on Fire (2000) and Andrew Ross: History Lesson (2000).
Bullert has produced a three-part radio special with KUOW, Selections from Skid Road, based on the book by Murray Morgan, and coordinated and wrote the text for the exhibit, "The Spirit Returns: A Duwamish and Pioneer Story" at the Log House Museum in West Seattle. She is currently working on two documentary projects, Fishermen's Terminal and Ye Olde Curiosity Shop, in addition to research on social movements and strategic media. She lives in West Seattle.

Papers
Strategic Public Relations, Sweatshops and the Making of a Global Movement
Interviews
(These videos are encoded at 100kb/s for optimal quality. They cannot be viewed by people using dial-up connections or older modems).

Sweatshops on Fire (8 min.) features an interview with Naomi Klein, author of NO LOGO: TAKING AIM AT THE BRAND BULLIES. Klein compares New York's infamous Triangle Shirtwaist Fire of 1911 with "the worst industrial fire in history" at Thai toy factory in 1993.
History Lesson (4 min.) is a visual essay about the mass media and
globalization featuring Andrew Ross, Director of the American Studies
program at NYU.
Both works explore the selective prism of the news media and the struggle for safe working condition in the global economy.
Interview with Jasper Goss