Seattle has a unique civil rights history that challenges the way we think about race, civil rights, and the Pacific Northwest. Civil rights movements in Seattle started well before the celebrated struggles in the South in the 1950s and 1960s, and they relied not just on African American activists but also on Filipino Americans, Japanese Americans, Chinese Americans, Jews, Latinos, and Native Americans. They also depended upon the support of some elements of the region's labor movement. From the 1910s through the 1970s, labor and civil rights were linked in complicated ways, with some unions and radical organizations providing critical support to struggles for racial justice, while others stood in the way.
This multi-media web site brings the vital history of Seattle's civil rights movements to life with scores of video oral histories, hundreds of rare photographs, documents, movement histories, and personal biographies, more than 300 pages in all. Based at the University of Washington, the Seattle Civil Rights and Labor History Project is a collaboration between community groups and UW faculty and students. Here is more About the Project, about our contributors, and the project's impact.
Tour the Project
Activist Oral Histories We have interviewed more than 80 civil rights activists. You can watch video excerpts and read short biographies.
Films & Slide Shows Here are short films and powerpoint slide shows that introduce special themes of the Seattle Civil Rights and Labor History Project.
Research Reports These in-depth historical essays explore fascinating issues, incidents, and people. Each is fully illustrated with photos and newspaper articles.
Segregated Seattle Learn about the history of racial segregation in Seattle and check to see whether property in your neighborhood includes restrictive covenants. See What's In Your Deed?
Seattle's Ethnic Press Read about the newspapers that have represented Seattle's communities of color.
Civil Rights Organizations Here are short profiles and links to more information about more than fifty organizations that have participated in struggles for civil rights over the course of the 20th century.
For Teachers Lesson plans, project ideas, powerpoint slide shows, and other materials for high school, college, and middle school classrooms.
Special Sections We have comprehensive reports, oral histories, photo collections, and documents about these movements and organizations: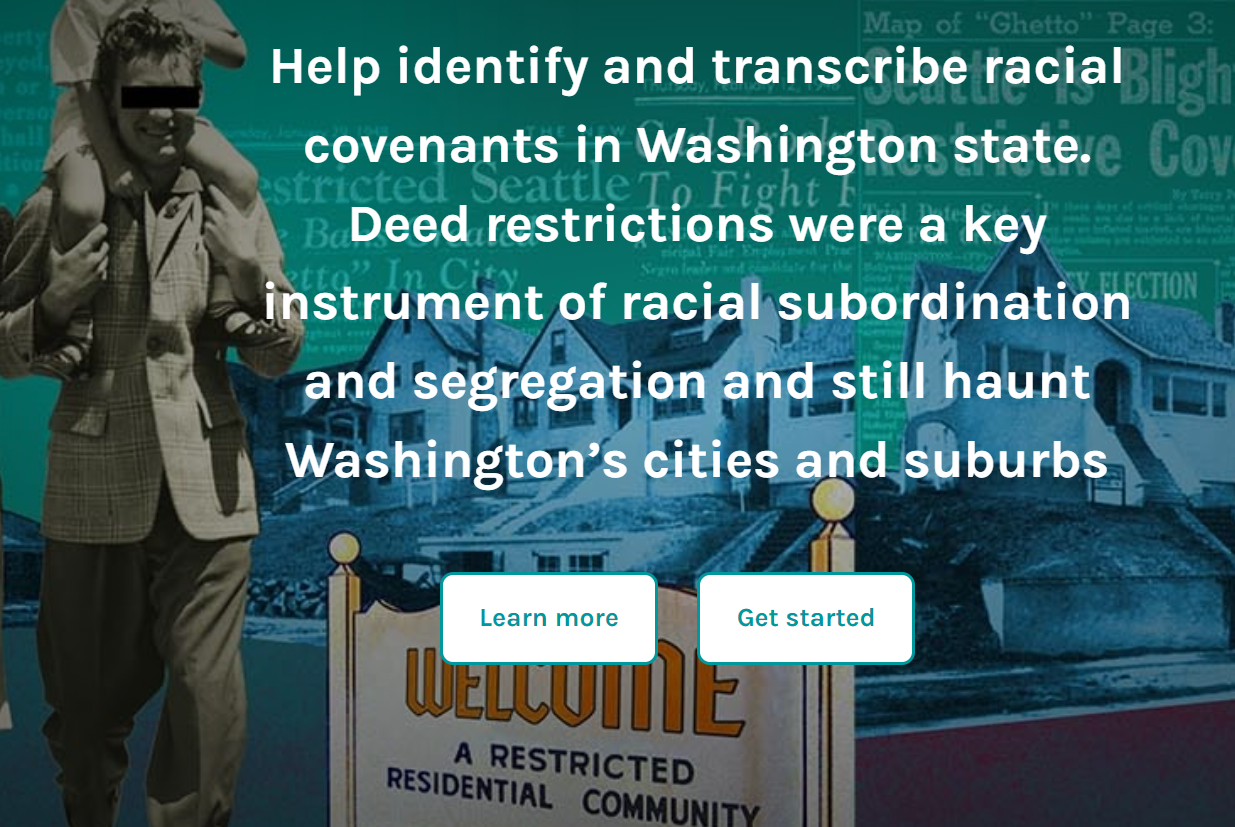 Volunteers are assisting by reading deeds and recording the restrictions. We use optical character recognition (OCR) to identify property records containing racial language, but computers can only do some of the work. Please volunteer to examine the text flagged by the computer and answer a series of questions. Each document takes no more than a few minutes to examine. Teachers: this can be an exciting class project. More