Seattle has a unique civil rights history that challenges the way we think about race, civil rights, and the Pacific Northwest. Civil rights movements in Seattle started well before the celebrated struggles in the South in the 1950s, and they relied not just on African American activists but also on Filipino Americans, Japanese Americans, Chinese Americans, Jews, Latinos, and Native Americans. They also depended upon the support of some elements of the region's labor movement. From the 1910s through the 1970s, labor and civil rights were linked in complicated ways, with some unions and radical organizations providing critical support to struggles for racial justice, while others stood in the way.
This multi-media web site brings the history of Seattle's civil rights movements to life with films, slide shows, more than 80 video oral histories, two thousand photographs and documents, and dozens of detailed essays on key people, issues, and events--more than 300 pages in all. Based at the University of Washington, the Seattle Civil Rights and Labor History Project is a collaboration between community groups and UW faculty and students. Here is more About the Project, about our contributors, and the project's impact.
Tour the Project
Activist Oral Histories We have interviewed more than 80 civil rights activists. You can watch video excerpts and read short biographies.
Films & Slide Shows Here are short films and powerpoint slide shows that introduce special themes of the Seattle Civil Rights and Labor History Project.
Essays These in-depth historical essays explore fascinating issues, incidents, and people. Each is fully illustrated with photos and newspaper articles.
Segregated Seattle Learn about the history of racial segregation in Seattle and check to see whether property in your neighborhood includes restrictive covenants. See What's In Your Deed?
Seattle's Ethnic Press Read about the newspapers that have represented Seattle's communities of color.
Civil Rights Organizations Here are short profiles and links to more information about more than fifty organizations that have participated in struggles for civil rights over the course of the 20th century.
How Far Have We Come? Equality and inequality in Seattle today. Census statistics and maps on education, income, and housing.
For Teachers Lesson plans, project ideas, powerpoint slide shows, and other materials for high school, college, and middle school classrooms.
Special Sections We have comprehensive reports, oral histories, photo collections, and documents about these movements and organizations:
Tyree Scott and the United Construction Workers Association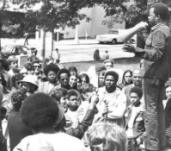 Tyree Scott, an electrician turned activist, founded the United Construction Workers Association in 1970. The UCWA fought to integrate the mostly white building and construction trades unions. Its tactics included direct action, marches, litigation, and worker education and advocacy. Read about these events, explore UCWA newspapers and documents, and watch video excerpts of interviews with UCWA activists. [more]

For most of its history Seattle was a sharply segregated city, as committed to white supremacy as any location in America. People of color were excluded from most jobs, most neighborhoods, and many stores, restaurants, and other commercial establishments. [more]
Special Sections:
Farm Workers in Washington State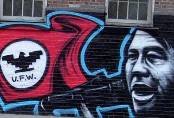 This multi-media special section details the history of farm workers from the 1890s to the present and explores their labor activism from the IWW to the UFW. [more]
The Ku Klux Klan in Washington State, 1920s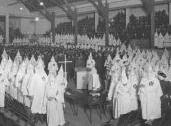 With thousands of members and dangerous ambitions, the KKK became an important political force in Washington in the early 1920s, electing mayors and officials in several cities. This special section includes rare pictures, documents, and a detailed history of the Klan's effort to take power [more]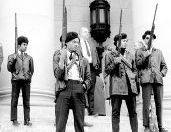 The Black Panther Party made a major impact on Seattle. Committed to armed self defense, the Panthers showed that struggles for racial justice had moved beyond nonviolent protest. This special section includes video interviews with Party veterans and hundreds of photographs, newspaper articles, documents. [more]
Filipino Cannery Unionism
Across Three Generations 1930s-1980s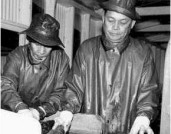 Seattle's Filipino-American community created one of the most important examples of civil rights unionism on the West Coast. Starting in 1933, the unionization of workers in the Alaska canneries gave Filipinos an important tool to fight for better working conditions and also for civil rights. [more]
Chicano/a Movement in Washington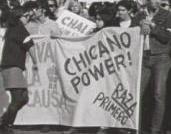 The Chicano movement in Washington emerged in the Yakima Valley, home to most of the state's Latinos, and in Seattle and the University of Washington, where Chicano students launched many new initiatives. [more]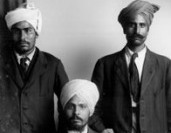 In 1907, a vicious race riot drove South Asian saw mill workers out of Bellingham. Soon other Asians were driven away, leaving Bellingham an all-white city until the late 20th Century. This section includes the documentary film, Present in All That We Do, rare photographs, newspaper articles, [more]
CORE and the Central Area Civil Rights Campaigns 1960-1968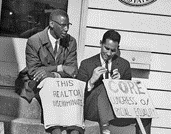 In the 1960s, CORE, NAACP, and the Central Area Civil Rights Committee spearheaded campaigns against employment discrimination, police brutality, school segregation, and for open housing. Here are video oral histories, photos, newspaper articles, [more]
The Black Student Union at UW:
Black Power on Campus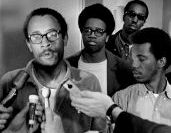 The BSU was founded in 1968 when very few black students attended UW. It led campaigns that transformed the University and reshaped opportunities for young people of color throughout Washington state. This special section includes video interviews, photographs, newspaper articles, documents. [more]