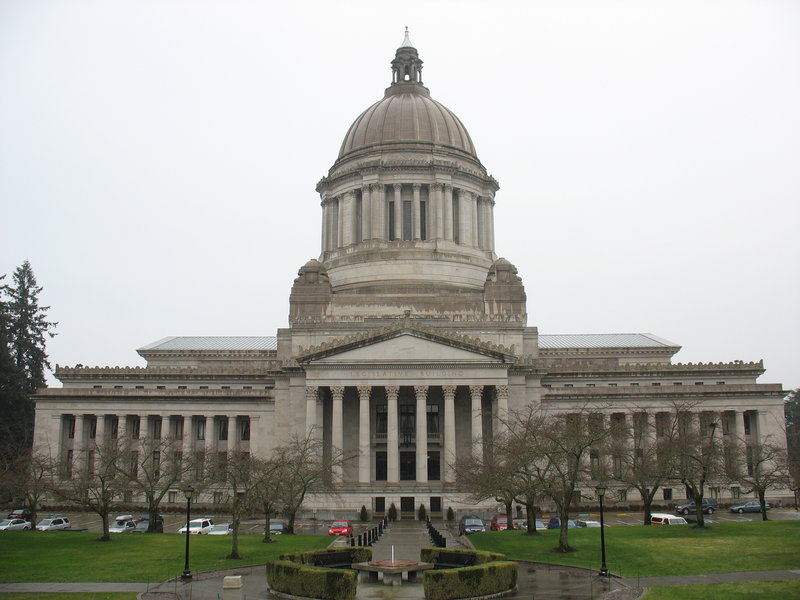 Three times the Washington State Legislature has changed state law in response to the work we have done to uncover the history of racial restrictive covenants, most recently in Spring 2021 with House Bill 1335 (introduced by Rep. Javier Valdez) which authorized our team and one from Eastern Washington University to conduct a statewide survey to locate the racist deed restrictions that still haunt property records. The project will report results in 2022 and 2023. Earlier laws laid the groundwork. On March 15, 2006, Governor Christine Gregoire signed Senate Bill 6169 which made it easier for neighborhoods governed by homeowners associations to rid themselves of racial restrictions in their by-laws. State Senator Jeanne Kohl-Welles introduced that measure after this project focused attention on the fact that some HOAs were refusing to remove racist by-laws. In 2018, Governor Jay Inslee signed SHB 2514, introduced by State Representative Christine Kildruff. That law allowed a property owner to record a Racial Restrictive Covenant Modification document that repudiates racist clauses in their property records. HB 1335 authorizes us to contact property owners and help them file modification forms. These laws are describe below:
SHB 1335 AN ACT Relating to review and property owner notification of recorded documents with unlawful racial restrictions (signed May 12, 2021)
Introduced by State Representative Javier Valdez, this law expands the implementation of SHB 2514 which established procedures for striking illegal deed restrictions by filing Restrictive Covenant Modifications. "It is the intent of the legislature that the owner, occupant, or tenant or homeowners' association board of the property which is subject to an unlawful deed restriction or covenant pursuant to RCW 49.60.224 is entitled to have discriminatory covenants and restrictions that are contrary to public policy struck from their chain of title."
HB 1335 allocated funds and authorized teams at the University of Washington and Eastern Washington University to "review existing recorded covenants and deed restrictions to identify those recorded documents that include racial or other restrictions on property ownership or use against protected classes that are unlawful under RCW 49.60.224. For properties subject to such racial and other unlawful restrictions, the universities shall provide notice to the property owner and to the county auditor of the county in which the property is located. The universities shall provide information to the property owner on how such provisions can be struck pursuant to RCW 49.60.227. The universities may contract with other public and private not-for-profit higher education institutions that are regionally accredited to carry out the review and notification requirements of this section."
The Washington State Association of County Auditors is charged with facilitating the filing of modifications, for which there is no fee. Here are several documents created by the Association of County Auditors that explain the process:
SHB 2514 law amending RCW 49.60.227 and 64.38.028
---
SHB 2514 AN ACT Relating to discriminatory provisions found in written instruments related to real property (signed March 15, 2018)
Effective January 1, 2019, this law (since modified by HB 1335) encouraged property owners to submit documentation that "strikes" any racially discriminatory language from property records. Proposed by State Representative Christine Kilduff, the law allowed a property owner to record a modification document that will provide notice in the land title records that the racially restrictive covenant is void and unenforceable. It will not delete the historic record. The modification document legally strikes, but does not physically erase, the void and illegal discriminatory provisions from the original document. As explained on this page, racial restrictions have been void and illegal since 1968.
---
SESB 6169 -- AN ACT Relating to discriminatory provisions in the governing documents of homeowners' associations (signed March 15, 2006)
Shortly after the Seattle Civil Rights & Labor History Project published the initial version of our database of racial restrictive covenants in 2005, State Senator Jeanne Kohl-Welles introduced and the legislature passed a law urging homeowners associations to expunge racist restrictions. This followed a sequence of publicity. First the Seattle Times picked up the story ("Homeowners find records still hold blot of racism" by Lornet Turnbull, June 3, 2005). Her article focused in particular on Innis Arden, an area governed by a neighborhood association, where for years some residents had sought unsuccessfully to remove racist language from the by-laws. The Times followed wih an editorial asking the state legislature to "authorize the courts to expunge racial covenants from all properties covered by homeowner associations." ("An ugly stain of racism exposed", June 6, 2005)
In early 2006, State Senator Jeanne Kohl-Welles introduced and the legislature passed SESB 6169 which declared that
"The continued existence of these discriminatory covenants, conditions, or restrictions is contrary to public policy and repugnant to many property owners. It is the intent of this act to allow homeowners' associations to remove all remnants of discrimination from their governing documents."
The law lowered the threshold for approving by-law changes involving such provisions, empowering the Board of Directors to make the changes and requiring the Board to act. "Upon the board's receipt of a written request by a member of the association ... the board must, within a reasonable time, amend the governing documents, as provided under this section."
Innis Arden quickly amended its by-laws. It is not clear how many other neighborhood associations have complied.