Daggett Research Group
University of Washington
-
College of Engineering
-
School of Medicine
-
Department of Bioengineering
Quick Links
Valerie Daggett
Group Meetings
Courses
Joining our Lab
Lab Photos
Collaborators
Contact Information

Paper of the Month
DIVE: A data instensive visualization engine.


Bromley, D., Rysavy, S.J., Su, R., Toofanny, R.D., Schmidlin, T., Daggett V.
Bioinformatics 30:593, 2014
Modern scientific investigation is generating increasingly larger data sets, yet analyzing these data with current tools is challenging. DIVE is a software framework intended to facilitate big data analysis and reduce the time to scientific insight. Here we present features of the framework and demonstrate DIVE's application to the Dynameomics project, looking specifically at two proteins. More...

Goals: Realistic simulation of protein dynamics, unfolding/folding, and conformational transitions linked to disease.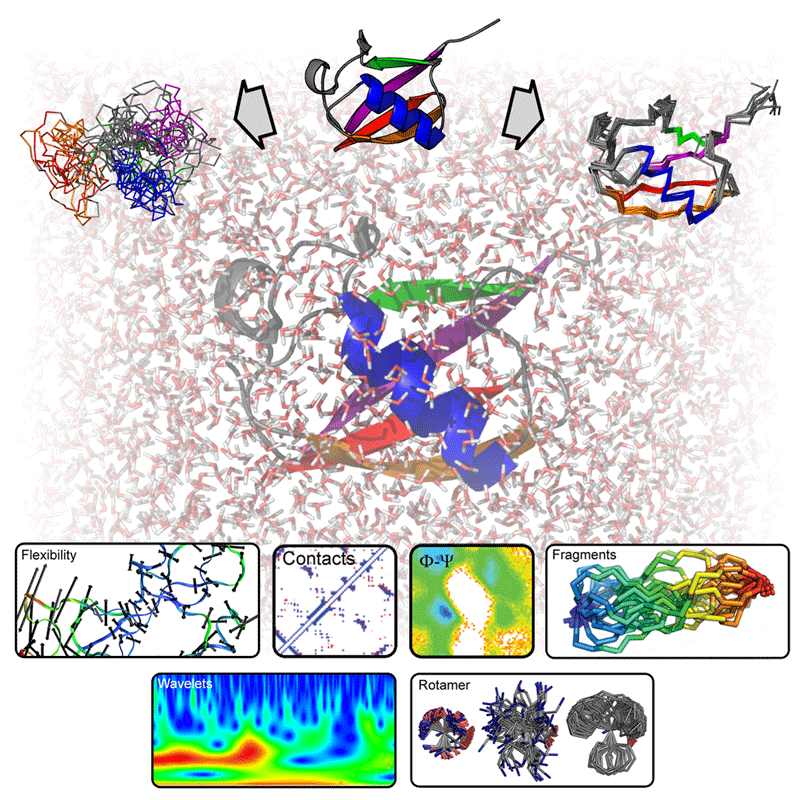 Latest News
Congratulations to newly minted DR. Jonathan Cheng! Jonathan very successfully defended his dissertation, 5/20/15.
We are putting the final touches on documentation and licensing paperwork so that we can release our molecular modeling package in lucem molecular mechanics! Please check back for links to download site.
Congratulations to Clare Towse who just received the 2015 UW Postdoc Mentor of the Year Award! See the department's article on Clare by pressing here.
Congratulations to Matt Childers who has been chosen as a predoctoral trainee on the Bioengineering Cardiovascular Training Grant!
Congratulations to Alissa Bleem who just received a 2015 NSF Graduate Research Fellowship!!! This is quite an honor.
We are pleased to welcome our new graduate student, Alissa Bleem. She survived her rotation and evidently is a glutton for punishment.
And we have another Mary Gates Scholar: Congratulations to Michael Liao who received funding to support his research in the lab this summer!
Congratulations to William Walker who just received another Mary Gates Scholarship to support his work in the group for 2015!
Clare-Louise Towse has received a Program for Excellence in Science award offered by the American Association of Advancement in Science (AAAS) that recognizes the achievements of young investigators and supports their endeavors through sponsored membership to the society!
Valerie Daggett has been elected a Fellow of the American Institute for Medical and Biological Engineering, 2015! More Info.
Gene Hopping is now a Commercialization Fellow through CoMotion to explore commercialization of our alpha-sheet platform, 2015!
Our amyloid work is included in an article on Innovative Medicine: Researchers develop advanced treatments through cutting-edge science in the November Issue of the Alaska Airlines Magazine. A captive audience. See the article here (go to page 140). See the UW BioE announcement here.
Congratulations to William Walker who received a Capstone Scholarship for 2015!
Congratulations to Nishant Velagapudi who just received a Mary Gates Research Scholarship for 2015!
Congratulations to William Walker who just received a $6000 Washington Research Fund Fellowship for the 2014-15 academic year!
FINALLY, experimental results backing our 2004 hypothesis that alpha-sheet structure is associated with toxicity during amyloidosis has just gone live in eLife! Get the paper here. See the UW announcement here.
Our recent IEEE Computer Graphics and Applications paper describing DIVE our new visual analytics framework was the 2nd most downloaded paper in CG&A in May and was the number 1 most downloaded paper in June. Get the paper here.
Congratulations to Nishant Velagapudi who has just received a $1000 Scholarship through the I-School from the Bockman Endowed Fund for the 2014-15 academic year!
Congratulations to William Walker and Devin Gerboth who has just received two of four Bioengineering Scholarships for undergraduates through the College of Engineering for the 2014-15 academic year!
We welcome a new graduate student, Ivan Vulovic, who joined the Molecular Engineering PhD Program Autumn 2014!
We have just released DIVE, our Data Intensive Visual Analytics software framework for accessing, streaming, interrogating, comparing, and visualizing big data. See our new papers in Bioinformatics and IEEE Computer Graphics and Applications (see Publications page). Get more information about downloading DIVE here.