Coming Events at the UW Friday Harbor Labs
Mark your calendars!
May 18: UW Friday Harbor Labs Annual Open House
This event offers a fabulous opportunity to meet scientists and students at the Labs and check out the world-renowned research and teaching facilities. From 11 a.m. to 4 p.m., the Labs will be open for self-guided tours. Scientists and students will showcase their marine science research, answer questions and provide demonstrations. There will be posters, marine plants and animals, microscopes, plankton sampling and observations, and activities for visitors of all ages. Bring the whole family!
The public is invited to learn more about the equipment used by scientists from around the globe who are at the labs investigating marine zoology, botany, ocean acidification, fisheries and oceanography. People can step aboard and tour our 58' research vessel, the R/V Centennial, and check out its remotely operated vehicle (ROV), oceanographic tools, and high-tech sonar systems.
Scientific Lectures will be scheduled throughout the afternoon.
Sturdy shoes are recommended because the tour route includes rough dock planks, gravel paths and trails.
We will serve free popcorn in the tradition of Friday Harbor Laboratories' Open Houses, and light refreshments will be available in the Dining Hall for a small fee.
620 University Road, Friday Harbor. Parking is limited so carpools are encouraged.
June 1: Jazz at the Labs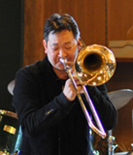 On Saturday night, June 1, 2013, Friday Harbor Laboratories will hold its 12th annual Jazz at the Labs, an evening of GREAT MUSIC, a fabulous dinner and a silent auction. Proceeds from Jazz at the Labs will benefit the Friday Harbor Laboratories K- 12 Science Outreach Program (FHLSOP) in the San Juan Island elementary, middle and high schools and the Spring Street International School.
The FHLSOP partners students with scientists and offers hands-on encounters with science. In this current school year, the Science Outreach Program will involve more than 900 students!
This year's Jazz at the Labs program will begin with dinner from 6:00 – 7:00 o'clock. Doors open at 5:30. During dinner, music will be provided by the San Juan Jazz Quintet. (Dennis Willows on drums.) SJJQ has entertained audiences in the PNW since 1990, playing standards, swing, bebop, originals and Latin jazz, every week at the Rumor Mill restaurant in Friday Harbor.
Starting at 7:00 p.m., Chris Amemiya and Jazz Coalescence, the outstanding jazz band from Seattle, will perform featuring jazz standards with their own special edge.
Dick Stein, will lead the evening as Emcee. You probably know Dick from his KPLU/NPR fame. He hosts the morning jazz show and co-hosts and produces the Food for Thought feature with the Seattle Times' Nancy Leson.
Reservations for the event are strongly recommended. We sell out! For reservations and more information, please call Friday Harbor Laboratories at 378-2165 ext. 0.
June 20: Friday Harbor Labs, Illg Lecture.

Dr. Gonzalo Giribet, from Harvard University will present a talk at the San Juan Community Theater. Dr. Giribet, whose primary research focuses on the evolution and biogeography of invertebrate animals, is Professor of Organismic and Evolutionary Biology and the Curator of Invertebrates in the Museum of Comparative Zoology at Harvard University. He has been part of a large international research team to study the evolutionary relationships of protostome marine invertebrates.
You can read more about his lab at:
http://www.oeb.harvard.edu/faculty/giribet/lab/