Elisabeth C. Miller Library
Donor and Financial Information
Noteworthy throughout the 30+ year history of the Elisabeth C. Miller Library has been the generosity of the gardening community to help build both the building and the collections of the library, demonstrating the unique public-private partnership that exists between the University of Washington and the gardeners of the Northwest.
Generous support of the Elisabeth C. Miller Library through fundraising events by foundations and horticultural organizations has helped the library over the years and remains a critical component for our everyday operations. Not only do they raise needed funding but the events also build a sense of community and close relations between the library and gardeners throughout the Northwest.
2018 Projected Income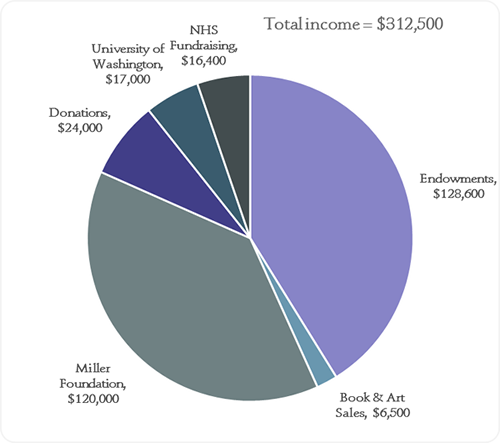 2018 Projected Outcomes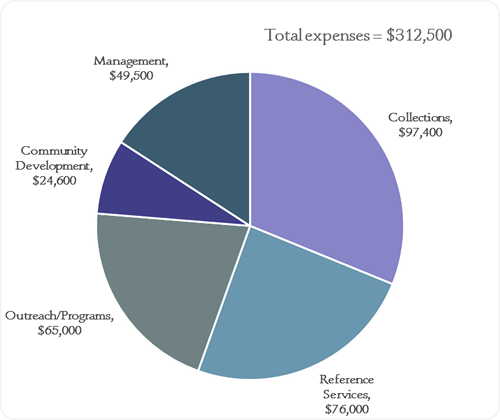 Outcome Descriptions
(All activities include staff salaries and benefits.)
Collections:
Researching and selecting potential acquisitions of both books and magazines
Ordering and processing receipt of acquisitions, including magazine check-ins
Cataloging new acquisitions; catalog maintenance
On-going review of collection content, review of donated books and magazines, binding of historical magazines
Reference Services
Helping library visitors with their research
Plant Answer Line service for phone, e-mail, and web submitted questions
Gardening Answers Knowledgebase updates and maintenance
Outreach/Programs
Story Time programs
Library presentations and tours
Art exhibits; student poster exhibits
Leaflet and Leaflet for Scholars
Updating and maintaining www.millerlibrary.org
Plant sales and garden tours calendar
Research guide for students; other recommended websites
Book reviews for local and national publications
Participation in international professional associations for plant science libraries
Community Development
Annual book sale and party
Donor events
Vounteer thank you event
Donor records management
Annual appeal, thank you letters
Management
Supervision of staff, students, and volunteers
Personnel records; time sheets
Management and reconciliation of budgets
Library equipment maintenance; acquisition of supplies
Participation in UW Botanic Garden management activities and events
---
95% of the Miller Library's direct operating support is raised through foundations, endowments, and individuals. Your support is critical to the continued health of the Elisabeth C. Miller Library.
Major funding for the Miller Library comes from:
Pendleton and Elisabeth Carey Miller Charitable Foundation.
Additional support comes from:
Northwest Horticultural Society
Established Endowments and UW State Budget, including:
UW/Elisabeth C. Miller Horticultural Library Endowment
NHS/Seattle Foundation Endowment
UW/Ruth Ellerbeck Endowed Fund
UW/Jill Riehl Endowed Fund
UW/UWBG state budget
University of Washington
We are appreciative of the University of Washington for providing administrative support, personnel services, legal support, building services, and endowment funds management in addition to funds for operations.
Many individuals, garden societies and small businesses.
The staff, students, faculty and patrons of the library and the UW Botanic Gardens are grateful for your generous support.
Please contact library manager, Brian Thompson at 206-543-1434, for information on making a donation.