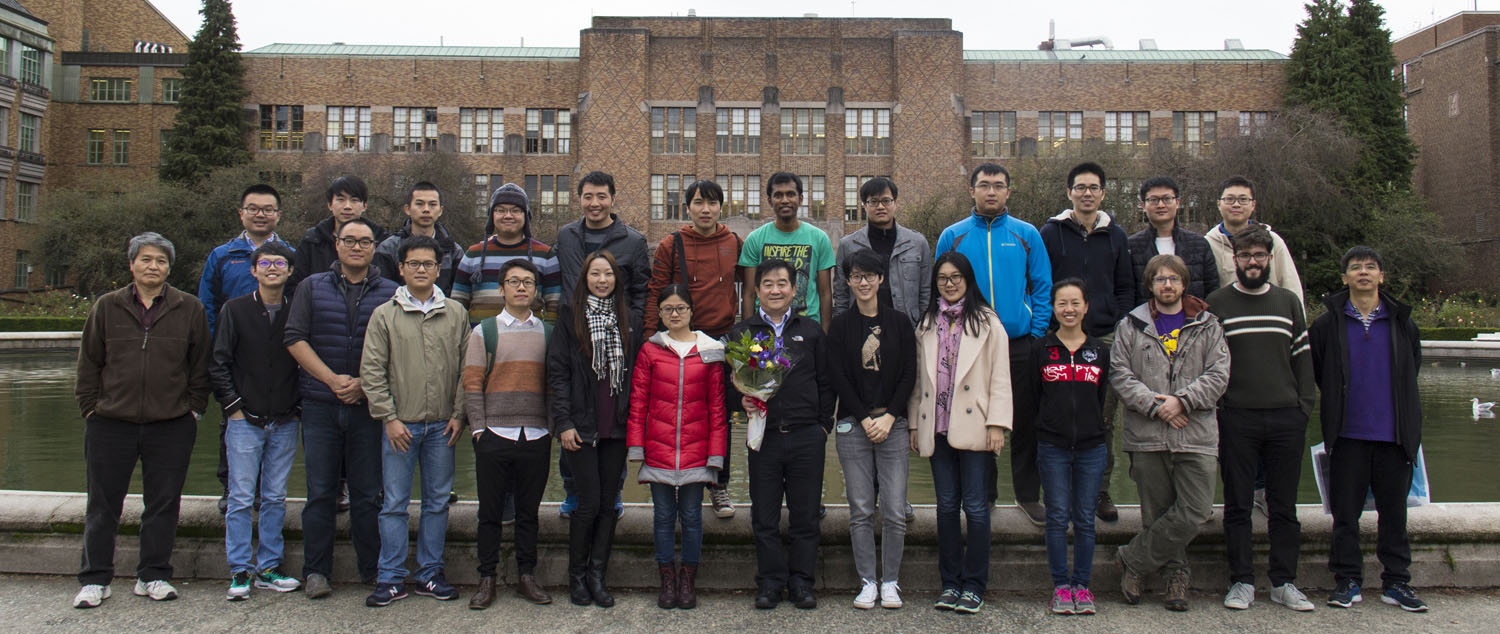 Welcome to Prof. Alex Jen's Research Group homepage! Our group utilizes molecular, polymeric, and biomacromolecular self-assembly to create ordered arrangement of organic and inorganic functional materials for photonics, opto-electronics, nanomedicine, and nanotechnology. We employ the "molecular engineering" approach to tailor size, shape, sequence, and functionality of organic/hybrid functional materials and explore their applications.
Please refer to Research Areas for more detailed information.
News
April 2016
Two recent papers from Jen group have been published in Advanced Materials, related to the development of a new class of mechanophores for highly sensitive built-in strain sensors in polymer composites and demonstration of highly efficient (18.8% PCE) and stable (90% of initial PCE retained after 30 days in ambient with 70% RH) inverted perovskite solar cells utilizing highly crystalline tin oxide nanocrystals as electron-transport layer.
April 2016
Congratulations to Dion Hubble, who has been selected for a 2016 National Defense Science and Engineering Graduate (NDSEG) Fellowship! This highly competitive, portable fellowship is sponsored and funded by the Department of Defense and provides full tuition, fees, and a monthly stipend over a three year period. Only 6% of 3,000+ applicants received an award in 2016.
January 2016
Professor Jen has been named by Thomson Reuters as one of the "World's Most Influential Scientific Minds of 2015" in the area of materials science. The University of Washington as a whole had twenty-seven researchers recognized by Thomson Reuters. Read more about this here.
April 2015
Congratulations to Team Flexolar! Team Flexolar constituting of four Jen Group members (Namchul Cho, Adharsh Rajagopal, Brian Tran and Caitlin Cramer) successfully demonstrated a prototype of flexible solar lighting blinds in the Alaska Airlines Environmental Innovation Challenge. The polymer solar cells used in the prototype were fabricated using roll-to-roll processing demonstrating the feasibility of low-cost large-area applications of polymer solar cells. Flexolar's prototype was featured as a part of KOMO4's EcoConsumer segment for Earth Day 2015.
December 2014
Congratulations to group members on being selected for various fellowship awards. Dion Hubble, Michael Crump, and Francis Lin have all been selected by the Clean Energy Institute for the very competitive CEI Fellowship which will support them for the next two quarters. Congratulations to Po-Wei Liang for being selected for the very prestigious Ministry of Science & Technology Fellowship, which provides 3 years of support. Also congratulations to our undergraduate researcher, Jordan, who has been mentored by Spencer Williams, on receiving the Mary Gates Fellowship.
October 2014
Congratulations to the Jen group for winning the competitive Department of Energy SunShot grant to develop high efficiency (>30%) printable tandem solar cells for the next revolution in solar energy. Further details about this grant can be found in Clean Energy Institute's full press release. This has also been covered in the news over at GeekWire.
July 2014
Professor Jen has been selected by Thomson Reuters as one of the most cited researchers in the world in Materials Science. Find out more here.
March 2014
Several papers from the Jen group have become available online including our first publication related to perovskite-based inorganic/organic hybrid photovoltaics with a PCE of 12%. Other recent papers related to flexible organic photovoltaics, enhancement of polymer photovoltaics via plasmonic nanoprisms, and control of graphene transistor properties via self-assembled monolayers have also been published online.
August 2013
The Role of Spin in the Kinetic Control of Recombination in Organic Photovoltaics
Researchers in Jen group publish in Nature on their work in organic photovoltaics. PDF Link
August 2013
Regulating electron 'spin' may be key to making organic solar cells competitive.
Researchers in Ginger (Chemistry) and Jen (Materials Science & Engineering) groups have discovered a synthetic, high-performance polymer that behaves differently from other tested materials and could make inexpensive, highly efficient organic solar panels a reality. Read more here.
December 2012
Alex Jen participates in Materials Genome Initiative with Jihui Yang: As part of President Obama's Materials Genome Initiative, Alex Jen and Jihui Yang have been awarded an NSF grant to develop high efficiency thermoelectric composites that builds on computational tools, surface modification and bulk consolidation techniques, and nano-to-continuum scale characterization methodologies being developed at the University of Washington and General Motors Technical Center; and apply these to the critical problem of designing and developing high efficiency thermoelectric composites. Find out more about the Materials Genome Initiative here.
August 2012
Alex Jen Group Paper One of APL's Most Downloaded: A paper by Alex Jen and members of his research group, "Air-Stable Inverted Flexible Polymer Solar Cells Using Zinc Oxide Nanoparticles as an Electron Selective Layer", is one of Applied Physics Letter's most downloaded articles of the past five years.
February 2012
Alex Jen Elected a MRS Fellow: On February 6, it was announced that Prof. Alex Jen has been elected a 2012 Fellow of the Materials Research Society (MRS).
February 2012
Alex Jen Elected a MRS Fellow: On February 6, it was announced that Prof. Alex Jen has been elected a 2012 Fellow of the Materials Research Society (MRS).
July 2011
Alex Jen Elected to Washington State Academy of Sciences: On July 25, 2011, the Washington State Academy of Sciences (WSAS) announced the election of 24 new members, including Alex Jen, in recognition of their distinguished and continuing scientific achievements.   The new members will be inducted into the WSAS at the 4th annual meeting to be held at the Museum of Flight in Seattle on September 22nd.  Those elected today bring the total number of active members to 154.  The Washington State Academy of Sciences was established by the Washington State Legislature to provides expert scientific and engineering analysis to inform public policy-making, and works to increase the role and visibility of science in the State of Washington.
July 2011
Alex Jen Elected Fellow of ACS: On July 8th, it was announced that Prof. Alex Jen has been elected a 2011 Fellow of the American Chemical Society (ACS). The Fellows program recognizes members of ACS for outstanding achievements in and contributions to Science, the Profession, and the Society. The 2011 Fellows will be honored at a special ceremony during the ACS National Meeting in Denver on Monday, August 29, 2011.
May 2011
Polymer Solar Cells Go Into Space: The polymer solar cells developed in the MSE department have taken a leap into space.  As part of the Materials International Space Station Experiments (MISSE) experimental package carried out in collaboration with Boeing, the polymer solar cells developed in Prof. Alex Jen's research lab are being deployed to the International Space Station (ISS) via the Space Shuttle Endeavor's STS-134 launch mission on May 16, 2011.
March 2011
UWTV – UW360: Advancements in Solar Energy: The March 2011 edition of UW360 includes a story on solar energy research being conducted by Alex Jen of MSE and David Ginger of Chemistry.
March 2011
Jen Named Editor, IEEE Journal of Photovoltaics: Alex Jen has been named and editor of the IEEE Journal of Photovoltaics.  He will be responsible for manuscripts in the Organic /Hybrid Photovoltaic Cells area including polymer, hybrid and dye sensitized solar cells, new device concepts including quantum dots, carbon nanotubes, and graphene composites, tandem cells, modeling, synthesis and evaluation of new materials; high performance contacts; lifetime degradation and mechanisms.
September 27, 2010
NRC Assessment of Research Doctorate Programs: Dean Matt O'Donnell and Chair Alex Jen voice concerns about accuracy of data used in National Research Council Assessment of Research Doctorate Programs.
February 2009
Jen poised to launch Soluxra thin-film solar cell company: Alex Jen and colleagues plan to launch Soluxra in the summer. The company will specialize in thin-film polymer solar cells. The semi-transparent plastic films, which Jen said can be printed in a similar process to newspaper printing, are highly adaptable.
November 2008
Jen named Fellow of ACS PMSE Division: Alex Jen, MSE chair, has been named a Fellow of the American Chemical Society's Polymeric Materials Science and Engineering (PMSE) Division. Fellows of PMSE are selected based on their significant contributions to the science and engineering of polymeric materials.
April 2008
UW receives $900,000 Solar America Initiative grant: The U.S. Department of Energy (DOE) plans to invest $900,000 in solar energy research at the UW as part of the Solar America Initiative (SAI), which aims to make solar energy cost-competitive with conventional sources of electricity by 2015. "We plan to use interfacial engineering to improve the efficiency of polymer-based photovoltaic devices," said Alex Jen, MSE chair.