Welcome from the Editor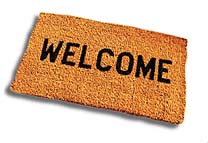 Welcome to the Transfer eNewsletter, a (mostly) quarterly publication intended for prospective transfer students to the University of Washington, as well as advisers at the state's community colleges who help prospective transfer students. Read more...

Admissions Update
The new TAP (also known as the Transfer Admission & Planning booklet) is available at the Office of Admissions, Washington community colleges, and Transfer Thursdays! Read more...

At the Bench and in the Field: Environmental Health Research Experience Program at the University of Washington
In the last 50 years, environmental health responsibilities have significantly expanded and skilled professionals are needed to adequately respond to complex conditions that affect millions of people. Read more...

Transfer Thursday: what it's all about
If you haven't visited our campus yet, come to Transfer Thursday! Start your experience by joining a tour or walking a self-guided tour! Read more...

Introducing the Center for Undergraduate Advising, Diversity, and Student Success!
Over the winter holiday break, the advisers from the Gateway Center, formerly home to both the Transfer eNewsletter and Transfer Thursday, moved into a newly remodeled suite (141 Mary Gates Hall) along with the Office of Minority Affairs & Diversity Counseling Services and Academic Support Programs. Read more...

Attend the Undergraduate Research Symposium May 20, 2011
The Annual Undergraduate Research Symposium is a chance for undergraduates to present what they have learned through their research experiences to a larger audience. Read more...

Interested in Health Professions?
Save the date! The Health Graduate and Professional School Fair is a great way for you to connect with representatives of health professions schools on the University of Washington campus! Read more...

For advisers: UW Transfer Team here to help you...no more assigned "liaisons"
In the past, the advisers in the UW's Undergraduate Academic Affairs Advising office have been assigned as liaisons to community colleges around the state. In order to provide UW transfer information to you in a more systematic manner, we have designated a Transfer Team of advisers whom you can contact. Read more...

For advisers: CC/UW Advising Conference set for April 29, 2011
The 23rd annual Community College/University of Washington Advising Conference will be held in the Foege Building on the UW Seattle campus on Friday, April 29. Read more...

Transfer Student Interview

Matt Nugent, Construction Management major and Transfer from Green River Community College. Read more...

NEW Program at UW--Bioresource Science and Engineering
The School of Forest Resources is introducing a new undergraduate program, Bioresource Science and Engineering (BSE). Read more...

Bioengineering Changes Curriculum, Prerequisites
The BS Bioengineering degree program at UW Seattle is implementing a thorough curriculum revision this year. Read more...

UW-Bothell Updates
Would you like to Transfer into UW Bothell? Come to our Transfer Fair for more information! Read more...

Come visit a growing, urban campus
Spring is just around the corner, and UW Tacoma is growing vibrantly. Not only are new programs on the horizon, new buildings are under construction. There couldn't be a better time to visit. Read more...

Still time to apply for Spring Quarter
UW Tacoma is accepting applications for Spring and Autumn Quarter, with important deadlines just around the corner. Read more...

New academic opportunities at UW Tacoma
UW Tacoma is expanding its academic offerings with a new major in Sustainable Urban Development starting Autumn 2011. Read more...

UW Tacoma Opens ISS Office to serve prospective and current international students
The University of Washington Tacoma is pleased to announce its new International Student Services (ISS) office. Read more...

Washington NASA Space Grant Scholarships for Transfer Students
Washington NASA Space Grant Consortium invites Washington state community college students to apply for a Space Grant transfer scholarship. Read more...

Links Majors Festival

The Academic Learning Links have a few fun events coming up. All students are welcome and encouraged to attend, including transfer students and prospective students. Read more...

EnviroLink Updates
EnviroLink is one of eight discipline-related groups at the University of Washington that helps students navigate the academic landscape and find their intellectual homes. Read more...