Winter 2011 | Issue No. 19
UW VIRTUAL TOUR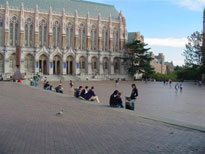 TRANSFER THURSDAYS
Thinking about transferring to the UW? If you are,
Transfer Thursday is your gateway to transfer information
. At a Transfer Thursday session, you can speak to an admissions counselor who will tell you all about applying to the UW. You can also meet with an undergraduate academic advisor who will help you prepare for your intended UW major. Bring your questions and your unofficial transcript(s). It's one-stop shopping for the prospective transfer student.
Where:
University of Washington
141 Mary Gates Hall
When:
Every Thursday afternoon.
Click here to view the scheduled activities
.
For more information:
(206) 543-2550 or click
here
.
CREDITS
Megan McConnell
Editor
Jennifer Stock
Web Producer
Contributors:
J. Carlos Chavez
Liz Copland
Janice DeCosmo
Joyce Fagel
Susan Inman
Megan McConnell
Kelli Jayn Nichols
Michal Nolte
David Sayrs
Melissa Sinclair
Sandra Spadoni
Sara Stubbs
Michelle Trudeau
The Transfer eNewsletter is a project of UAA Advising.
For advisers: UW Transfer Team here to help you...no more assigned "liaisons"
By Megan McConnell, Academic Counselor, UAA Advising
In the past, the advisers in the UW's Undergraduate Academic Affairs Advising office have been assigned as liaisons to community colleges around the state. In order to provide UW transfer information to you in a more systematic manner, we have designated a Transfer Team of advisers whom you can contact:
These advisers have years of experience working on community college campuses and helping transfer students at the UW. One of them in particular (Joyce Fagel) spends part of her time on a community college campus and part of her time on the UW campus. Any of them is happy to help you whenever you have a question that pertains to your students, the transfer process, and the University of Washington. If you have a question that demands an immediate response, please call our front desk (206-543-2550) and ask to speak to any of the advisers listed above. Otherwise, email is the best way to contact us. Please note, if you already have a relationship with a UW adviser, you can certainly continue to contact him or her with any questions you may have.
We would like to ask that advisers at the community colleges who are planning group visits to Transfer Thursday to contact one of us in advance. It helps us to make the event work smoothly for everyone if we know when groups will be arriving.