Winter 2011 | Issue No. 19
UW VIRTUAL TOUR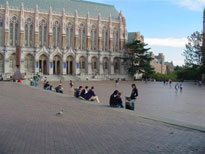 TRANSFER THURSDAYS
Thinking about transferring to the UW? If you are,
Transfer Thursday is your gateway to transfer information
. At a Transfer Thursday session, you can speak to an admissions counselor who will tell you all about applying to the UW. You can also meet with an undergraduate academic advisor who will help you prepare for your intended UW major. Bring your questions and your unofficial transcript(s). It's one-stop shopping for the prospective transfer student.
Where:
University of Washington
141 Mary Gates Hall
When:
Every Thursday afternoon.
Click here to view the scheduled activities
.
For more information:
(206) 543-2550 or click
here
.
CREDITS
Megan McConnell
Editor
Jennifer Stock
Web Producer
Contributors:
J. Carlos Chavez
Liz Copland
Janice DeCosmo
Joyce Fagel
Susan Inman
Megan McConnell
Kelli Jayn Nichols
Michal Nolte
David Sayrs
Melissa Sinclair
Sandra Spadoni
Sara Stubbs
Michelle Trudeau
The Transfer eNewsletter is a project of UAA Advising.
Washington NASA Space Grant Scholarships for Transfer Students
By J. Carlos Chavez, Adviser, Washington NASA Space Grant Consortium
Washington NASA Space Grant Consortium invites Washington state community college students to apply for a Space Grant transfer scholarship. This annual competition is for those who intend to study science, technology, engineering, or mathematics (STEM) at the University of Washington.
Space Grant Community College Transfer Scholarships range from $1,000 to $5,000 and are renewable for one year, contingent upon NASA funding and student maintenance of the program requirements.
Eligibility: Scholarships are open to current community college students planning to enter the University of Washington in Autumn Quarter 2011, and to community college transfer students who have entered the University of Washington in Winter or Spring quarter, 2011. Applicants must be residents of Washington state and U.S. citizens planning to major in science, technology, engineering or mathematics at the UW.
Applications are due March 18, 2011, and may be found online.
Questions? Contact the Space Grant office at 206-543-1943 or send email to nasa@u.washington.edu, or visit our website at www.waspacegrant.org.