Winter 2011 | Issue No. 19
UW VIRTUAL TOUR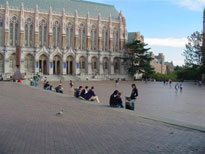 TRANSFER THURSDAYS
Thinking about transferring to the UW? If you are,
Transfer Thursday is your gateway to transfer information
. At a Transfer Thursday session, you can speak to an admissions counselor who will tell you all about applying to the UW. You can also meet with an undergraduate academic advisor who will help you prepare for your intended UW major. Bring your questions and your unofficial transcript(s). It's one-stop shopping for the prospective transfer student.
Where:
University of Washington
141 Mary Gates Hall
When:
Every Thursday afternoon.
Click here to view the scheduled activities
.
For more information:
(206) 543-2550 or click
here
.
CREDITS
Megan McConnell
Editor
Jennifer Stock
Web Producer
Contributors:
J. Carlos Chavez
Liz Copland
Janice DeCosmo
Joyce Fagel
Susan Inman
Megan McConnell
Kelli Jayn Nichols
Michal Nolte
David Sayrs
Melissa Sinclair
Sandra Spadoni
Sara Stubbs
Michelle Trudeau
The Transfer eNewsletter is a project of UAA Advising.
At the Bench and in the Field: Environmental Health Research Experience Program at the University of Washington
By Susan Inman, Undergraduate Program Manager and Adviser, Environmental Health
In the last 50 years, environmental health responsibilities have significantly expanded and skilled professionals are needed to adequately respond to complex conditions that affect millions of people. To help better prepare and retain students in the field, the University of Washington's Department of Environmental and Occupational Health Sciences has developed the Environmental Health Research Experience Program (EH REP), a nine-week, summer internship that offers select undergraduates first-hand experience in the laboratories of leading environmental and occupational health researchers. This program targets outstanding students from disadvantaged or under-represented groups and offers them a $5,200 stipend to complete a substantial research project.
Students work with researchers who are investigating environmental and occupational health issues. This past summer, eleven undergraduates from across the country participated.
In 2010, one student worked with Department Chair and Professor David Kalman, who is investigating biological monitoring techniques to assess arsenic exposures children in Chile and Bangladesh, where arsenic concentrations in drinking water greatly exceed World Health Organization guidelines. Exposure to arsenic early in life may significantly increase the risk of respiratory problems, in addition to other serious health effects, including skin diseases and cancers. Kalman is a world-renowned environmental chemist, who has been involved in arsenic exposure assessment for over thirty years. His research on arsenic risks, such as on urinary biomarkers and genetic susceptibility has contributed significantly to the field.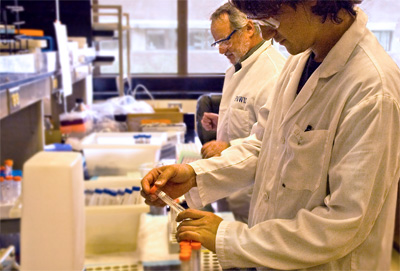 Chair David Kalman and visiting undergraduate student Jeffrey Jacquez prepare to test urine samples for arsenic levels.
In 2011, EH REP will support eight undergraduate juniors and seniors. Community college students who are transferring to any baccalaureate institution by autumn 2011 are eligible to apply. The program is a great fit for students studying across the sciences who have maintained at least a 3.0 grade point average. Students must be US Citizens or US Permanent Residents to participate and the deadline is February 15, 2011.
EH REP is made possible by a grant from the National Institute of Environmental Health Sciences (NIEHS). See the program website for more information including previous student projects and the current application.