Winter 2011 | Issue No. 19
UW VIRTUAL TOUR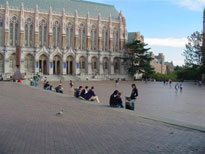 TRANSFER THURSDAYS
Thinking about transferring to the UW? If you are,
Transfer Thursday is your gateway to transfer information
. At a Transfer Thursday session, you can speak to an admissions counselor who will tell you all about applying to the UW. You can also meet with an undergraduate academic advisor who will help you prepare for your intended UW major. Bring your questions and your unofficial transcript(s). It's one-stop shopping for the prospective transfer student.
Where:
University of Washington
141 Mary Gates Hall
When:
Every Thursday afternoon.
Click here to view the scheduled activities
.
For more information:
(206) 543-2550 or click
here
.
CREDITS
Megan McConnell
Editor
Jennifer Stock
Web Producer
Contributors:
J. Carlos Chavez
Liz Copland
Janice DeCosmo
Joyce Fagel
Susan Inman
Megan McConnell
Kelli Jayn Nichols
Michal Nolte
David Sayrs
Melissa Sinclair
Sandra Spadoni
Sara Stubbs
Michelle Trudeau
The Transfer eNewsletter is a project of UAA Advising.
Interested in Health Professions?
Save the date! The Health Graduate and Professional School Fair is a great way for you to connect with representatives of health professions schools on the University of Washington campus! The Health Graduate and Professional School Fair offers something for everyone - whether you're exploring your options in health, beginning to learn about specific programs from school representatives, or collecting application information and tips on the personal statement process. All are welcome.
Date/Time: Tuesday, May 10th, 2011, 2 - 5PM
Location: Mary Gates Hall Commons
Information will be available soon at: careers.washington.edu