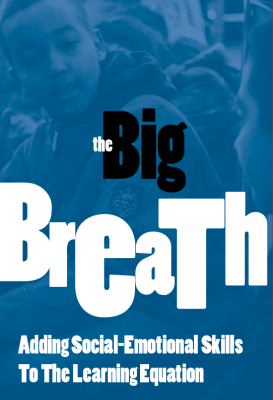 "Have you heard of pushing someone's button?" Ana Garcia asks the students in Room 107. "It's what happens when someone knows what annoys you and does it anyway." The fourth-graders nod their heads. They've all been there. Maybe it's the big kid at recess who won't stop teasing you, maybe a classmate who takes your pencil without asking, then grabs your eraser. "What can you do when someone pushes your buttons?" the animated teacher asks. "You can take a deep breath, a belly breath."
Ms. Garcia leads the fourth-graders in a big collective breath. One breath, two breaths, three breaths. Eyes are closed. Hands are on thighs. There are a few giggles when someone snorts. But the fourth-graders at Ardmore Elementary School in Bellevue know this is serious business. They're used to talking about real emotions in front of each other, and they're thoughtful and engaged when the discussion moves to the mined emotional territory between annoyance and anger.
"Anger escalates faster than you think," says one boy. Another mulls: "If you're annoyed," he says, "there are a few seconds before it turns to anger."
Those few seconds, Ms. Garcia tells them, are the perfect time to step back, pause, and take a "Meta-Moment," reflecting on how their very "best selves" would respond to a difficult situation. The kids are soon pumping arms in the air, eager to share adjectives describing how they feel when they are their best selves: respected, happy, honest, friendly, humble, caring, patient, forgiving.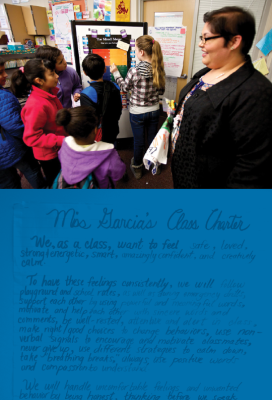 The students in Garcia's class are learning sophisticated social-emotional skills and vocabulary through a researchbased curriculum called RULER (Recognizing, Understanding, Labeling, Expressing, and Regulating emotion). The curriculum, developed by the Yale Center for Emotional Intelligence, is being implemented in third through fifth-grade classrooms throughout the Bellevue School District under the research eye of the University of Washington's 3DL Partnership, which provides support and feedback on RULER implementation and expert guidance in assessing program effectiveness.
"We know how to measure student growth in academic areas, but we are still learning about how to measure social and emotional skills. That's why the UW partnership is so important," says Michelle Proulx, social-emotional learning curriculum developer for the Bellevue School District.
The 3DL Partnership is a collaboration between the UW's College of Education and School of Social Work. The 3DL Partnership directors say education has, for too long, focused on one dimension, the intellect, overlooking the importance of social and emotional development in student success. "Motivation, persistence in the face of difficulties, social interaction skills, communication skills, emotion regulation, belonging – these are all things students need to learn and school is one of the institutions where they can learn them together," says College of Education Professor and 3DL Partnership Co-Director Leslie Herrenkohl, a developmental psychologist and learning scientist.
A growing body of research shows that teaching students social-emotional skills can reduce bullying, violent aggression, and other problem behavior while boosting intellectual growth. A 2011 meta-analysis of 213 studies looking at the impact of school-based social-emotional learning projects found that students not only exhibited improved attitudes and behavior, but had, on average, an 11 percent academic achievement gain.
Social-emotional skills are critical for all students, including high-pressured high-achievers and strugglers who may experience serious stressors at home. In some Bellevue RULER classes, students have opened up about divorces at home, parents in jail, or, in one case, feeling "overwhelmed" after being abandoned at a shelter by a parent. "Children's emotions impact their ability to learn. If they are angry or worried, that affects their ability to stay focused, receive information, and learn from instruction," says Proulx.
Equal access to learning opportunities in all three dimensions is critical to developing positive, life-long social-emotional skills, say researchers. "There is absolutely no question that kids from more affluent backgrounds have more opportunities to gain skills in social-emotional domains. If we don't create opportunities for social emotional learning as a part of the regular process of schooling, we run the risk of furthering educational disparities," says School of Social Work Professor Todd Herrenkohl, whose research has focused on preventing youth violence and bullying and on understanding and promoting resilience in vulnerable children and families.
Todd and Leslie Herrenkohl co-direct the 3DL Partnership. Their interdisciplinary partnership began in 2012 as a way to investigate the effects of three-dimensional learning on students' near- and long-term success in life. "We decided to join our collective areas of expertise in ways that more intentionally address issues we have both cared about for a very long time," he says.
Leslie Herrenkohl brings expertise gleaned from extensive work in urban science classrooms to the 3DL arena. Her research has revealed the powerful role social-emotional skills can play in classrooms where teachers emphasize group work and open discourse – 21st-century skills essential to equitable, ambitious instruction. In these active settings, students must manage social interactions and emotional responses as they discuss each other's ideas, says the researcher. "To understand whether or not you agree with someone else's scientific theory, you have to understand their point of view," she says. "If you don't, you have to ask them questions. How do you ask other students to clarify their theory? How can you offer a suggestion to someone? What do you do if the theory they offer doesn't align with yours? How do you manage your emotions when someone publicly disagrees with your ideas? It's important to provide students scaffolding to do that."
Those supports will be critical this new academic year as the Bellevue School District begins weaving RULER into STEM (science, technology, engineering, mathematics) classes and other regular Common Core content areas. "We'll be cueing students to practice the skills they have learned as they consider the feelings and perspectives of their classmates," says Proulx.
It's not just students in need of social-emotional learning strategies. Clayton Cook, an assistant professor in the college's educational psychology department, is investigating how adults working with children can benefit from mindfulness-based practices and other skills, habits, and routines that promote their resilience. "It's a real turn to take into consideration the well-being of educators, whose levels of stress have been ignored for so long," says Cook. "The kids can only do well if the adults are doing well."
Too often, the adults aren't doing well. Each year, an estimated 30 percent of educators leave the field, citing stress and burnout as primary causes. Stressed-out adults can sow a negative classroom climate and suffer strained relationships with students. Overwhelmed, they may resist fresh ideas and change. "Stress eats away at people and leaves them less open to adopt new practices. The kids suffer as a result," says Cook. "If we want educators to be as effective as possible, then they have to come from a powerful social-emotional position themselves.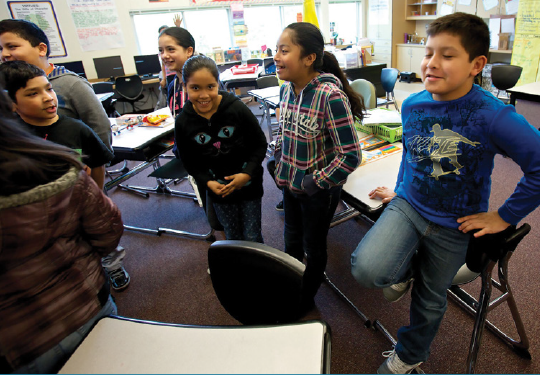 Then they can model that behavior for their students and effectively teach important social, emotional, and academic skills." Cook and College of Education Professor Gail Joseph have co-developed an Achiever Adult Resilience Curriculum for educators; his team is piloting it online and with groups in the Seattle area. He plans to scale the program out to evaluate its impact and look at different outcomes by geographic area. Curriculum activities include such practices as gratitude journaling and mindful, stress-reducing breathing. "We train providers to envision a stop sign, take a deep breath, and bring awareness to the present moment. Are they missing what's right in front of their face? We're helping them manage how they pay attention, and how they stay connected to the moment in a nonjudgmental, open way," says Cook.
Cook is also part of a team conducting a three-year, 61-school randomized control trial of the Second Step curriculum, a socialemotional program designed for pre-kindergarten through middle school. This social-emotional learning program, one of the most widely adopted in the nation, teaches students skills for learning, empathy, emotion management, problem-solving, and other methods for negotiating interpersonal conflict. "We're looking at the effects on elementary students' social-emotional skills, as well as the effects on skills such as learning to pay attention and to be organized."
Critical to program success, his research team has found, is having in place teachers with pro-active classroom management strategies that increase academic engagement and minimize behaviors that are disruptive to learning.
Ms. Garcia is a pro-active pro at Ardmore Elementary, a low-income high-diversity school where more than half of the students speak a first language other than English. When her fourth-graders enter her class, the first thing they do is check in with RULER's "Mood Meter," tracking on a magnetic board how they are feeling that day.
On the wall is a chart where the students describe the "virtue of the month"; this month it's courage, the thing that helps you stand up for friends at recess and voice what's right. Hanging near the windows is the official classroom charter they created together, a colorful document that describes how they want to feel in their environment. "We as a class want to feel safe, loved, strong and energetic, smart, amazingly confident, and creatively calm."
One of the hardest things she has had to do, Ms. Garcia tells a visitor in a quiet moment, is to learn to leave students alone to sort out problems by themselves. Someone says something hurtful. There are tears. But now there are tools: the feeling words, the self-check, the deep breath. "They can tell themselves 'I have to turn it around,' and they are able to selfmanage now," she says.
The RULER implementation in Bellevue is still in its early stages. It began in the 2013-14 school year. But already, educators are seeing the impact. "Teachers say this has radically changed their classrooms, because we're letting the whole child into the classroom, not just the academic child," says Proulx. "And it's all for a purpose: to help them do their best academic work."
For More Information
RULER: ei.yale.edu/ruler Herrenkohl, L.R. and Mertl, V. (2011). How students come to be, know, and do: A case for a broad view of learning. Cambridge UK, New York City: Cambridge University Press.
Cook, C.R., Frye, M., Renshaw, T., Lyon, A., & Slemrod, T. (in press). Integrated Approach to School-based Universal Prevention. School Psychology Quarterly.
Iizuka, C, Barrett, P., & Cook, C.R. (2014). The FRIENDS Emotional Health Program for Minority Groups at Risk. Journal of School Health.
Iizuka, C, Cook, C.R., & Barrett, P. (in press). Evaluation of an online professional development training on school-based mental health for teachers in rural and remote areas. Australian Journal of Rural Health.