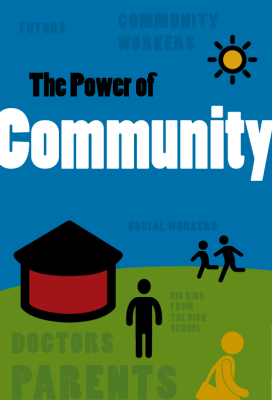 Students at Roxhill Elementary School don't have to look far to get help. Adults are everywhere. There are parents in the crosswalks, the hallways, the lunch room, and the classroom, guiding teachers in what's best for their child. There are visiting doctors and dentists, social workers and mental health counselors, and the nurse-practitioner who has a health clinic set up in a converted closet. There are lots of nice community workers and big kids from the high school to tutor, help with homework, make it better when you're sad, and call to check that you're OK if you don't show up for school.
"Our students see Roxhill as a safe place where all these people are here to encourage and support them," says Jonathan Aldanese, the school's house administrator and a graduate student in the University of Washington's Danforth Educational Leadership Program. When he arrives at school two hours before the morning bell, the West Seattle school is already full of children. "Instead of being home alone, they can be here, in a place where people really care about them, help them catchup, find them enrichment, refer them to programs, and seek opportunities to ensure they are successful."
This nurturing, wrap-around environment is built on a matrix of powerful partnerships bringing together UW researchers, school educators, families, and community organizations. "It's a way to think about what education could be and should be," says College of Education Professor Leslie Herrenkohl, a developmental psychologist and learning scientist who directs the college's 3DL Partnership with School of Social Work Professor Todd Herrenkohl.
In 2012, the 3DL team and Associate Dean of Professional Learning Elham Kazemi, with funding from the state's Collaborative Schools for Innovation and Success program, entered into a five-year partnership to support Roxhill in becoming a full-service community school.
Roxhill draws from a rich and diverse community with more than 10 primary linguistic and cultural groups. Nearly one in five students receives special education services and approximately three of four children qualify for free or reduced lunch. Principal Sahnica Washington and her staff crafted a Roxhill mission: "to foster a climate of compassion, academic excellence, problem-solving, creativity, and cultural awareness where the school, families, and the community are working together for the social, emotional, physical, and intellectual development of each child."
UW researchers joined a 20-person advisory team that guided the transformation, including school leaders, teachers, a librarian, a city of Seattle representative, parents, and partners from community-based organizations. The team worked from research showing that students at schools similar to Roxhill perform better academically when their basic needs are met. "Children thrive and flourish in an environment in which they are supported around their multiple needs. When schools become the hub of activities within which they can get those physical and mental health needs met, students can better attend to high-quality academic work," says Todd Herrenkohl.
As districts, local governments, community and business partners better understand students' broader needs, they often seek to place resources into schools. The full service community school model provides an organizational structure to coordinate and channel those resources and create a coherent action plan for meeting the needs of students and families, as well as school staff. At Roxhill, lead teams oversee and track ongoing activities and monitor progress: the teams address academic excellence, extended learning, health and wellness, and family and community engagement.
Family and community engagement are critical factors in boosting academic performance in high-needs schools. At Roxhill, more than 40 community-based partners work with students and families, providing everything from social and medical services to intensive tutoring, mentoring from business leaders, after-school and weekend program assistance, and leadership in activities such as winter coat giveaways, attendance campaigns, and family fitness nights.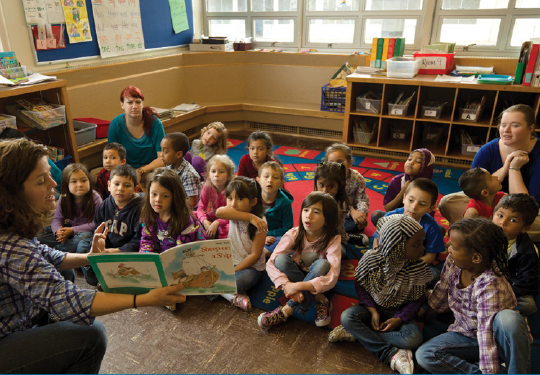 Families engage with the school in ways that reach far beyond bake sales or car washes or back-to-school nights. They volunteer in the school, attend weekly coffee hours, share a family resource room, organize off-campus events to bring teachers into their community, and attend on-campus classes, including twice-weekly adult English Language Learning sessions. Many have become fierce advocates for their children. "We engage with the families and learn from them," says Aldanese. "What are the needs of your students? What are some things you want us to learn about you and your culture? These inform our decisions as practitioners. I can't imagine not having the parent piece there."
Alejandra Diaz, a Latina mother of two, is a driving force behind increased teacher-parent engagement. Diaz initially shied from taking part in school because she worried that her English skills needed to be stronger and a sense that teachers didn't have time for her. After joining the advisory team in visits to full-service community schools in California and seeing non-English speaking parents involved in activities, she was determined to come home and create a welcoming climate for Roxhill's multicultural, multilingual mix of families. "The more time I spent at school, I noticed my English is getting better. I thought if that is working for me, maybe I'll bring in more parents and the same thing will happen to them, and that is how we can be more close to the teachers and become more involved," says Diaz.
She is now president of the school's diversifying and expanding Parent-Teacher Association, where Spanish speakers try out their English and English speakers try out their Spanish during meetings. "We feel happy and comfortable in those meetings now. We don't see the language barrier anymore," says Diaz. She reports her children are improving academically in the new school climate.
High expectations for all students – including students who do not currently meet grade level expectations – drive the UW's professional development strategies at Roxhill. Kazemi, together with her colleagues Ruth Balf and Emily Shahan, conduct intensive day-long Math Labs that bring together classroom instructors, special education and bilingual specialists, volunteers, and researchers to collaboratively observe, study, try out, and refine teaching practices that support deep mathematical thinking for diverse students. At the same time, UW elementary teacher education students are learning these practices in their mathematics methods classes – preparing them from the start with strong instructional routines, even as they are learning to become "community teachers."
Together with Professor Ken Zeichner, graduate students Kate Napolitan and Michael Bowman, Director of Elementary Teacher Education Jennifer Lindsay, and other Elementary Teacher Education faculty, 3DL team members support future teachers to develop practices such as family visits and conferencing techniques that build and sustain partnerships with families and communities.
As "community researchers," 3DL Partnership team members work shoulder-to-shoulder with practitioners in the field, building and assessing new strategies to re-envision education for all students in diverse urban schools. "It's exciting to take these beginnings at Roxhill and see how we can position them very visibly to the outside, and shape the way others think about this work on a national and international scale," says Todd Herrenkohl.
For More Information:
The Collaborative for Academic, Social, and Emotional Learning: casel.org