Studio is pleased to welcome returning and new mentors for 2015! Our mentors come from many different backgrounds and are UW STEM majors in science fields, mathematics, and engineering. We are so grateful for their dedication!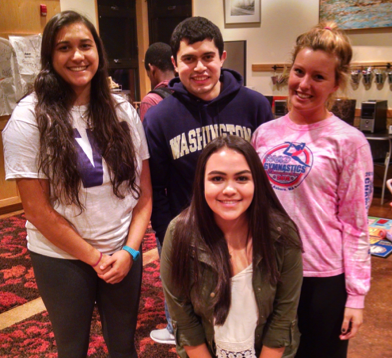 They travel each week to Neighborhood House in West Seattle to engage in STEM learning together with Neighborhood House Youth.  Our Mentors express many motivations for joining STUDIO and come with a variety of personal experiences that help them connect to NH Youth in so many ways. Let's hear directly from them about why they joined STUDIO:
I've been lucky enough to have everyone support me and show me what I need to do to achieve my goals, and I want to be able to be that person for someone. I think everyone should be able to go to college and follow their dreams with no apprehension; coming from a very low income family, I understand what it's like to have another stress and worry added on top of a college/career, and think I have a lot to offer to a class like this.

I joined because I wanted to give students who, due to a confluence of sociological factors, both past and present, may not have the courage or the resources to take steps towards STEM careers. It is not that I believe everyone should be in STEM, but I do believe that everyone, NH students included, should know that they CAN and are indeed good enough to pursue careers in STEM, should they choose to do so. 

I joined STUDIO because of the long- term goal I think it's trying to achieve. For me, I hope STUDIO ultimately manages to give middle and high schoolers the notion that the STEM community has a spot for them in any form that might take on. The way in which we go about that can be approached very differently, whether it be through discussion about science or college, or just leading by example. Either way, I hope students can realize their potential and pursue higher education/career in any field they choose, although bonus points for a STEM field.

I joined STUDIO because I was looking for a positive way to impact students in the area.  I have come a long since high school, coming to the University of Washington. I had a lot of help getting here and in my time here. I knew I was put in a lucky position to have friends, family, and teachers who were passionate about my education and who helped me work towards my dreams. I hope that I could be that for somebody else. 

What I hope to achieve in STUDIO is to be able to have the students accept the idea that their goals in STEM and life are not only fun and exciting but also very much achievable. I want to help them be able to get through their struggles in STEM and life and put them in a position in which they are able to succeed.

One of the reasons I joined Studio was because I watched my sister struggle in life and the education system. My sister had an illness that resulted in a learning disability and mild short-term memory loss. Although some people helped her along, there were many people, even some teachers and counselors, who said she would not make it to college or beyond. My sister had to work twice as hard as everybody else just to get the same grades and at the same time was being told she wasn't going to get anywhere and might as well quit. My sister ended up going to a university and graduating with a STEM degree and is now in graduate school studying to be a physician's assistant. From these life experiences I want to help NH youth get through their own struggles in life and succeed with the dreams they have for themselves.

I was looking for something to get involved in, but for me it had to be important to somebody/a community. I joined STUDIO because the idea of being in a mentor position really appealed to me because there is so much to learn from that type of mentor-mentee experience and it's was an added bonus that it was surrounding STEM related activities.