LICENSE CHANGES
The Wraparound Evaluation and Research Team (WERT) launched a new data management system, called "WrapStat", for its WFAS tools in September 2020. Access to this system is included with the licensing of the WFI-EZ, TOM 2.0 and/or DART, as is done with our WrapTrack System. 
Because of this transition, all licensees both new and current need to fill out our new license agreements. These new license agreements are now available and can be accessed via the links at the bottom of this page. 
For more information on the new WrapStat system click here.        
---
Qualifications for Use
The WFI and TOM tools were designed to be fairly straightforward and easy to use.  However, there are criteria administrators must meet and a standard procedure for training interviewers, observers and survey administrators. For more information on these criteria, please click here.  
The DART, a newer tool, requires training from WERT staff.  Eventually on-line training will be available. For now, please contact wrapeval@uw.edu to arrange for training.
---
Fees for Use
The Wraparound Evaluation and Research Team (WERT) has updated our pricing structure for our tools. These fees include all training and support materials, technical assistance from WERT, and unlimited access to WrapStat, the new online data entry and reporting system.
With this new pricing structure, we no longer charge a $1,500 user's start-up fee. Additionally, our new pricing structure is now based on the avergage daily number of "Enrolled Youth," meaning an estimate of the average number of youth enrolled in your organziation's Wraparound program/intitiative on any given day.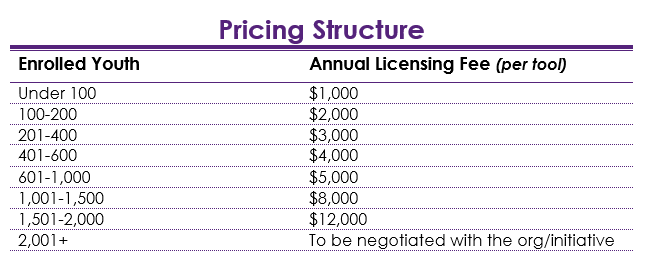 A note for collaborators! Student collaborators or small programs for whom these fees represent a burden can request a reduction or waiver of fees. Please contact us at wrapeval@uw.edu. 
---
Collaboration Steps

If you have questions regarding these agreements or licensing the tools, please contact us at wrapeval@uw.edu. 
---
Licensing
WERT works in partnership with UW CoMotion to license the WFAS tools for public use. Click on the link below to access the CoMotion Agreements for the WFAS tools.