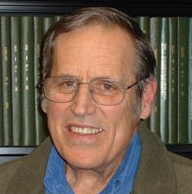 Dear Collaborators, Visitors, and Friends,
The work of the Wraparound Evaluation and Research Team is dedicated to the memory of - and legacy of - John D. Burchard, PhD. John was the original founder of WERT (at the University of Vermont), a pioneer of Wraparound, and champion for the health and well-being of children and families. John passed away on January 18th, 2004. 
Publicly, John was best known for his life-long activism and advocacy promoting community-based models of care for children with emotional and behavioral disorders. John demonstrated this passion in a multitude of venues. A professor at the University of Vermont since 1970, John was a catalyst for community change through his roles as researcher, teacher, and mentor. In addition to his roles at the university, John also worked at the local, national, and international levels to shape programs and policies to better serve the needs of children and families. Just a few examples include: working as the commissioner of the Vermont Department of Social and Rehabilitative Services, helped found the community mental health program at Trinity College (now at Southern New Hampshire University), supporting Wraparound initiatives in New Zealand and Australia.
John's diverse community experiences underscored the integral role the community plays in the health and well-being of children and families. In 1990 John and his wife Sara traveled to Alaska to evaluate a new community-based intervention called Wraparound. The resulting monograph, One Kid at a Time, depicted the power of Wraparound to dramatically transform the lives of children and families and became a cornerstone in this burgeoning field. Since their original trip to Alaska, they worked tirelessly as advocates of Wraparound: organizing four national conferences on Wraparound from 1991-1996, authoring many articles and chapters, and developing several community-based assessment tools - including the Wraparound Fidelity Index. 
John was recognized for his work with youth by receiving a lifetime achievement award from the Vermont Collaboration Conference and John and Sara received the third annual Puppets' Choice award from Kids On The Block Vermont (a national organization that enlightens children on the issues of disability awareness, medical-educational differences, and social concerns). The latter award prompting Burlington Mayor Peter Clavelle to declare April 30, 2003, "John and Sara Burchard Day here in Burlington...and around the world." This achievement was noted in the Congressional Record by Senator Jim Jeffords (I-VT). He also received a Citation from Governor Robert Ehrlich of Maryland, in recognition of his instrumental role in bringing Wraparound to that state, and returning over 400 youth who had been previously served in out-of-state residential placements. 
John's dedication to community values enveloped his personal and family life as well. He and Sara opened their home to many young people throughout their life together, most recently welcoming two Bosnian youth to join their family in Vermont. John and Sara also traveled around the world, visiting such far-away places as Australia, New Zealand, Russia, Europe, India, Mexico and Alaska, and made lasting friendships with people from different backgrounds and cultures wherever they went. John lived each day to the fullest, always demonstrating a sincere interest in others, a generous spirit, an indomitable optimism and a sense of humor that touched many, many lives.
John set a wonderful example both professionally and personally. We strive to honor his legacy every day by emulating the example he set through his work on behalf of children and youth with complex needs and their families.

— Eric Bruns, Jesse Suter, Michelle Force, Karen Mehrtens, and Kristen Leverentz-Brady